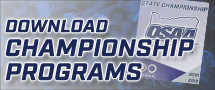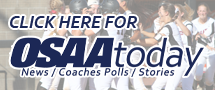 Girls Swimming AD and Coach Information

State Championship Entries / Results
To be posted by 6pm, Feb. 16
6A | 5A | 4A/3A/2A/1A

AD/Coach Information
(Updated 2/19/2020)
»
AD/Coach Information
Includes information regarding tickets, lodging, spectator conduct, qualification, pre-state championship reminders, packet pick-up, seeding information, championship schedule, awards, souvenirs
»
2019-20 Swimming Time Standards
Includes 6A Qualifying standards, All American times, OSAA State records per classification, and NFHS records
District Meet Director Information
(Updated 2/19/2020)
»
District Meet Director Information
Includes information regarding responsibilities, entry procedures, qualification, postings, corrections, substitutions
(Updated 2/19/2020)
»
DMD Roster and Schedule
Includes dates, sites, contact information
»
Computer Operator Instructions
»
Computer Operator Instructions - Part II
Includes information of how to ensure that NFHS and OSAA rules are followed with step by step instructions on running an exception report; and also includes instructions on how to enter swimmers USA ID number prior to running the District meet.
»
State Championship Relay Entry Form
Entries must be submitted by 8pm on Saturday, Feb. 15
Swimming Plan Book
(Updated 2/19/2020)
» Swimming Plan Book
Contains the season dates, NFHS rule changes, OSAA swimming rules and policies, state championship information and qualifications, OSAA general policies

Reminders / Memos
» 2019-20 Swimming Memo
Contains the NFHS points of emphasis, OSAA swimming rules and policies, and OSAA general policies

» 2019-20 Para-Athlete Swimming Memo

» Para-Athlete Disability Certificate
Form for para-athletes to complete in order to compete at State Qualifying Meets

» Use of Elastic Kinesiology Therapeutic Tape

» OSAA Practice Model
Including Q&As


Spectator Information
(Updated 2/19/2020)
»
Spectator Information
Includes information regarding tickets, lodging, spectator conduct, championship schedule, awards, souvenirs
»
2020 State Championship Schedule

Watch on the NFHS Network!
Tune in for LIVE coverage for this year's Swimming State Championships; subscription fees apply
Swimming Championships


Final Site Parking
Teams with buses / vans are to drop swimmers off at the entrance area and proceed to parking provided for buses / vans (Section D). Spectator parking - Section A, B, and C. Overnight parking is not allowed.
Lodging/Visitor Information
Headquarter Hotel
Courtyard by Marriott - Hillsboro
» Groups Call: Paige Carlson
» Phone: 971.297.0656
»
Washington County Visitors Association
Maps/Directions
» All Classes @ Tualatin Hills Aquatic Center (Beaverton)

District Meet Results
» 6A:6A-1 | 6A-2 | 6A-3 | 6A-4 | 6A-5 | 6A-6 | 6A-7
» 5A:5A-1 | 5A-2 | 5A-3 | 5A-4
» 4A:SD1 | SD2 | SD3 | SD4
Team Manager 7.0 Backups
» 6A | » 5A | » 4A/3A/2A/1A