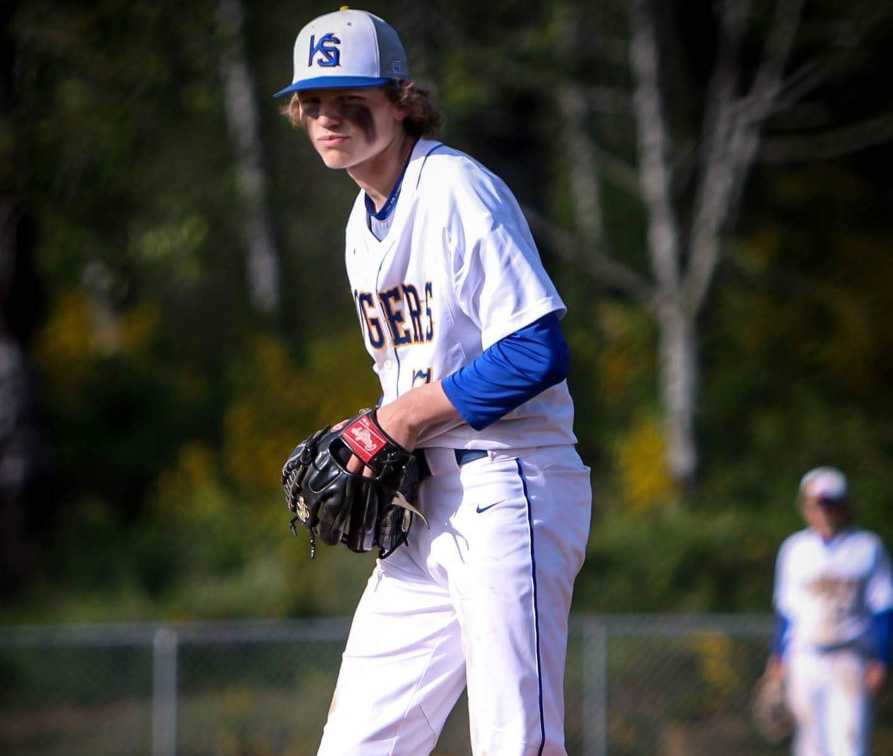 [Editor's note: "Take Five" is a recurring feature designed to offer a quick look at some of Oregon's most interesting high school sports standouts. This spring, Take Five will focus exclusively on seniors, whose final high school seasons have been canceled by the coronavirus. Today, we get up close and personal with Knappa senior Eli Takalo. Takalo not only was state 2A co-Player of the Year in baseball last year, he also was an All-State QB in the fall and averaged 16 points per game for a Knappa hoops team that made the state tournament this past winter and finished fifth. Takalo was the winning pitcher for Knappa in state baseball championships his freshman and sophomore seasons. We asked the righthander, who will pitch for Mt. Hood CC next year, to answer five questions from the 25 we sent his way. Here are his very informative responses…]
OSAAtoday: What was your first big success as an athlete and how did it impact you?
Eli Takalo: My first big success as an athlete came my freshman year of baseball. We had a great team that year, which included my older brother, Dale, and ended up winning the championship. Dale and I had dreamed of that moment since we were little. It was satisfying for a couple weeks, but then I was just hungry for more.
OSAAtoday: What's the most interesting or unusual thing about you?
Takalo: Last winter I got interested in apple trees. I watched dozens of YouTube videos, visited with some local experts, and learned how to graft. I ordered rootstock from Ithaca, New York, grafted on several varieties, and planted a fifty-tree apple orchard at our family farm. It has remained one of my passions outside of sports.
OSAAtoday: What is your favorite class in school and why?
Takalo: My favorite class in school is woodshop. It has been that way all through high school mainly because of my teacher, Mr. Rathfon. His passion for woodworking really inspires me. I spent this year in woodshop class making a rocking chair. It was just coming together when I was rudely interrupted by the Coronavirus.
OSAAtoday: What's the wisest thing a coach ever said to you?
Takalo: My football coach, Aaron Barendse, often told us, "Tomorrow isn't promised." To me this is a good way to live each day because it applies to everything - not just sports. We should all be living in the day and enjoying the moment because we can't get yesterday back nor can we know when things will change. Coach Barendse's advice fits the coronavirus times perfectly. While we may not get a senior baseball season, I know I enjoyed the other three to the fullest and will cherish all the memories I have of playing baseball with my friends.
OSAAtoday: When the lights are out and you're just about to fall asleep, what do you think about?
Takalo: When the lights are out and I am trying to fall asleep, I almost always reflect on my day. Sometimes I think about what went well, but most of the time I think about what I could have done better - the mistakes I made, the times that I came up short. Sometimes it makes for late nights, but I think it's a good thing because it helps me make the changes necessary to be better.
Read other Take Five articles published in connection with the 2020 spring season:
Monroe softball pitcher Tyler Warden
North Salem sprinter Maliyah Thompson
La Grande catcher Logan Paustian
Lake Oswego thrower Parker Williams
Lakeridge netter Nicole Rogers
Westside Christian sprinter Alvin Lai
Stayton softballer Emma Heuberger
Westview outfielder Maddie Curaming