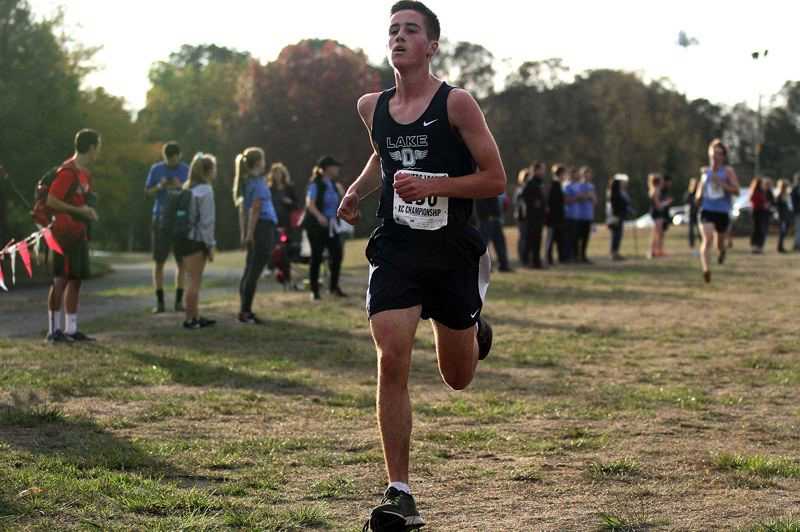 [Editor's note: "Take Five" is a recurring feature designed to offer a quick look at some of Oregon's most interesting high school sports standouts. Brogan Deem-Ranzetta is senior captain of the Cross Country team at Lake Oswego. He ran and played varsity soccer last fall but decided to focus solely on running his senior year. A distance runner on the track team as well, Deem-Ranzetta, who qualified for cross country Nationals last year, hopes to run for an NCAA Division III school in 2020. We asked Deem-Ranzetta to answer five questions from the 25 we posed of him. His responses follow…]
OSAAtoday: What kind of coach gets the best out of you as a player?
Brogan Deem-Ranzetta: I am pushed to perform to the best of my abilities through attentive coaching and a strict, structured approach to training. As a motivated runner, I enjoy having coaches who take an active interest in the sport as well as me as a person by expressing an interest in my non-running life. I achieve my best results when I have a mentor who pushes me hard every day in training. Another positive attribute that I seek in a coach is a person who is fully committed to me meeting or exceeding my goals.
OSAAtoday: What is your favorite class in school and why?
Deem-Ranzetta: My favorite class in school is history. Although I was taught random periods of history through middle school, it was not until I started high school that the subject really became interesting to me. I like learning how the past frames the present. Whether it is the intricacies of wars or political scandals, there are always so many angles and perspectives to explore and learn from. This year I am taking AP European History, a class that spans the latter stages of the Middle Ages up to the present. Having traveled to Europe, it is fascinating to connect the history of Europe with the development and changes that are happening there now.
OSAAtoday: When the lights are out and you're just about to fall asleep, what do you think about?
Deem-Ranzetta: When I am in this half-asleep/half-awake state, I reflect upon my day as well as upcoming events. After a long, stressful day then I try to think about fun memories. Thinking of a past trip or a fun summer afternoon with friends clears my mind and is the best remedy for falling asleep. Planning future trips abroad is another way that I can relax and fall asleep more easily.
OSAAtoday: You can blink and be transported to any place in Oregon for a day. Where do you go and why?
Deem-Ranzetta: Cannon Beach. For my family and me, Cannon Beach has been a favorite beach spot for as long as I can remember. Without the crowds, it is a great town to walk around with lots of good coffee shops and restaurants. Also, the surrounding beaches of Indian Beach, the waterfall at Hug Point, and the main beach at Cannon Beach are fun places to run and explore, especially with my dog, Annie. Some of my fondest memories have been of taking Annie for a swim in the ocean.
OSAAtoday: What about going to college scares the bejeebers out of you?
Deem-Ranzetta: As I hope to go to college on the East Coast, what scares me the most is being away from my family, friends, and community. Even though I am excited to enter into a new phase of my life, I am fearful that things will not turn out as I envision them to be. This includes not getting the ideal roommate, struggling through a challenging class, or not being able to meet new people that share my same interests. Leaving all of the things that are familiar and comfortable to me makes taking this risk even scarier to me.
Read other Take Five articles published in connection with the fall season:
South Umpqua outside hitter Shalyn Gray
Lincoln distance runner Mia Kane
Madras football player Treyvon Easterling
Gladstone soccer player and cross country runner Derek Johnson
Canby soccer standout Ruby Kayser
Exceptional Scappoose athlete Emma Jones
Siuslaw harrier Brendon Jensen
Wilsonville volleyball attacker Lindsey Hartford