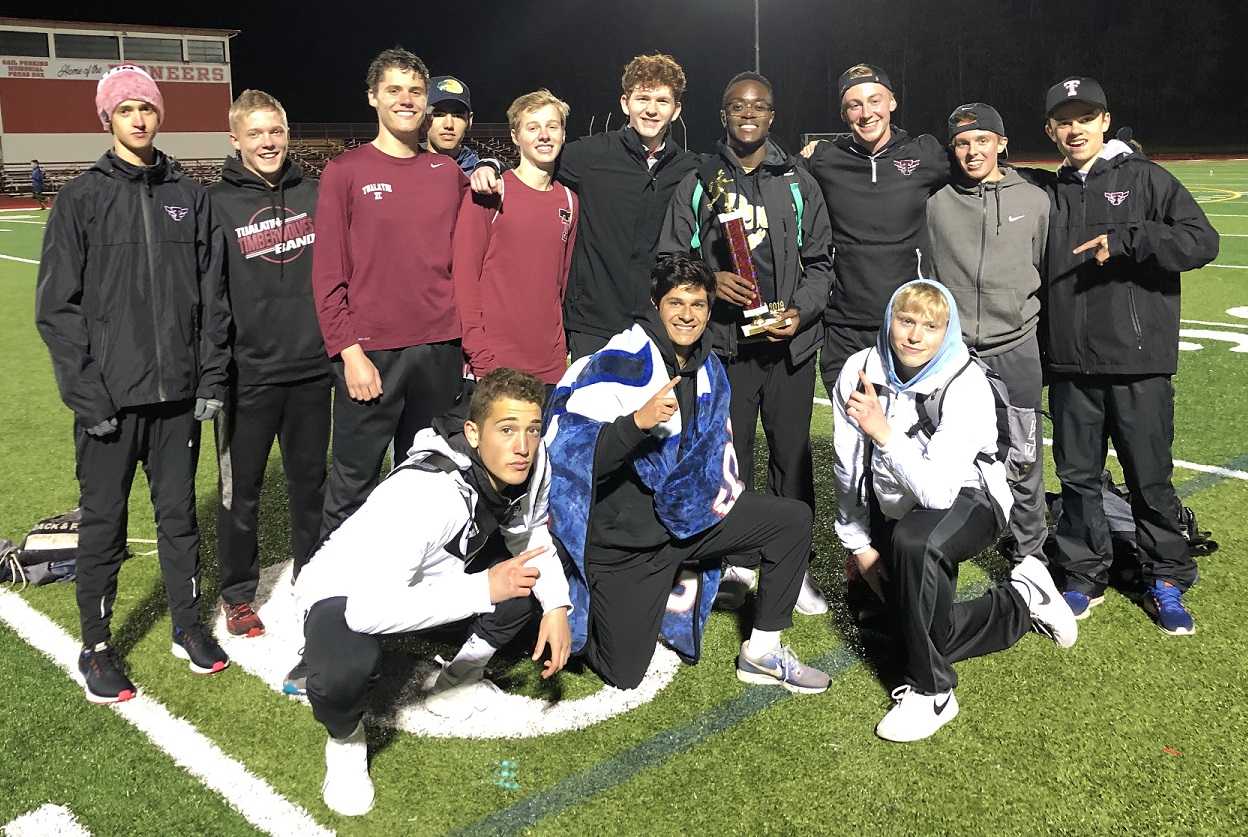 Tualatin track and field coach Hashim Hall may prefer to keep things low key, but Saturday's victory at the Willamette Falls Invitational at Oregon City was the latest evidence that this year's team has something special.
Tualatin, which has never won a boys team trophy at the state championships, has the pieces necessary to win the 6A title this spring.
Senior Mariano "Nano" Kis is the overall state leader in the shot put and second in the discus. He holds the school records in both events.
Senior Kwabena Lynn, who is just 16, is ranked third in the state in the 100 and is the school record holder. On Saturday night, he took nearly five seconds off his best in the 400 to help the Timberwolves break a school record in the 4x400 relay. Oregon City edged out Tualatin to win the race, 3:25.49 to 3:25.51. Those are the second- and third-fastest times in the state so far.
Junior Andrew Payton finished behind two Washington runners in the boys 1,500 meters, but his personal best time of 4:01.02 ranks second in the state.
"They dig each other," said Hall, who took over for long-time mentor Paul Zitzelsberger and is in his fifth year. "They don't hang around much outside of track, but I think they've found a common goal. I think that includes Andrew McDade, our 400-meter runner, and Sam Katsuda, our 13-foot pole vaulter. They are seeing that if they can do a little bit better they can all be part of something (special)."
Hall also runs a Tualatin-based track club called Step Ur Game Up, which attracts some of the top athletes in the area for off-season training and meets.
The club outlet gives track athletes an opportunity to stay focused on the sport year-round.
Lynn, for instance, traveled to New York City in March to compete at New Balance Nationals Indoor.
Kis does extra training with SuperThrowers, a throws-only club based in Oregon City. Katsuda does pole vault training with the Willamette Valley Striders, also located in Oregon City.
"Our thing is, work on your event, do it all year," Hall said.
The team also benefits from athletes who prefer to shift from one sport to another.
Dominique Loggins, an all-league selection at running back for the football team, is a valuable sprinter and jumper and a member of the state's leading 4x100 relay team (42.59 seconds)
The Timberwolves scored 89 points at The Willamette Falls Invitational, easily outscoring runner-up and host Oregon City (58).
As the meet ended, with a school record in the 4x400 and a team trophy, Hall said the athletes who stayed all the way to end celebrated "for 30 minutes."
"It was a pretty fun night," he said.
It may not be the last time this season that Tualatin hoists a trophy.