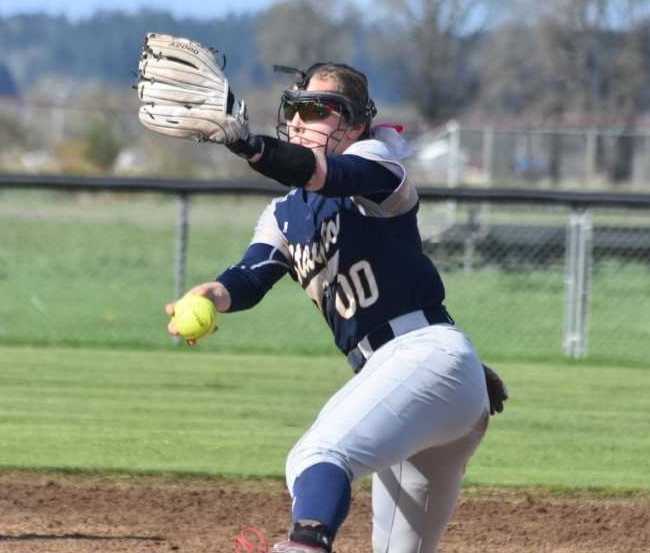 TURNER – Junior Sydney Maurer showed the way as Stayton won at No. 10 Cascade 5-2 in a 4A Oregon West Conference softball game Tuesday.
Maurer had three hits and two RBIs and pitched a three-hitter with eight strikeouts as the Eagles (8-3, 4-2) extended their winning streak to five by beating the Cougars (8-5, 3-3).
Most of Stayton's damage came in the third inning, when it scored three runs to lead 4-1. The Eagles finished with eight hits against Cascade sophomore Mackenzie Dysinger.
"It was really crucial because we had to get our bats going," Maurer said. "Once we got our bats going, then our defense will come along as well. It was really important to get those bats rolling, and it started right off the bat."
Junior Camryn Boyles brought home a run on a sacrifice to cut Stayton's lead to 4-2 in the fourth inning. Maurer drove in sophomore Jade Beaumont to make it 5-2 in the seventh, then retired the Cougars in order in the bottom of the inning.
Beaumont had two hits for Stayton. Sophomore Alexis Bales, freshman Abby Jeppsen and senior Diana Colin-Martinez recorded hits for Cascade, which struggled to build momentum against Maurer.
"We just need to bring the energy and our bats," Dysinger said. "It's hard to go from a slow pitcher and fast pitcher in between. We've got to adjust just like that or else we don't have anything."
Dysinger said she tried to challenge Stayton's hitter low in the strike zone but was hurt when she missed high.
"All I was focused on was hitting my spots, hitting my spots, keep it low," said Dysinger, who had four strikeouts. "When I was hitting low, they were hitting grounders … but then I kept hitting high and they would hit shots."