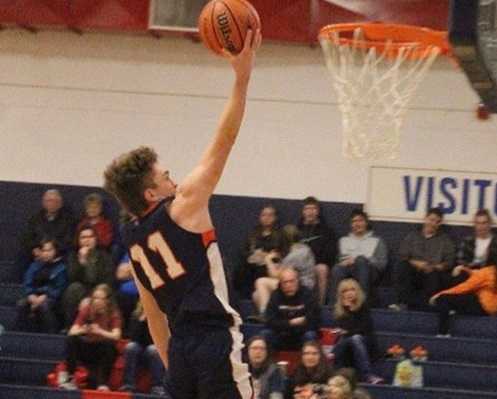 Zach Young spent the fall wrecking defenses on the football field. Now he's at it again, this time on the basketball court.
The Monroe junior, who rushed for 3,813 yards the last two seasons as a 2A first-team running back, is putting up monster numbers for the basketball team.
The 5-foot-10, 170-pound guard is averaging 27.8 points, 9.0 rebounds, 6.4 assists and 3.2 steals for the Dragons (6-10, 1-5 Central Valley Conference), shooting 57 percent from the field. In Saturday's overtime win over Lowell, he had 44 points, 13 rebounds, nine assists and four steals.
"I think he could play with any team in the state," Monroe coach Josh Crawford said. "He's a rare breed. He's ridiculous. He can get to the rim real easily, and he can hit the outside shot. There's nothing the kid can't do offensively."
Young has had to carry a heavier load on offense this season with the loss of Brian Goracke, a 6-4 junior who transferred to 5A Churchill. Last season, Young averaged about 15 points.
"I'm trying to look for my teammates, but at the same time, score enough to keep us in games," Young said. "I didn't really put in a lot of time in the offseason. Before this year, I played a lot of AAU in the offseason, but I've been focusing more on football and getting bigger. With the amount of time I put into basketball, I think it's been a pretty good year so far."
Opposing teams haven't had an answer for Young this season.
"We haven't played anyone so far that can keep the ball out of his hands," Crawford said. "He can pass it. He makes some passes that I can't even believe he makes sometimes. I'm going, 'How did you make that pass?'"
Said Young: "I'm a pretty good scorer, but at the same time, I like to facilitate for my teammates. It's actually more fun for me seeing one of my teammates score off a nice pass than scoring myself."
Monroe's other starters – seniors Colton Sutton and Eric Teran, sophomore Dylan Irwin and freshman Trenton Bateman -- also are football players, and Crawford said that Young's leadership transfers over from football to basketball.
"His leadership is off the charts," Crawford said. "He keeps them all pretty well together. He basically is the coach on the floor. He's very competitive."
Young has embraced the leadership role.
"When the team needs me to step up, I like to be that guy, in any sport, really," Young said. "Although I do wish we won more games this season, it's still been fun being a leader and having guys look up to me."
Young has deep shooting range that extends well beyond the three-point line. And he's got the ballhandling ability and quickness to attack the rim, averaging nine free throws per game.
"If he can get into the paint, he very rarely misses," Crawford said. "He's able to get to the rack, and he's so athletic, he gets up to the rim and gets big guys in foul trouble a lot. We don't have a lot of height, so that makes my job easier where I can get one of their bigs out of the game."
Young – whose father, Brian Young, was a running back at Linfield -- is a dominant force in football, helping the Dragons win the state title in 2017 and reach the semifinals last season.
He was the 2A offensive player of the year as a sophomore and was first-team all-state as a running back and punter as a junior. He also was a second-team pick at defensive back, where he recorded six interceptions, two fumble recoveries, three caused fumbles and four sacks last season.
What sets Young apart, according to Monroe football coach Bill Crowson, is "his ability to play at a very high rate of speed -- all of the time -- and his complete fearlessness when it comes to competition. He has a competitive drive that I have rarely seen in 25 years of coaching football at the high school level."
Young has made his mark in track, too, finishing second in the long jump and third in both the javelin and 800 meters at the 2A championships as a sophomore.
Young's college future probably lies with football. But Crawford, who took over as Monroe's coach this season, believes Young could play college basketball, if he wanted to pursue it.
"It's not really a big passion for him to play college basketball. He loves football so much," Crawford said. "I don't think he's a Division I basketball kid right now, but I think he could get there.
"He plays so aggressive both defensively and offensively that I think coaches might be shocked at what he can do with his size. He could play at a Division II or Division III team right now as a junior."
Young said he has been "keeping an open mind" about college sports.
"I've had a lot of success with football. Going into college, that would be my top choice," he said. "Whatever's going to pay for college is probably what I'm going to go with."