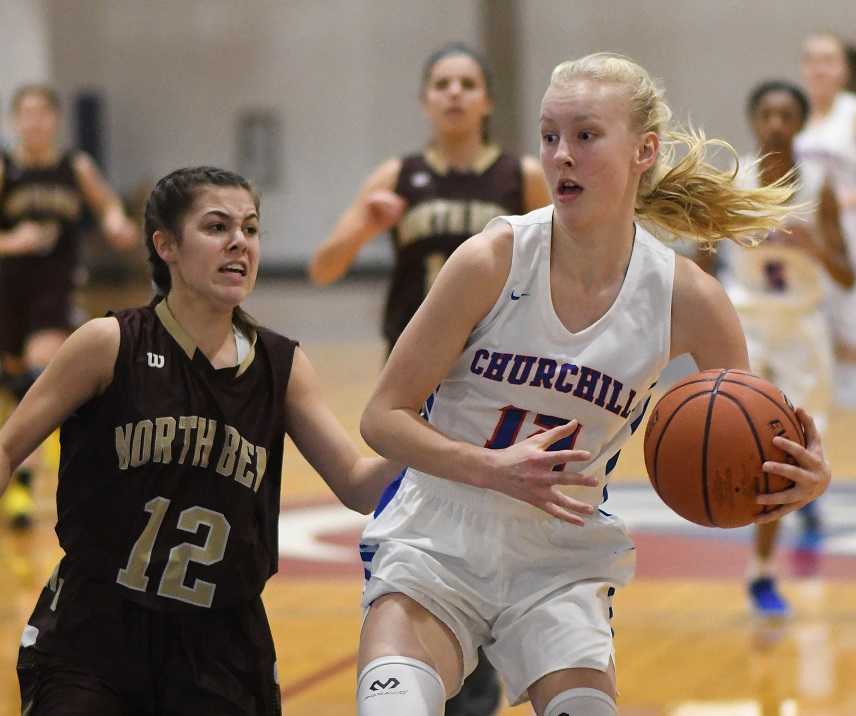 One year after coaching a second Eugene school to a girls basketball state title, Terry Harrison is working on shaping a contender at another one.
Harrison, who co-coached Willamette to 5A championships in 2007 and 2009 and guided Marist Catholic to a 5A title last season, has moved over to Churchill. After finishing 10-14 last season, the Lancers are off to an 8-2 start and are ranked third in the OSAAtoday 5A coaches poll.
"It's a whole new world for them, and I give them a lot of credit because I've thrown a lot at them," Harrison said. "They're just lunchbox kids.
"I didn't think we were going to light the world on fire. We're probably playing better than I thought we were going to be playing, at least at this time of the season. I would assume that we've turned a few heads around the state and shocked a few people."
The team's improvement has coincided with the arrival of 6-foot freshman guard Danika Starr. She is averaging 18.7 points, 5.4 rebounds and 2.0 steals and is shooting 58 percent from the field, including 56 percent on three-pointers (18 for 32), and 87 percent on free throws (47 for 54).
The slender Starr, who scored a season-high 29 points against Sheldon, can play point guard and post and attack with either hand. In Harrison's 38 years of coaching, he rates her among the best freshmen he has seen.
"She's put a lot of time into basketball. She's a gym rat," Harrison said. "She's very skilled for a freshman kid. She can score at the three and she can drive to the basket. She's got a knack for scoring.
"She's very coachable. She's always asking what she can do to get better. She puts 10, 15 pounds on in the next two years, she's going to be a wrecking machine."
Starr has been a good fit alongside senior point guard Isis Smith, an honorable mention all-state pick last season. The versatile Smith is averaging 9.0 points, 5.0 assists, 4.6 rebounds and 3.0 steals.
"Dani and Isis, they're a great one-two punch," Harrison said. "I don't think Dani would be having the success she has if Isis wasn't there. Isis is super quick and she can draw and kick. Isis hasn't scored as much this year and that's because I have her distributing the ball more. She's doing a great job. She has been a great leader for these young kids."
Besides Starr, the Lancers have another promising freshman in 6-0 Stella Scott, the niece of former Lakeridge standout Sabrina Scott, who played at Colorado. She is averaging 3.8 points and 5.5 rebounds.
"She's going to be another one to watch," Harrison said. "I think she's going to try to stay up with Dani, so she's going to keep improving."
Harrison said he left Marist Catholic after six seasons because he "had enough" of parental issues, even in the immediate aftermath of winning the state championship. After he resigned, two of Marist Catholic's best players – senior guard Emma McKenney and senior post Kayley Elliott – transferred to Springfield.
"I literally walked away from a state title," Harrison said.
Harrison said Starr had participated with Marist Catholic in previous summers and appeared headed to the Spartans, but ended up joining him at Churchill.
Harrison scheduled state tournament teams No. 8 Central, No. 6 Crescent Valley and No. 5 Silverton for Churchill's first three games to provide a barometer. The Lancers won them all.
"I figured if we could go 1-2, I'd be pretty happy," he said. "To win all three, it was a good confidence builder for our kids."
In its next two games, Churchill lost at No. 1 Wilsonville 69-53 and at 6A No. 8 Sheldon 65-55, but was within five points in the final minutes of both games. The team's next big test will be Jan. 18 at No. 4 Springfield, a game that could go a long way toward deciding the Midwestern League title.
When Harrison took the Churchill job, he said he told athletic director Kelly Bokn that he would commit to one year at a time. So far, he is enjoying the new challenge with the Lancers, who have never won a state title.
"I was going to retire," Harrison said. "But change is good. That's what I found out. I've been rejuvenated."
So have the Lancers.