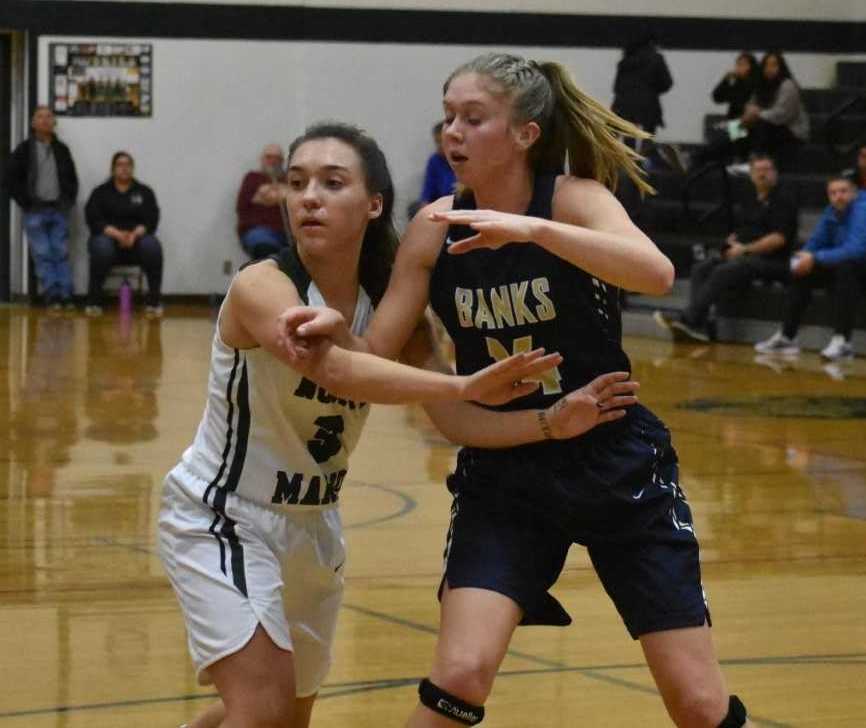 AURORA -- Senior wing Aspen Slifka scored 18 points to lead No. 3 Banks to a 50-31 win at No. 2 North Marion in a 4A nonleague girls basketball game Tuesday night.
Slifka scored 10 points in the first quarter as the Braves took a 21-14 lead. Defense dominated the second quarter, which ended with Banks ahead 23-18.
The Huskies closed within 24-22 early in the third quarter, but Banks' Gracie Nelson scored eight points to extend the lead to 36-25 entering the fourth quarter.
"We ran a surprise offense there that they haven't seen before that we had in our back pocket, and the girls really kicked it in gear," said Nelson, who finished with 12 points. "I think we all really wanted to win tonight, and we knew we were going to be playing a good competitor, so we did what we needed to do."
With its offense struggling to make shots from close range, North Marion was unable to keep pace.
"It was hard for us to get around the offense and from the fourth quarter, we just stopped playing like ourselves," said North Marion junior wing Katie Ensign, who led her team with 10 points. "You could shut down or you could take it and play better, so we're going to do what we can to make us play stronger against Seaside on Friday."
Banks (11-3) pulled away in the fourth quarter, avenging a 50-49 loss to the Huskies (8-5) in a tournament at Hidden Valley on Dec. 14.
The Huskies played shorthanded due to illness. Raymee Boese, a 6-foot-2 senior post, did not play, and Paige Martin, a 6-1 senior post, played only in the first half.
-- Jeremy McDonald
West Linn 64, Lakeridge 40: Aaronette Vonleh had 23 points and 11 rebounds and Audrey Roden added 12 points and nine rebounds as the Lions beat the Pacers in a Three Rivers League game.
West Linn, which had a 36-19 edge in rebounds, played without starting point guard Cami Fulcher (sprained ankle).
Stayton 43, Newport 38 (2 OT): Stayton rallied from a nine-point deficit after three quarters to beat the visiting Cubs in a 4A Oregon West Conference game. Alli Nyquist made three three-pointers and scored 15 points for Stayton. Madison Hargett scored 14 points to lead Newport.
Blanchet Catholic 62, Scio 26: Trinity Phipps scored 16 points and Hailey Ostby added 12 points for the Cavaliers in the 3A PacWest Conference win. Laurel Otto scored seven points for Scio.
Oregon City 61, St. Mary's Academy 50: Brooke Bullock scored 16 points and Tyra Bradford and Emily Fortin added 15 points each as the Pioneers beat the Blues. Bradford scored seven consecutive points in the fourth quarter to help Oregon City hold on.
Wilsonville 85, St. Helens 48: Cydney Gutridge made four three-pointers in the first half on her way to a game-high 21 points for the Wildcats. By halftime, Wilsonville had eight three-pointers and 17 assists on 19 field goals to elad 47-18. Hannah McKinney added 12 points for Wilsonville.
Central Catholic 54, Barlow 33: Abby Cooper scored 23 points and junior post Tala Feimoefiafi came off the bench in the second half to spark the defense as the Rams dominated the Bruins. Emory Miller had eight points for Barlow.
Pleasant Hill 54, Creswell 17: Victoria Lewis had 13 points, six rebounds and six steals and Alexa Ellis added 12 points and six rebounds to lead the Billies, who trailed 6-4 after one quarter but outscored Creswell 36-5 in the next two quarters. Lewis helped limit Creswell's Bailey Howell to six points.
BOYS
Central Catholic 84, Barlow 81: SataieVior Ayilola, a 6-foot-7 junior, scored a season-high 33 points to lead the Rams past the Bruins in the Mt. Hood Conference game.
Central Catholic led by 14 points in the third quarter before Barlow rallied, pulling even at 81-81. Ayilola made two free throws to put the Rams up 83-81 with 30 seconds left. With Central Catholic ahead 84-81 in the closing seconds, the Bruins missed two three-point attempts.
Darius Gakwasi made three three-pointers and scored 18 points for the Rams, who also got 15 points from DeRay Seamster and 14 points from Isaiah Amato.
Barlow's Jesse White and Evan Inglesby each made three three-pointers and finished with 25 and 21 points, respectively. Dominic Jacoby added 11 points.
Trinity Lutheran 54, Central Christian 24: Matt Eidler had 25 points, 10 rebounds and five assists and Cash Niemeyer added 10 points for Trinity Lutheran, which led 27-12 at half. Jace Mills scored 10 points for Central Christian.
Jesuit 72, Southridge 48: Will Spitznagel scored 22 points and Justin Bieker added 17 points as Jesuit bounced back from a loss to South Salem by opening Metro League play with a home win over the Skyhawks. Brock Henry and Jha-Barrie Portis had 15 and 13 points, respectively, for Southridge.
Silverton 83, Dallas 46: The Foxes improved to 5-0 in the 5A Mid-Willamette Conference with the road win. They went on a 20-2 run in the first half and led 44-17 at the break.
Levi Nielsen had 21 points and 17 rebounds, Grant Dunn had 19 points and David Gonzales added 12 points for Silverton. The Foxes had 20 assists on 29 field goals, getting nine assists from Jonah Downey.
Wilsonville 83, St. Helens 31: Sam Westing scored 17 points and Jack Roche had 13 points and 13 assists as the Wildcats scored the first 17 points and never looked back in the 5A Northwest Oregon Conference game.
Triad 48, Hosanna Christian 42: Trailing 35-28 late in the third quarter, Triad went on an 17-0 run to lead 45-35. Hosanna Christian closed to within four points but Triad made 11 of 14 free throws in the fourth quarter to put it away. Ethan Moritz and Weston Heryford scored 18 and 14 points, respectively, for Triad. Ethan Moore led Hosanna Christian with 19 points.