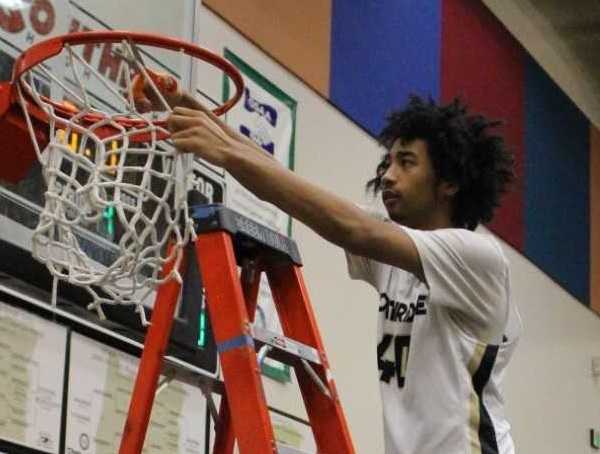 It didn't take Southridge senior Brock Henry long to find his shooting stroke this season.
The 6-foot-2 ½ wing has come out blazing hot last weekend, making 15 of 19 shots from three-point range in two wins at the Cody Hardin Invitational at Tigard.
Henry made five three-pointers and scored 20 points in a 77-54 win over Clackamas on Friday, then came back a day later to hit 10 of 11 from deep on his way to a career-high 42 points as the eighth-ranked Skyhawks drilled David Douglas 91-55.
He went 14 of 16 from the field against David Douglas, repeatedly beating a pressing defense and pulling up for three-pointers and mid-range jumpers. He played 24 minutes, coming out of the game early in the fourth quarter.
"He got himself going early," Southridge coach Phil Vesel said. "A handful of those were just transition threes. We allow him to dribble right into a three if they don't pick him up when he's coming downhill."
Henry's 10 three-pointers against David Douglas puts him in a 10-way tie for fourth on the state's all-time single-game list. Lowell's Brenson Parks made a state-record 13 against McKenzie in 1997.
Of those who have made at least 10 three-pointers in a game, Henry did it on the fewest attempts.
"You could just tell he was feeling it," Vesel said. "Most of them were nothing but net. It was a fun thing to be a part of. You see those things in a college or NBA game, but it's fun to see it in a high school game, where a kid, just everything that leaves his hand, it's all net. When he gets hot, you know he's hot, and we try to make sure we keep getting him the basketball."
Henry averaged 13.5 points last season for Southridge, which won its first 6A Metro League title and reached the state tournament, where it lost to Lincoln 39-36 in the quarterfinals and finished 25-4.
Henry and senior wing Zach Galvin are the only full-time starters back from that team. Senior post Kade Hustler and senior guard Ben Pak, part-time starters, also return.
"We were real disappointed that we got upset at the state tournament," Vesel said. "We felt like we had an opportunity to play with Jefferson and Grant. This year we don't have as much scoring, so Zach and Brock, their shot attempts are going to double. I'm giving them quite a bit of leeway."
Henry and Galvin have the skill to shoot and get to the basket. They both have the green light to make plays and take shots, so more big numbers could be coming from either one.
"I didn't expect Brock to drop 42, but I expect him to be our leading scorer this year, and have opportunities to have some big nights like that," Vesel said.
Henry spent much of the offseason working on his mid-range game, something he showed off against David Douglas. In the past he had a tendency to dribble too deep or get thrown off by contact, but this season he has become more adept at rising for a short jumper.
"You've got to work to cut him off, and now he's rising up on a dime," Vesel said of Henry, who had two dunks against Clackamas. "He's definitely a multidimensional kid offensively."
Vesel said NCAA Division II programs and NAIA colleges are showing interest in Henry. Lewis-Clark State, an NAIA school in Idaho, had an in-home visit with Henry.
The way he is shooting, more colleges could come knocking soon.
"Some schools are waiting to see what he does his senior year," Vesel said. "Physically, he's still a high school kid. When he starts to really fill in his frame, he's going to be a good player. I think he could be a mid-major kid, because he's athletic enough and he shoots it well enough."