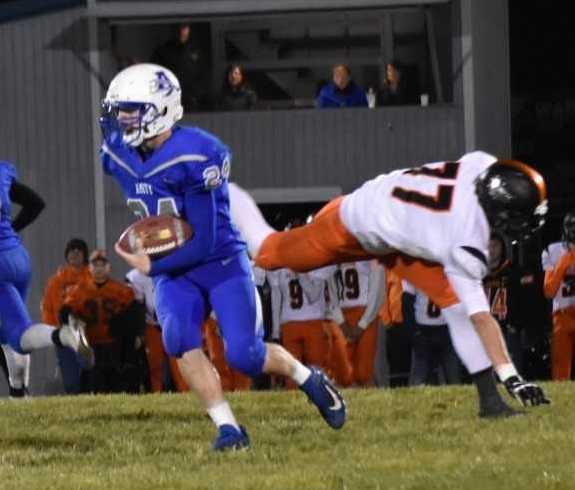 AMITY – Don't be fooled by No. 2 Amity's 50-14 win over No. 9 Willamina in a 3A Special District 1 West division game Friday.
Warriors offensive lineman Robby Scharf said that the Willamina defense was the toughest that the Warriors have faced so far this season. He believes it will help Amity (6-0, 2-0) get ready for a showdown with No. 1 Rainier (6-0, 2-0) next week.
Scharf gave Willamina's defense A's and B's for their effort Friday. Next week, he expects to see "complete A's" from the Columbians.
"(Rainier) has the best defensive player in the state at defensive tackle in Easton Crape," Scharf said. "Saying they're good is an understatement."
Amity built a 24-7 halftime lead over Willamina (4-2, 1-1) as Brian Hatch and West Streeter combined for 203 rushing yards on 21 carries.
"We came into this game, we thought they're going to be really physical, and coming in they were," said Hatch, who rushed for a season-high 126 yards on 14 carries. "Our lineman did a really good job blocking, opening holes for us to cut back and stuff. But overall they were a physical team. You had to earn your yards, you didn't just get them.
"This game is a good game for us to see what next week is going to be. They're big in the front and they're physical. We just need to do what we did tonight and we'll get through it."
Amity's offense continued to roll in the second half as Streeter scored on runs of 20 and 35 yards and finished with 168 yards on 17 carries. Willamina safety and quarterback Kaleb Reid was impressed with Amity's execution.
"It was hard, I'm not going to lie," Reid said. "It was a dogfight. We had our chances and we should have taken it, but we're going to come back stronger."
Willamina, which has scored at least 20 points in each of their first four games, produced only a Reid one-yard score in the second quarter and Ruben Rizo kickoff return for a score in the fourth quarter.
The Bulldogs will look to get back on track against Taft next week before facing Rainier.
"I think it's going to take this knockdown. We were riding high and I could tell in practices," Reid said. "And now that we've hit this stumbling block, we definitely know where we're going to work on, and stuff we're going to work on. So I think we're going to come back stronger."