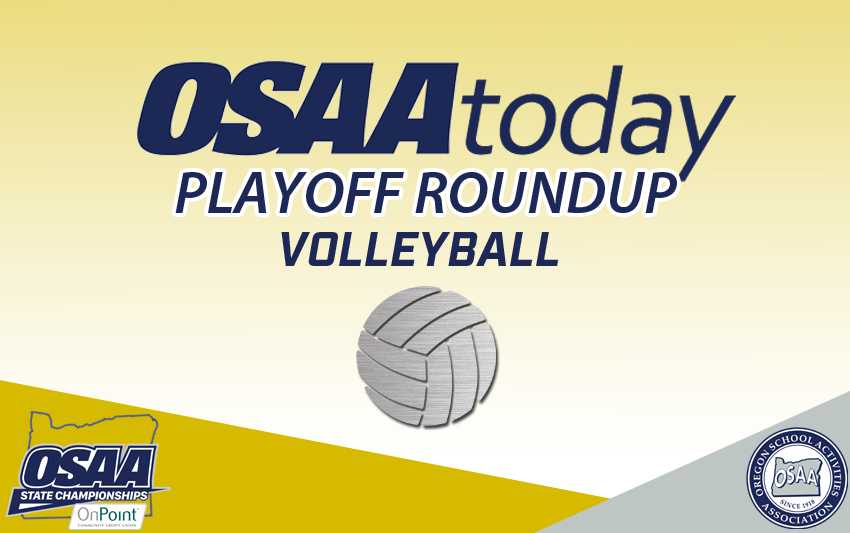 Forty-eight (48) volleyball teams over six classifications punched their tickets to the OSAA state tournament today. Here's how they did it, based on reports received. We will add more highlights as we receive them. Coaches may email [email protected] with details of their matches.
The state tournaments begin at three separate sites on Friday.
6A
Jesuit 3, South Eugene 1 – Jesuit played tense in the first set before settling down and dominating the final three to close out the win. Three Crusaders, Amanda Henry, Maddy Dowdall and Tess Masingale, had 10 or more kills. Alison Buchholz and Peyton Grffin combined for 50 assists and Maisie Alexander led four Jesuit defenders in double figures with 19 digs.
Summit 3, Oregon City 2 – It took extra points in the fifth set before the Storm prevailed. Harper Justema and Hannah Sauer combined for 25 kills in the win. Sophie Matlock added 22 digs.
West Linn 3, Wilson 0 – Sophomores Emily Warmenhoven and Shealyn Cecil shined in the Lions' easier-than-expected home win. Warmenhoven had 15 kills and Cecil recorded seven aces along with seven digs. Audra Wilmes led the way for West Linn with 19 kills and 12 digs in her usual dominant effort. Libero Lily Snook also had a big night, with 10 digs and four aces.
Sheldon 3, Bend 0 -- Reilly Kelty led the Sheldon sweep with 13 kills and nine digs.
Mountainside 3, Sherwood 0 – Mountainside won the first two sets decisively before turning back Sherwood's push in the third to complete the sweep. Kristi Mazzotta led the team offensively with nine kills on .412 hitting. Izzi Szulczewski added six kills, three aces and 14 assists. Grace Clark led the team in digs and serve receive passing.
Canby 3, Sprague 2 – Caitlin Gay's ace serve on match point gave Canby the road win and a trip to the state tournament for the first time since 2007. The Cougars who won the passing and serve battle and played great scrappy defense, got 25 digs from Arika Evans and 65 assists from Ruby Kayser but the story of the night was Daley McClellan. Not only did the junior outside hitter pass a 2.53 (on a 3.0 scale), she also had 50 kills on 111 swings! "So proud of this team," said Canby coach Terri Jo Schlatter. "They are fighters!"
Sunset 3, North Medford 1 -- Ashley VanGordan and Marissa George teamed for 24 digs and the Apollos offense featured five players with five or more kills, led by 10 from Krista Santos.
Central Catholic 3, McMinnville 0 – The Rams were down by five points early in the first set when sophomore setter Lauren Stemple went on a 13-point serving run to turn that set, and the match, around. Mia Jordan had eight kills during the run and 15 for the match for Central, which also got five kills and seven blocks from Katie Nall.
5A
Ridgeview 3, Parkrose 0 – Rylee Troutman had 20 kills and Ally Henry contributed 13 digs in the Ravens' win.
La Salle Prep 3, Crater 1
Crook County 3, Ashland 1 -- Kacie Stafford had 33 digs and was deadly with her serve in the fourth set to help the Cowgirls regain the momentum and go on for the win.
Corvallis 3, St. Helen's 0 –Ryann Gregg had 18 kills, Zaley Bennett contributed 37 assists and Corvallis allowed only14 points per set on average in the convincing win.
West Albany 3, North Bend 0 -- Elijah Sanders handed out 38 assists to key a balanced offensive attack and Sydney Backer had 25 digs and four aces in West Albany's workmanlike win.
North Eugene 3, Pendleton 0 -- Alexis Hobie had 21 kills in North Eugene's win.
Thurston 3, South Albany 2 – Thurston has been in a bunch of five-set matches this season, which helped the team when the match not only went to a fifth set, but into extra points in the fifth. "We've been there a bunch this year and I think that was to our advantage," said coach Allix Baker. "Our players did a wonderful job staying aggressive at the end." The Colts won the final set, 18-16, but might never have been in that position without the serve of middle Jocelyn Dowdy. After Thurston lost the first set, the Colts were down 18-13 in the second when Dowdy served 11 straight points to turn the set and match around. She finished with nine kills and five aces. Heidi Norman also had a big night, recording 40 assists, nine kills and 13 digs.
Wilsonville 3, Crescent Valley 0 – Mighty Wilsonville won in three thanks to a dominant middle presence. Sisters Tenley and Tatum Lubisich hit .700 and .550, respectively, and each had multiple blocks. Crescent Valley was competitive behind Tais Vega, who had 10 kills and six digs; and Eva Buford, who had eight kills. "For a team making a return to the playoffs after finishing at the bottom of the league last year, [the girls] represented our league and their school with pride and enthusiasm," said Crescent Valley head coach Troy Shorey.
4A
Valley Catholic 3, North Valley 0 -- Aggressive serving and consistent passing helped Valley Catholic to the convincing win. Allie Merz had 24 assists and six kills to lead the way for the Valiants. Zoey VanVleet contributed four aces, 24 digs and passed for a 2.36 average on a 3.0 scale.
Banks 3, La Grande 0 – Tied at 24-24 in Game 3, Lindsey Beck fired an ace and Izzy Applebee followed with a kill to help Banks clinch the 3-0 sweep.
North Marion 3, Astoria 2
Junction City 3, Baker 1 -- Alli Bedacht had 20 kills and 11 blocks, Estelle Tedrick added 41 assists and Brilee Buck contributed 25 digs in the win for the Tigers.
Sweet Home 3, Marshfield 0 – Sweet Home held Marshfield to the teens in all three sets in a match filled with many defensive rallies and hard fought points. A varied Sweet Home attack opened up the court and provided ample opportunities to score.
Hidden Valley 3, Tillamook 0
Philomath 3, Corbett 0 -- Philomath reached the State Tournament for the first time since 2013 with the road sweep at Corbett.
Sisters 3, Cottage Grove 0 – Strong serving helped the Outlaws win three competitive sets. Greta Davis led the way with 12 kills and six blocks. Sophie Silva added 11 kills and four blocks. Peyton Kidd led the Cottage Grove offense with 26 assists and added 12 digs. Matty Ladd and Gracie Arnold combined for 16 kills and 19 digs. Ladd also had four blocks.
3A
Santiam Christian 3, Warrenton 0 – Emily Bourne had 13 kills and Kassie Staton added 11 as Santiam Christian swept Warrenton out of the playoffs for the second straight year. The undefeated Eagles have reached the State Tournament every year since 2003.
Sutherlin 3, Harrisburg 2
South Umpqua 3, Oregon Episcopal 0 – Ellery Smith served four aces during an eight-point stretch in the Lancers' win. Jenna Whitmore had 12 kills and eight digs for the victors. Shalyn Gray added eight kills and 18 digs.
Vale 3, Catlin Gabel 1 – Maycee DeLong returned to the lineup to contribute 24 assists and Jaymeson Jensen had 10 kills as Vale shocked Catlin Gabel on the road.
Creswell 3, Scio 0
Burns 3, Amity 0
Horizon Christian, Tualatin 3, Cascade Christian 2 – The two teams combined to score 226 points – 113 for each side – before Horizon Christian libero Alexis Somner served an ace to give the Hawks the 19-17 Game 5 win. Janie Kenaston played exceptionally in the loss for Cascade Christian.
Salem Academy 3, Willamina 0
2A
Kennedy 3, Glide 0 – The Trojans won easily, led by libero Hailey Arritola, who had 10 digs and four aces. Elise Suing also delivered four aces for the top-ranked squad.
Bonanza 3, Delphian 0 -- Nevaeh Nelson had 16 assists and seven kills as the Antlers swept their seventh straight opponent to make the tournament field for the first time since 2016.
Grant Union 3, Monroe 1
Portland Christian 3, Lowell 0
Union 3, Gaston 0
Vernonia 3, Stanfield 0
Weston-McEwen 3, Coquille 0 – The TigerScots came from behind in Sets 2 and 3 to sweep. Four players had seven or more kills and five had 10 or more digs for the victors.
Central Linn 3, Toledo 0
1A
Powder Valley 3, Jordan Valley 0 – Strong serving and outstanding defense powered Powder Valley. "The girls continue to just get stronger and more consistent with every aspect of the game," said coach Marji Lind. "We are excited to be returning to the Elite Eight in Redmond!"
Damascus Christian 3, Echo 0
Rogue Valley Adventist 3, North Douglas 2 -- The young Hawks, with three freshmen in the starting lineup, rallied from down 13-10 in the fifth to advance. Emma Bischoff had 16 kills, 29 digs and eight blocks to lead the way.
Country Christian 3, Central Christian 2 -- Myka Delamarter had 17 kills and Rilea Mills added 15 kills and eight blocks but it wasn't enough as Central Christian fell on the road.
St. Paul 3, Willamina 0
Crosshill Christian 3, Crane 2 – A battle between evenly-matched teams created non-stop back and forth action that went into a fifth set. Sophomore Kalika Gross ended it with a block at 14-12 to send Crosshill Christian to State.
Perrydale 3, Mohawk 0
Days Creek 3, Joseph 0 -- Megan Kruzic had 38 assists and Moriah Michaels and Joleen Crume teamed for 23 kills and 20 digs in the sweep.