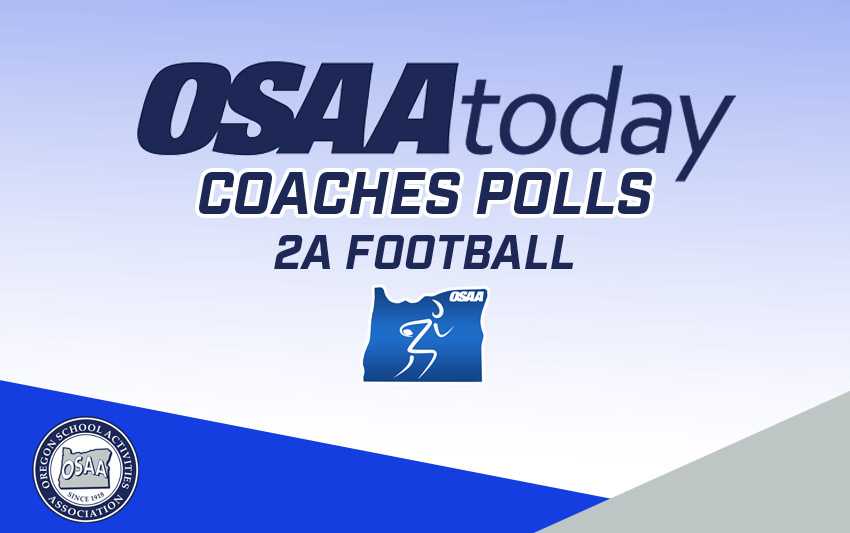 Sept. 25 Statewide 2A Football Coaches Poll
OSAAtoday presents its weekly 2A Football Coaches Poll. Thanks to all the coaches who took the time and had the expertise to contribute their opinions to this endeavor.
Look for the 2A football poll every Wednesday during the fall season.
If you are a varsity 2A football coach and would like to vote, please contact John Tawa at [email protected].
Please note: these polls are for generating interest and discussion only and have no impact on the OSAA's RPI and Colley ratings that form the basis of the OSAA's rankings for playoff purposes.
1. Toledo (3) [5] 3-0 111
2. Heppner (7) [2] 3-0 110
3. Coquille (3) [3] 3-0 104
4. Kennedy [4] 2-1 78
5. Monroe [1] 2-1 68
6. Culver [6] 3-0 56
7. Warrenton [10] 2-1 45
8. Oakland [9] 2-1 23
9. Glide [nr] 2-1 18
9. Sheridan [nr] 2-1 18
First-place votes in parentheses
Last ranking in brackets
Record listed is what's posted on www.osaa.org.
Others receiving significant votes: Knappa (17); Santiam (15); Lost River (13)
Notes:Toledo moves into the top spot after knocking off then-No. 1 Monroe 52-49 as Donovan Villanueva caught two touchdown passes from Jaxon Rozewski and ran for 187 yards, including the go-ahead score in the fourth quarter. Zach Young rushed for 277 yards for Monroe. ... Corbin Picknell rushed for 232 yards and two touchdowns on 24 carries as Oakland topped Bandon 28-0. … Glide held off Reedsport 18-14 behind Caidyn Cunningham, who threw two touchdown passes and had two sacks on defense. … Coquille raced to a 21-0 lead early in the first quarter and held on to beat Jefferson 50-24. Caiden Yates scored on a 62-yard run and 50-yard interception return and Gunner Yates returned a punt 41 yards for a touchdown to build the early lead. … Warrenton rolled Portland Christian 63-13 as Kenzie Ramsey went 9 for 9 on PATs, setting a state record for a girl. Hordie Bodden Bodden ran for 154 yards and two touchdowns, caught a touchdown pass and returned a punt for a score. … Bryce Beyer rushed for 173 yards and two touchdowns in Kennedy's 28-6 win over Santiam. … Heppner won at Gold Beach 57-20 as Mason Lehman returned three punts for touchdowns in the first half.