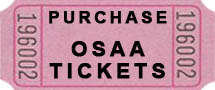 OSAA Headlines
May 7
Includes Football practice contact limitations, Winter Special Districts and OSAA's two-year calendar.
May 6
Outlines increased minimum standards effective for the 2015-16 school year.
May 6
Important form for all students intending to transfer to/from your school.
Apr. 15
Attachments include several new and amended Articles and Rules.
Mar. 30
Details OSAA's stance on eligibility for students transferring under Open Enrollment.