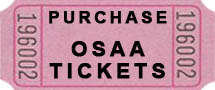 OSAA Headlines
Oct. 2
Details reports and business items for the first meeting of the school year.
Sept. 25
Please discuss within your league and make sure your DA representative is aware of any feedback.
Sept. 10
Includes attachments of a number of proposed amendments being forwarded to the Delegate Assembly for consideration.
Aug. 13
Outlines revised policy in response to Jenna's Law.
Aug. 6
Recommendations for outdoor sporting events related to air quality/visibility.