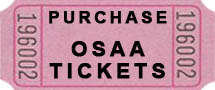 OSAA Headlines
Nov. 19
Includes review of adjusted ADM figures for schools and several action items.
Oct. 29
Updated adjusted ADM figures for all OSAA member schools.
Oct. 24
Registration information for the second of three webinars on Title IX and High School Athletics, rescheduled for January 13.
Oct. 22
Includes adopted Officials Fees for 2016-2019 and two action items approved, effective immediately.
Sept. 3
Restrictions adopted by the Executive Board at the September 3 meeting.