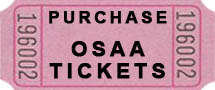 OSAA Headlines
Jan. 22
Includes a proposal to amend Foreign Student Eligibility and school violations.
Dec. 3
How to set up an account to edit schedules, input rosters, upload photos, etc.
Dec. 2
Explanation of OSAA Rankings and answers to frequently asked questions.
Nov. 13
Updated adjusted ADM figures for all OSAA member schools.
Oct. 22
Contains attachments of action items and first readings from their first meeting of the year.