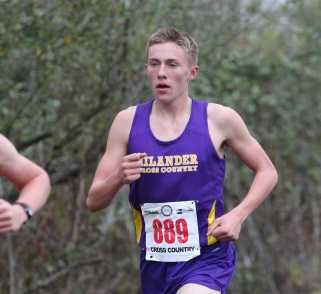 It wasn't long ago that the Burns cross country program was on life support. As recently as 2011, the Hilanders had only five runners and no feeder program.
Much has changed since that time.
Andrea Letham established a middle-school program in 2012 and took over as the high school coach two years later. Runners began attending camps and putting in extra work in the summer. The team got district funding for transportation.
And with a new team mentality, the Hilanders are flourishing. The boys team finished fifth in the 3A/2A/1A meet last year and is No. 1 in the 3A coaches poll this season. The girls team is fifth in the 3A/2A/1A coaches poll.
"I feel like we've been building this for a good seven years now," said Letham, who ran in high school at Lakeview. "So I'm pumped."
The Hilanders have never won a state cross country title, but the boys team might be ready to end that drought this year. Entering the week, Burns boys dominate the list of top 3A times this season with senior Emmett Klus (first), juniors JP Friedrichsen (fourth), Calvin Bates (seventh) and Ryan Robles (15th) and freshman Masson Shaw (16th).
"Our goal is to keep them really grounded and focused," Letham said. "A few of them have run in state competition in track – Emmett, JP – but the rest of them, this is a big, big deal. They know that it's within their grasp."
The Hilanders have become serious about running. Letham has been taking the team to the Steens Mountain High Altitude Running Camp each summer, something that started with two boys in her second season as coach.
"It just shifted the energy of the team," she said. "They came back and got everybody excited. The last four years we've taken more and more kids. We've fundraised to get it done."
The team has been creative in finding places to train around Burns.
"It's pretty flat in town," Letham said. "We definitely tap into land owners and cattle ranchers and everything in the surrounding area. We have agreements with them to be able to run on their property."
Klus, who won the 800 and 1,500 meters in the 3A track meet last spring, has emerged as the team's leader. He ran 16 minutes, 49.1 seconds in the team's first meet Aug. 30, the best 3A time this season by 14 seconds.
"He's matured in his speed," Letham said of Klus, who was fifth in the state meet in 2017. "He's just matured as a person, which has enabled him to continue to get faster. It's tough because we don't have anyone running with him during workouts. One of the managers goes on a bike to keep him on pace."
The girls team also is making gains. Senior Mckenzi Hoyt, sophomore Alicyn Hoke and freshman Riley Morris rank among the top 20 in 3A/2A/1A.