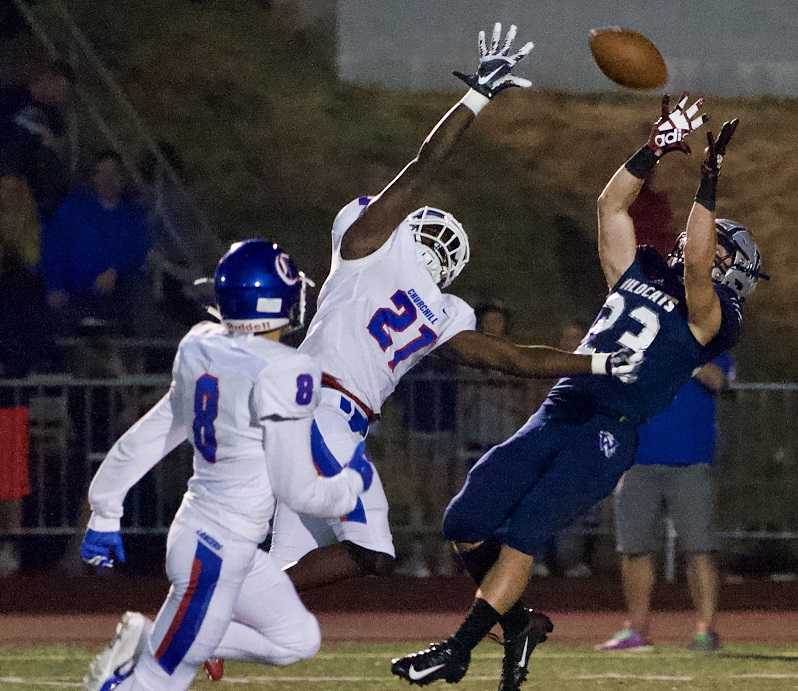 WILSONVILLE -- Sam Westing didn't know who deflected the ball. Jonah Gomez didn't know, either.
But amid all the madness of Friday night's four-hour shootout against No. 1 Churchill, it didn't much matter to No. 2 Wilsonville. All that counted for the Wildcats was that they emerged from the 5A football showdown with a 57-50 victory on a play that will long be talked about in Wilsonville.
Trailing 50-49 with 8.8 seconds left and with a first down at Churchill's 9-yard line, the Wildcats decided to take one more shot at a touchdown before attempting a field goal.
Senior quarterback Nathan Overholt tried to find Westing on a slant pattern, but Westing was covered tightly and the ball deflected up into the air. Gomez reached back and caught it for a 55-50 lead with 3.5 seconds left.
"I was coming across and I saw it bounce off a defender's arm or Sam's arm," Gomez said. "I just saw it in the air and I said, 'Yep, I'm grabbing that.' And I pulled it down. It was crazy."
Wilsonville (2-0) added a two-point pass play and held on to win a game that very well could be a preview of the state final.
"It was a humdinger," Wildcats coach Adam Guenther said of the game, which featured a 30-minute lightning delay in the second quarter. "I know for sure you just saw a playoff-caliber game in Week 2."
Wilsonville, a semifinalist last season, and Churchill (1-1), the state runner-up, were led by outstanding quarterback play.
The 6-foot-3, 190-pound Overholt completed 22 of 38 passes for 452 yards and six touchdowns, ran for a score and caught the two-point pass at the end.
Churchill senior Demontre Thomas II, a transfer from Texas, went 23 of 35 for 280 yards and three touchdowns with two interceptions and ran for 85 yards and four touchdowns on 14 carries.
Thomas' best play of the night came after he threw a 17-yard touchdown pass to senior Elijah Fields to draw the Lancers within 49-48 with 53 seconds left. On the ensuing two-point try, Thomas rolled to his right and cut back to dodge traffic and find the end zone, giving Churchill a 50-49 lead.
"I was not getting denied. I was not for sure," Thomas said. "I seen my guys weren't open downfield, and I was like, 'I've got to take it.' All game it worked."
The Wildcats marveled at the play of the 6-0, 210-pound Thomas, who in two games has passed for six touchdowns and run for six scores.
"That was an incredible play," Overholt said. "I saw the rollout, I saw no one open and I was like, 'Yeah, we've got a stop.' He's a real talented kid. I'd love to see him again. I'll follow him all year."
Thomas' two-point run left Wilsonville with nearly a minute to respond. And the Wildcats, who had come from behind four times in the game after falling behind 14-0, weren't about to go out quietly.
"We were really confident. Two timeouts, 53 seconds," Westing said. "It just went perfect."
Overholt completed passes of 27 yards to senior Zach Rivers and 15 yards to Gomez to get Wilsonville to the Churchill 29 with 29 seconds left. On fourth-and-10, Overholt found Rivers for 20 yards to the Churchill 9 with 8.8 seconds left, setting up the touchdown pass to Gomez.
"This team in crazy," Gomez said. "Our receiving corps is crazy. So I didn't lose hope. Definitely I was like, 'Whoa, I don't know what's about to happen,' but we did something like this two years ago against St. Helens, so let's do it again."
The last drive was especially impressive considering Overholt had injured his throwing thumb two series earlier and Rivers was carried off the field early in the fourth quarter with an apparent leg injury.
"It got caught in the turf and bent back," Overholt said of his thumb. "I don't know what the injury is. It was a little tough to grip the ball, but at that point, we had other guys that were hurting, too. I think everyone was so amped, it didn't matter what was happening to us."
Overholt has thrown for 888 yards and 11 touchdowns in two games.
"Nate always brings it," Westing said. "He keeps us in the game. He messed up his thumb but played through it."
Westing had four catches for 73 yards and three touchdowns and Gomez had seven catches for 157 yards and one score. Rivers and senior Isaiah Haqq also had touchdown catches for Wilsonville.
Wildcats senior safety Kevin Burke had the defensive play of the game, returning an interception 42 yards for a touchdown to put his team ahead 49-42 with 7:52 left. Thomas made up for the miscue, though, by leading the ensuing touchdown drive.
Fields led Churchill's receivers with six catches for 92 yards and one touchdown. Seniors Kimani Quade and Marshaun Tucker Jr. also had touchdown catches for the Lancers, who got 90 rushing yards on 18 carries from senior Jaiden Pasillas.
"Great teams. They had a couple bounces go their way tonight," Churchill coach A.J. Robinson said. "The last time we lost was the state title game, and now we have an opportunity to actually come back next week and correct things we didn't do as well as we wanted to."
Said Thomas: "We wish it could've gone the other way, but we'll see them in November, for sure."