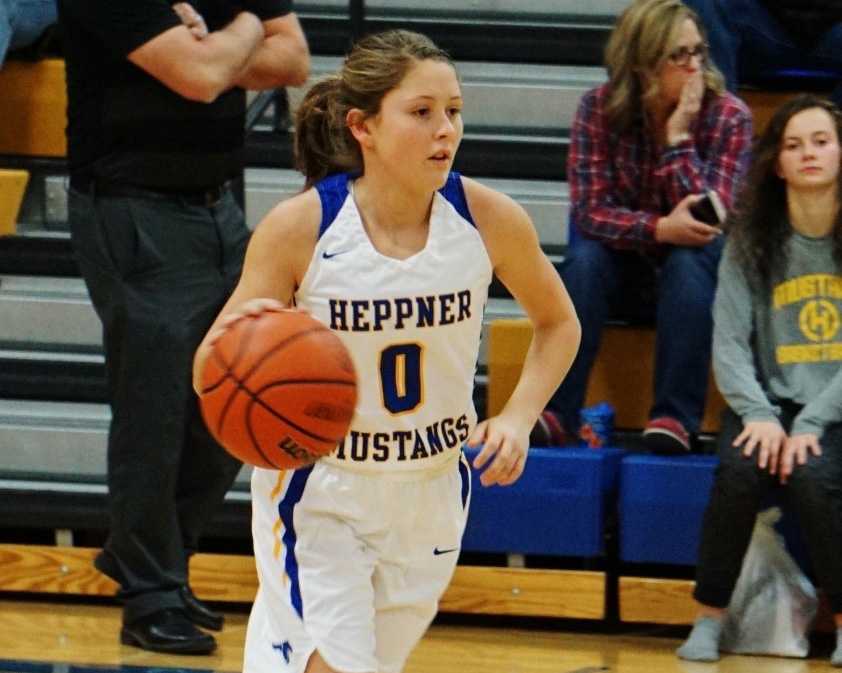 [Editor's note: "Take Five" is a recurring feature designed to offer a quick look at some of Oregon's most interesting high school sports standouts. Today we meet junior Madelyn Nichols, a three-sport standout (cross country, track & field and basketball) for the Heppner Mustangs, the reigning OSAA 2A champions. We asked Nichols to answer five questions from the 25 we sent to her. Her responses follow…]
OSAAtoday: What's the most interesting or unusual thing about you?
Madelyn Nichols: I have heterochromia iridis, which means that I have two different colored eyes. I have one brown eye and one green eye.
OSAAtoday: What was your first big success as an athlete and how did it impact you?
Nichols: My first big success was in track. My freshman year I made it to state. In both my events I made the podium. Before this I was timid and wasn't confident in my abilities as an athlete. After this meet, I realized I am capable of more than I think I am. From then on I was confident in my abilities. It helped me in basketball the most. It gave me the confidence to handle the ball and take open shots. Gaining confidence in my athletic ability has completely changed the way I compete.
OSAAtoday: If you were the School Principal for a day, what would you do?
Nichols: I would start out by allowing students to have a break in the day to socialize. I would have a 15-minute break in the morning and a 15-minute break after lunch. Students can either play games in the gym, gather in the library to socialize, or even nap if they need it. I feel it is important that we have time to relax and refocus.
Another thing I would do is provide a way for students to easily contact teachers or staff. Students struggle in high school and it's difficult to talk to adults about it. I would allow an effective, simple way of communication for students.
Finally, as Principal, I would be more involved in the students' activities and clubs. I would be supportive in every sport, club, and fundraiser for the school.
OSAAtoday: What's the single funniest thing you've ever seen in your sports career?
Nichols: In cross country we had a meet in Condon. They made the course fun by putting in hay bales as obstacles. Throughout the race, my team and I did cartwheels over the hay bales. By the end of the day almost every runner did a cartwheel in the middle of their race.
OSAAtoday: What kind of coach gets the best out of you as a player?
Nichols: A coach that gets the best out of me as a player is one that isn't afraid to coach me. My basketball coach is very detail oriented. He is tough on me and won't let me get away with not trying or doing something incorrectly. His constant coaching and correcting has helped me create a habit of paying attention to detail. When it comes to games, the small things matter more than I ever thought they would.
Read other Take Five articles published in connection with the 2019-2020 school season:
South Umpqua outside hitter Shalyn Gray
Lincoln distance runner Mia Kane
Madras football player Treyvon Easterling
Gladstone soccer player and cross country runner Derek Johnson
Canby soccer standout Ruby Kayser
Exceptional Scappoose athlete Emma Jones
Siuslaw harrier Brendon Jensen
Wilsonville volleyball attacker Lindsey Hartford
Lake Oswego runner Brogan Deem-Ranzetta