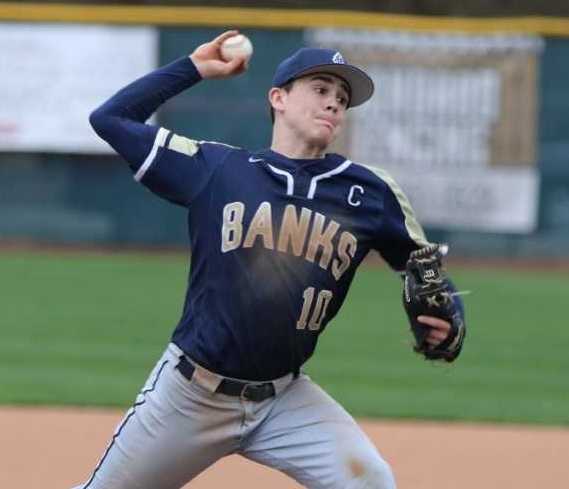 No pressure.
Fair or not, perhaps no baseball team has started the season with more stilted expectations than Banks, a school in the midst of a euphoric year with 4A championships in football and basketball.
No school has won football, basketball and baseball in the same school year since North Valley accomplished the feat in AA in 1984-85.
"You don't know how many times I've heard the word 'trifecta,'" Banks coach Joe Baumgartner said.
The coach certainly could do without such expectations, but it's not a far-fetched notion that the Braves (4-1), ranked third in the OSAAtoday 4A coaches poll, can at least make a playoff run. They made the quarterfinals the last two seasons and have five starters back from 2018.
But they enter the season with one major question: Can their pitching hold up after the graduation of ace Dalton Renne?
"For us to be as good as a couple of the other teams – namely North Marion and Henley, who have really good pitchers – we're going to have to figure out our pitching staff," Baumgartner said. "Guys are going to have to really emerge.
"Hitting-wise, defensive-wise, we're right there with anybody. Our team is very good, in fact, it's one of the best teams I've coached at every position but pitching. But in baseball, pitching is pretty darn important."
The team's leading candidate on the mound is senior Hayden Vandehey, a first-team all-state shortstop last season. As the quarterback of the football team and a starter on the basketball team, Vandehey brings a competitive edge.
"He's a great leader, and he's an excellent baseball player," Baumgartner said. "We're very fortunate to have him. It's hard having your shortstop be one of the top pitchers, but that where we're at, and that's what we've got to do."
After Vandehey, though, it's a crapshoot. The early part of the season has become an extended audition for the Braves, who used nine different pitchers in their first three games.
Some of the results have been promising. Vandehey did not allow an earned run in four innings in the team's only loss, 3-1 at No. 1 North Marion on Thursday. Senior Tyler Lilly has allowed one run in six innings in winning his first two outings. And senior Thomas Cook threw a five-inning shutout in a 10-0 win over reigning 4A champion Gladstone.
The offense has been clicking, scoring 43 runs in the first four games before being halted by North Marion senior lefty Griffin Henry. Cook and senior first baseman Blake Gobel have hit home runs.
The team is loaded with winners from the football and basketball teams. Vandehey, Gobel and junior second baseman Jarred Evans are the only ones to play all three sports. Senior center fielder Dakota Bunn, third-team all-state last year, was a starter on the basketball team.
"He's just an amazing defensive outfielder, one of the best I've coached," Baumgartner said of Bunn, who has missed three games with a sore hamstring.
Vandehey and Bunn, left-handed hitters, bat 1-2 in the order. Freshman outfielder Colten Hesselman, senior catcher Trask Applegate and Gobel follow them.
Baumgartner, who had head-coaching stints at Banks (1986-97) and Forest Grove (1998-2009) before returning to the Braves' dugout last season, is confident that his players will rise in big moments.
"These guys have been through it all," he said. "They've been in pressure-packed games throughout the year. I'm probably more nervous than they are."