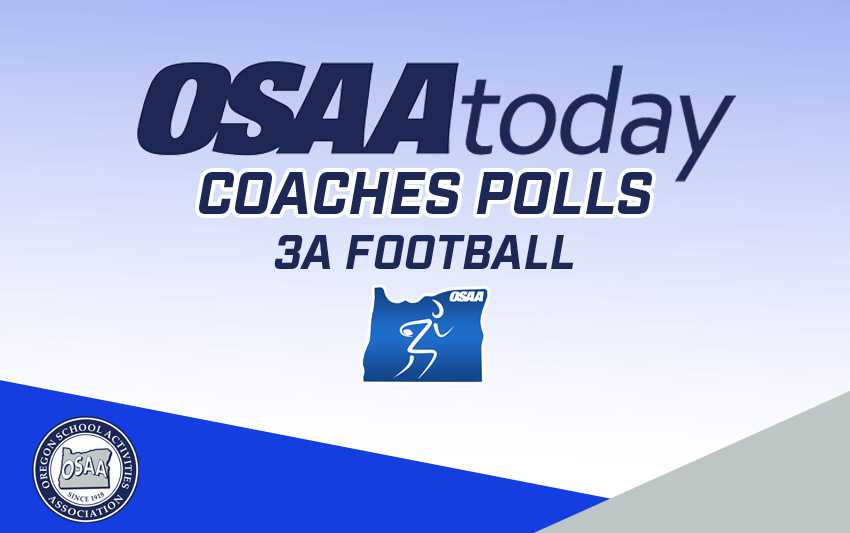 Oct. 13 2021 3A football coaches poll
OSAAtoday presents its 2021 statewide 3A football poll following the conclusion of Week 6. Thanks to all the coaches who took the time and had the expertise to contribute their opinions to this endeavor.
Look for the 3A football poll every Wednesday during the fall season.
Please note: these polls are for generating interest and discussion only and have no impact on the OSAA's RPI and Colley ratings that form the basis of the OSAA's rankings for playoff purposes.
If there are any varsity football head coaches who would like to vote in 3A coaches polls going forward but did not receive notice to vote in this one, please email [email protected]
1. Rainier (3) [1] 5-1 90
2. Siuslaw (6) [2] 5-0 87
3. South Umpqua (1) [3] 6-0 69
4. Cascade Christian [4] 2-2 64
5. Junction City [6] 4-0 57
6. Vale [5] 5-1 43
7. Warrenton [8] 4-1 38
8. La Pine [7] 2-3 32
9. Santiam Christian [9] 3-2 18
10. Philomath [10] 5-1 17
10. Dayton[nr] 5-1 17
Dropped out: None
First-place votes in parentheses
Last ranking in brackets
Record listed is what's posted on www.osaa.org.
Others receiving significant votes: None
Week 6 highlights: John Wolfe caught six passes for 128 yards and two touchdowns and returned a kickoff 95 yards for a score in Vale's 34-13 win over Baker. … Cascade Christian thumped St. Mary's 35-7 to extend its edge in the series to 21-1. Keith Reed threw three touchdown passes and ran for a score and Triston Wallace rushed for 110 yards for the Challengers. … Siuslaw trailed La Pine 26-20 in the fourth quarter before pulling out a 34-26 win. Camp Lacouture rushed for three touchdowns, including a tiebreaking one-yard score with 1:04 left. .. Warrenton rushed for 408 yards in its 36-14 win over Corbett. Dylon Atwood had 15 carries for 175 yards and three touchdowns and Hordie Bodden Bodden had 12 carries for 157 yards and two scores. ... South Umpqua defeated Burns 42-12 as Kade Johnson caught four passes for 114 yards and three touchdowns, ran for a score and had an interception. Jace Johnson passed for 194 yards and three touchdowns and Justin Jenks ran for two scores. ... Gabriel Ward rushed for 261 yards and three touchdowns on 25 carries as Junction City beat Santiam Christian 42-13. .. Rainier fell to 4A No. 1 Marshfield 43-16.