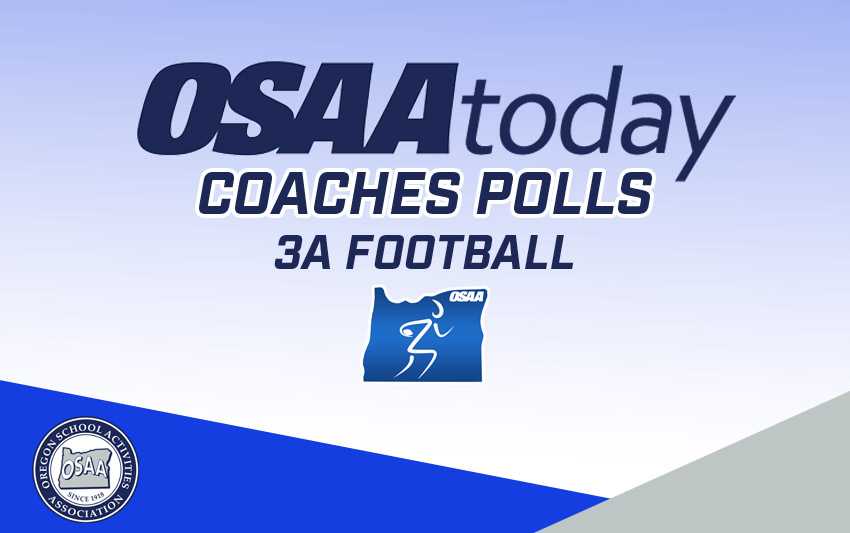 Nov. 6 Statewide 3A Football Coaches Poll
OSAAtoday presents its final 3A Football Coaches Poll of 2019. Thanks to all the coaches who took the time and had the expertise to contribute their opinions to this endeavor all season long.
Please note: these polls are for generating interest and discussion only and have no impact on the OSAA's RPI and Colley ratings that form the basis of the OSAA's rankings for playoff purposes.
1. Hidden Valley (12) [1] 9-0 129
2. Santiam Christian (1) [2] 9-0 113
3. Clatskanie [3] 7-2 88
3. Burns [4] 9-0 88
5. Cascade Christian [5] 8-1 79
6. Amity [6] 7-2 58
7. Rainier [7] 7-2 48
8. Yamhill-Carlton [8] 9-0 35
9. Sutherlin [nr] 7-2 29
10. Vale [9] 5-4 24
First-place votes in parentheses
Last ranking in brackets
Record listed is what's posted on www.osaa.org.
Others receiving significant votes: St. Mary's, Medford (15)
Notes: Cascade Christian set a school record with six interceptions – two each by Matt McPheeters and Kristian Fralich – to defeat St. Mary's 61-7. The Challengers had 572 total yards. … Sutherlin ran over Siuslaw 56-18 as 6-2, 225-pound Josh Davis rushed for four touchdowns. … Santiam Christian breezed past La Pine 57-21 as Marcus Fullbright rushed for 145 yards and four touchdowns. … Sam Vidlak threw five touchdown passes – two to Nathan Vidlak – in Hidden Valley's 49-12 win over Brookings-Harbor. … Burns took advantage of three early fumbles to defeat Vale 27-8 and capture the Special District 3 title. ... Hunter Stephenson and Noah Birt combined for seven sacks as Yamhill-Carlton beat Blanchet Catholic 27-0 to finish the regular season unbeaten for the first time in school history.