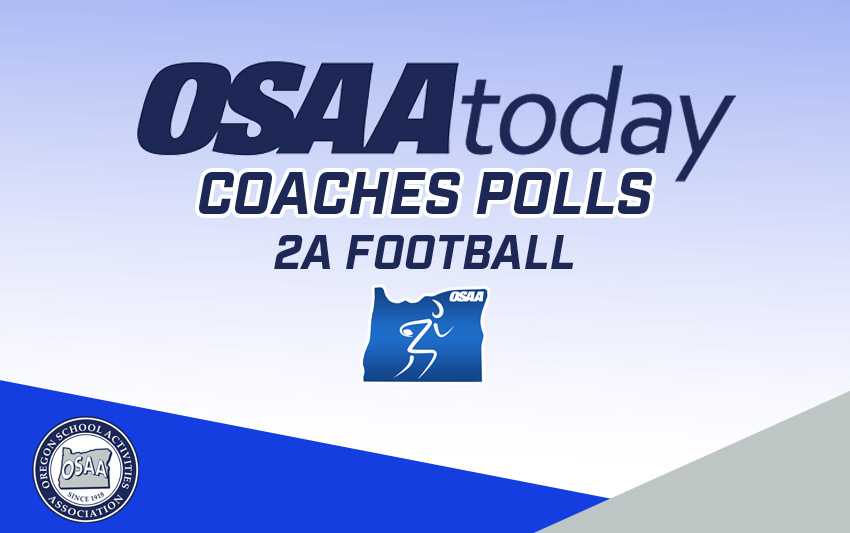 Nov. 6 Statewide 2A Football Coaches Poll
OSAAtoday presents its final 2A Football Coaches Poll of 2019. Thanks to all the coaches who took the time and had the expertise to contribute their opinions to this endeavor all season long.
Please note: these polls are for generating interest and discussion only and have no impact on the OSAA's RPI and Colley ratings that form the basis of the OSAA's rankings for playoff purposes.
1. Heppner (7) [1] 9-0 130
2. Coquille (1) [4] 8-1 114
3. Kennedy (4) [2] 7-1 113
4. Monroe (2) [3] 8-1 103
5. Toledo [5] 7-2 70
6. Knappa [6] 7-2 64
7. Oakland [7] 7-2 54
8. Sheridan [8] 6-2 32
9. Warrenton [9] 6-2 28
10. Glide [nr] 5-4 11
First-place votes in parentheses
Last ranking in brackets
Record listed is what's posted on www.osaa.org.
Others receiving significant votes: Bandon (9)
Notes: Heppner stayed unbeaten by dominating Stanfield 49-0 as Mason Lehman caught two touchdown passes and Blake Wolters ran for two scores. … Warrenton smothered Nestucca 35-0, allowing only three first downs and 34 total yards. In their last four games, the Warriors have held opponents to 115 total yards. … Zach Young returned the opening kickoff 75 yards for a touchdown to set the tone for Monroe's 45-3 win over Regis. Young added two touchdown runs. … Bandon extended its winning streak to four by defeating winless Gold Beach 59-6. … Corbin Picknell rushed for 201 yards to lead Oakland past Central Linn 30-8. … Caidyn Cunningham scored on a 14-yard run with just over one minute left to give Glide a 22-18 win over Lakeview and the No. 1 seed in Special District 5. … Sheridan got rushing touchdowns from DeEldon Paulk and Wyatt Schultz in a 12-8 win over Culver. ... Ean Smith rushed for three touchdowns to lead Coquille past Toledo 32-20.