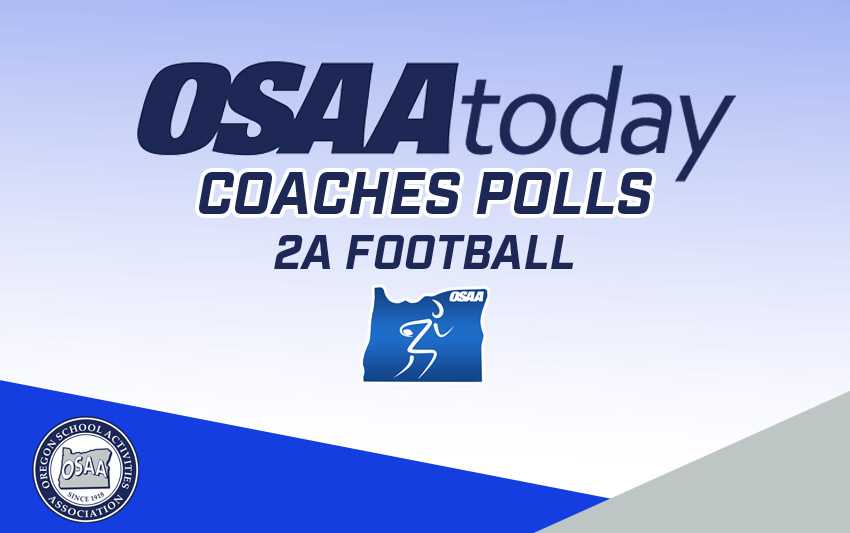 Oct. 9 Statewide 2A Football Coaches Poll
OSAAtoday presents its weekly 2A Football Coaches Poll. Thanks to all the coaches who took the time and had the expertise to contribute their opinions to this endeavor.
Look for the 2A football poll every Wednesday during the fall season.
If you are a varsity 2A football coach and would like to vote, please contact John Tawa at [email protected].
Please note: these polls are for generating interest and discussion only and have no impact on the OSAA's RPI and Colley ratings that form the basis of the OSAA's rankings for playoff purposes.
1. Heppner (6) [2] 5-0 108
2. Toledo (4) [1] 5-0 107
3.Coquille (1) [4] 4-1 91
4.Kennedy (1) [3] 4-1 80
5.Monroe [5] 4-1 71
6.Oakland [6] 4-1 57
7.Santiam [9] 3-2 39
8.Knappa [8] 3-2 31
9.Culver [7] 4-1 24
10.Lost River [nr] 3-2 12
First-place votes in parentheses
Last ranking in brackets
Record listed is what's posted on www.osaa.org.
Others receiving significant votes: Neah-Kah-Nie (10); Warrenton (10); Stanfield (9)
Notes: Zach Young rushed for 193 yards and three touchdowns and Dylan Irwin ran for 132 yards as Monroe cruised past Creswell 51-7. … Heppner rolled over Riverside 54-8, racing to a 41-0 lead in the first quarter. Casey Fletcher threw three touchdown passes. … Enrique Arellano rushed for 231 yards and three touchdowns in Stanfield's 28-14 win over Weston-McEwen. … Jaxon Rozewski threw three touchdown passes to Donovan Villanueva as Toledo dominated Reedsport 48-6. … Coquille rushed for 372 yards, getting three touchdown runs each from Caiden Yates and Ean Smith, to beat Bandon 48-19. … Oakland beat Jefferson 42-14 as Corbin Picknell ran for four touchdowns.