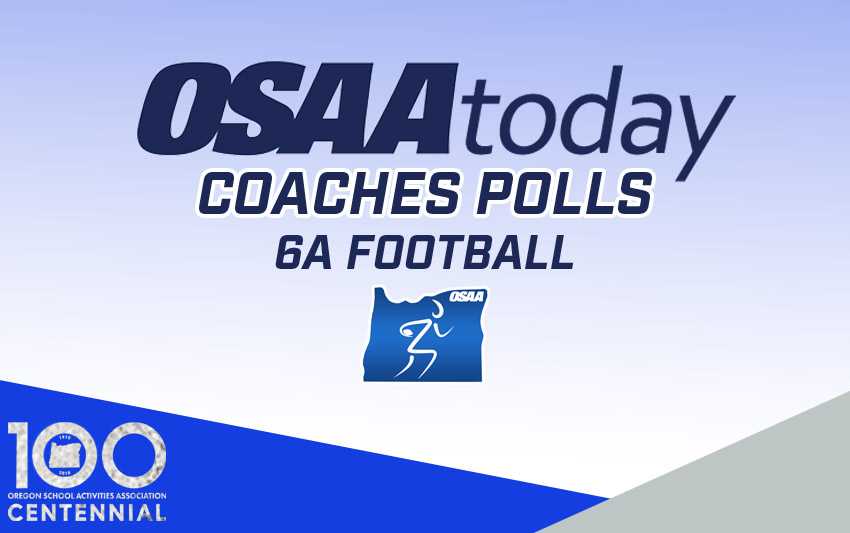 Week 2 Statewide Football Coaches Polls 6A
OSAAtoday presents its weekly 6A Football Coaches Poll. Thanks to all the coaches who took the time and had the expertise to contribute their opinions to this endeavor.
Please note: these polls are for generating interest and discussion only and have no impact on the OSAA's RPI and Colley ratings that form the basis of the OSAA's rankings for playoff purposes.
6A Football
1. Lake Oswego (7) [3] 2-0 150
2. Clackamas (4) [1] 2-0 128
3. West Linn (4) [2] 2-0 126
4. Tigard [6] 2-0 101
5. Central Catholic (1) [5] 0-2 75
6. Jesuit [4] 1-1 72
7. Sheldon [6] 1-1 66
8. Tualatin [8] 2-0 65
9. South Medford [nr] 2-0 20
10. West Salem [nr] 1-1 19
First-place votes in parentheses
Last ranking in brackets
Record listed is what's posted on www.osaa.org
Others receiving significant votes: Liberty (17)
Notes: West Linn overpowered McNary 55-27 with its passing game as senior Ethan Long completed 31 of 45 passes for 410 yards and six touchdowns with two interceptions. Junior Casey Tawa had 15 catches for 174 yards and three touchdowns and senior Cade Knutson had seven catches for 142 yards and one score. … Sheldon quarterback Griffin Line, filling in for Michael Johnson Jr., threw four touchdown passes – three to Patrick Herbert – and ran for two scores as the Irish thumped Thurston 58-7. … Terrence Butler ran for three touchdowns in South Medford's 38-12 win over Canby. … Lake Oswego led Jesuit 20-0 in the fourth quarter and held on for a 20-14 win. … Anthony Gould scored five touchdowns to lead West Salem past Bend 56-27. … Clackamas topped Sherwood 43-14 as Noah Hobbs ran for three touchdowns.