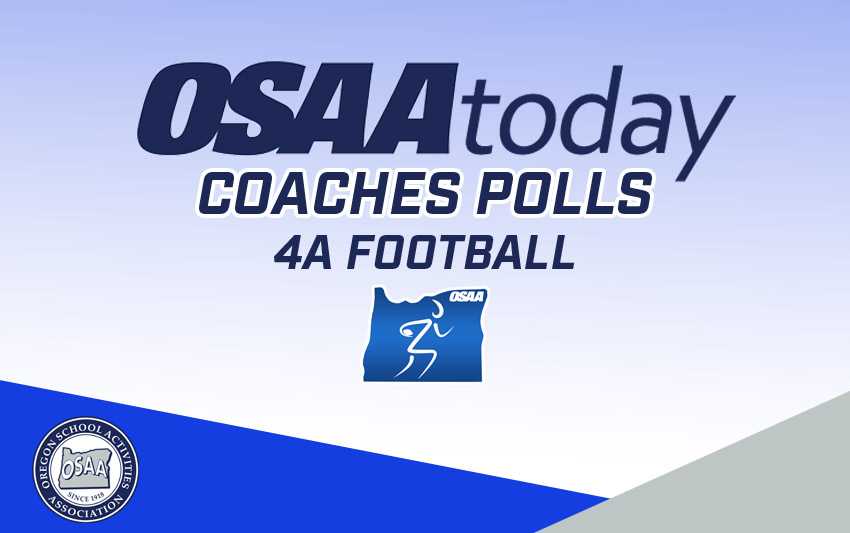 Oct. 1 Statewide 4A Football Coaches Poll
OSAAtoday presents its weekly 4A Football Coaches Poll. Thanks to all the coaches who took the time and had the expertise to contribute their opinions to this endeavor.
Look for the 4A football poll every Tuesday during the fall season.
If you are a varsity 4A football coach and would like to vote, please contact John Tawa at [email protected].
Please note: these polls are for generating interest and discussion only and have no impact on the OSAA's RPI and Colley ratings that form the basis of the OSAA's rankings for playoff purposes.
1. Banks (10) [1] 4-0 136
2.La Grande (2) [3] 4-0 123
3. Mazama (2) [2] 4-0 121
4.Marist Catholic [5] 3-1 100
5.Gladstone [4] 3-1 96
6.Cascade [6] 3-1 64
7.Baker [10] 3-1 45
8.Estacada [7] 3-1 44
9.Henley [8] 4-0 34
10.Marshfield [nr] 2-2 13
First-place votes in parentheses
Last ranking in brackets
Record listed is what's posted on www.osaa.org.
Others receiving significant votes: Tillamook (12); North Marion (10)
Notes: Banks defeated Tillamook 31-7 as Tanner Shook passed for 260 yards and three touchdowns and Jarred Evans had seven catches for 142 yards and one score. ... Lucas Patterson returned a kickoff 92 yards for a touchdown and had two interceptions and Lucas Tuski ran for 155 yards and four scores in Marist Catholic's 53-19 win over Elmira. … Marshfield won 78-29 over shorthanded Cottage Grove, which suited up 14 players. Josiah Niblett rushed for 143 yards and four touchdowns and Dom Montiel completed 14 of 19 passes for 332 yards and three scores. ... Mazama thumped Phoenix 45-0 as Tristan Lee ran for 141 yards and two touchdowns and threw for a score. … Mason Scheehean ran for touchdowns of 65 and 64 yards to spark Gladstone past Estacada 23-20. … Parker Robinson threw three touchdown passes in La Grande's 43-0 win at 3A Clatskanie. ... Henley improved to 4-0 for the first time since 2000 with a 35-6 win over Klamath Union. ... Parker Robinson threw three touchdown passes, two to Blaine Shaw, to lead La Grande past 3A Clatskanie 43-0.