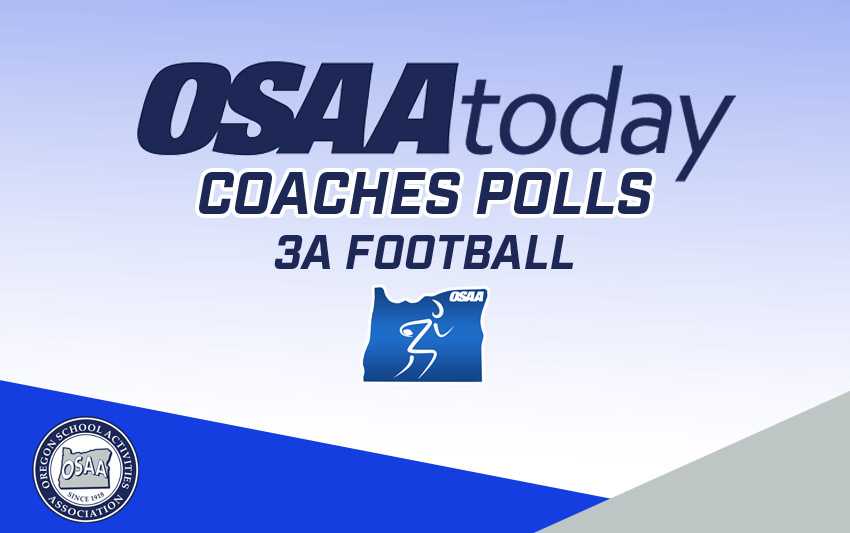 Sept. 18 Statewide 3A Football Coaches Poll
OSAAtoday presents its weekly 3A Football Coaches Poll. Thanks to all the coaches who took the time and had the expertise to contribute their opinions to this endeavor.
Look for the 3A football poll every Wednesday during the fall season.
If you are a varsity 3A football coach and would like to vote, please contact John Tawa at [email protected].
Please note: these polls are for generating interest and discussion only and have no impact on the OSAA's RPI and Colley ratings that form the basis of the OSAA's rankings for playoff purposes.
1. Rainier (7) [1] 2-0 107
2.Santiam Christian (1) [2] 2-0 95
3.Cascade Christian (2) [3] 2-0 94
4. Hidden Valley (1) [9] 2-0 87
5. Amity (1) [4] 1-1 58
6.Vale (1) [5] 2-0 46
7. La Pine [nr] 2-0 42
8. St. Mary's, Medford [10] 1-1 25
9.Clatskanie [8] 1-1 24
10.Scio [6] 1-1 19
First-place votes in parentheses
Last ranking in brackets
Record listed is what's posted on www.osaa.org.
Others receiving significant votes: Yamhill-Carlton (17); Blanchet Catholic (13); Corbett (12)
Notes: La Pine stopped Madras 22-3 as Riley Pinckney scored touchdowns passing and running. …Tre Foster caught four passes for 145 yards and four touchdowns as St. Mary's thumped Lost River 55-0. … Cascade Christian's Kiegan Schaan threw for 276 yards and three touchdowns and rushed for 121 yards and two scores in a 49-27 win over Klamath Union. Kristian Fralich caught eight passes for 211 yards and two scores for the Challengers. … Vale rushed for 303 yards to beat rival Ontario 41-30, getting 139 yards on 26 carries from Jared Fulwyler.... Hidden Valley beat Pleasant Valley 63-12 as Sam Vidlak threw for 252 yards and six touchdowns, three to Nate Vidlak, and Tobias Powers ran for 151 yards.