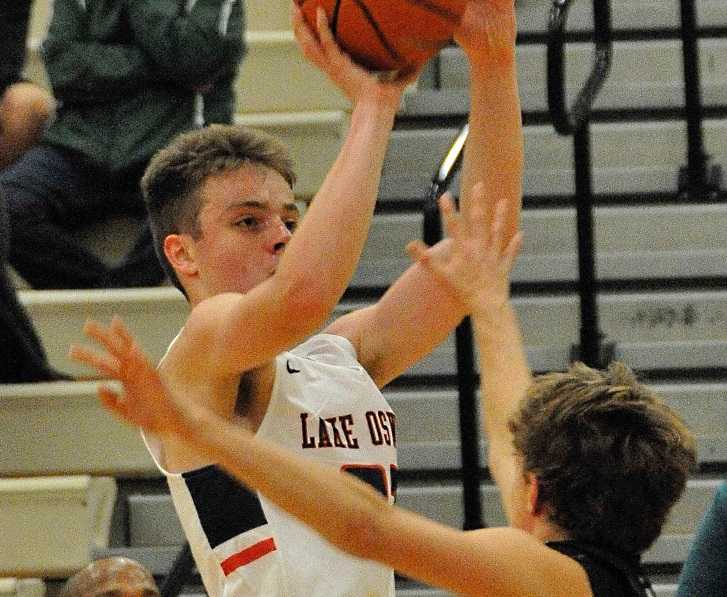 Les Schwab Invitational first-round games Wednesday at Liberty High School:
Sierra Canyon (Calif.) 84, Churchill 45: Senior wing Cassius Stanley scored 26 points, making 11 of 13 shots, to lead the Trailblazers, ranked eighth in the nation by USA Today.
Kenyon Martin Jr. had 15 points and Scotty Pippen Jr. added 13 points for Sierra Canyon, which was coming off a 57-49 loss to Montverde Academy (Fla.), ranked fourth by USA Today, at a tournament in Hawaii.
Churchill, ranked No. 1 in the OSAAtoday 5A coaches poll, got 13 points from junior wing Brian Goracke and 11 points from junior wing Kaelen O'Neil.
Jesuit 63, Barlow 59: Junior guard Matthew Levis scored 16 points, making 4 of 7 from three-point range, and had eight rebounds and four assists to lift the co-No. 6 Crusaders over the No. 2 Bruins. Senior wing Justin Bieker added 12 points for Jesuit.
Barlow was cold from distance, making 2 of 20 from behind the arc. Juniors Jesse White and Evan Inglesby scored 22 and 16 points, respectively, but were a combined 0 for 9 on three-pointers.
West Linn 68, Skyview (Wash.) 67: Senior wing Oreon Courtney's layup with seven seconds left gave the co-No. 6 Lions the win over the Storm of Vancouver.
Junior guard Bryson Crockett scored 21 points for the Lions, who also got 18 points from junior guard Micah Garrett and 15 points and 10 rebounds from Courtney.
Skyview senior guard Alex Schumacher made four three-pointers and scored 24 points.
Jefferson 70, South Salem 65: Game story link
Gonzaga Prep (Wash.) 62, Columbia Christian 42: Senior guard Sheadon Byrd scored 19 points and 6-8 senior forward Anton Watson, a Gonzaga commit, added 18 points to lead the Bullpups past the Knights, the No. 1 team in the OSAAtoday 2A coaches poll.
Columbia Christian's Ben Gregg, a 6-8 sophomore and a high Division I prospect, finished with nine points, nine rebounds, four blocks and six turnovers. Junior guard Isiah Mariscal led the Knights with 10 points.
Lake Oswego 67, Southridge 45: The third-ranked Lakers built a 36-17 halftime lead and cruised past the No. 9 Skyhawks.
Lake Oswego senior guard Josh Angle scored 19 points, making 3 of 10 three-point attempts, and sophomore guard Wayne McKinney III added 11 points, six rebounds, six assists, two steals and two blocks.
Senior guard Brock Henry scored 18 points for Southridge, which shot 28.1 percent.
Central Catholic 75, Grant 65: Sataievior Ayiola, a 6-7 senior forward, had 20 points, nine rebounds and three blocks as the co-No. 6 Rams dispatched the No. 4 Generals, the reigning 6A champions.
Junior guard Isaiah Amato had 17 points and eight assists and senior wing Darius Gakwasi had 17 points for Central Catholic, which trailed by five points in the third quarter.
Grant senior guard Aaron Deloney scored 30 points, making 4 of 9 from three-point range. Senior guard Ty Rankin added 13 points for the Generals.
University School (Fla.) 76, Tigard 51: Game story link
Quarterfinals, Thursday, Liberty HS
Sierra Canyon vs. Jesuit, 7 p.m.
West Linn vs. Jefferson, 5:30 p.m.
Gonzaga Prep vs. Lake Oswego, 4 p.m.
Central Catholic vs. University School, 8:30 p.m.