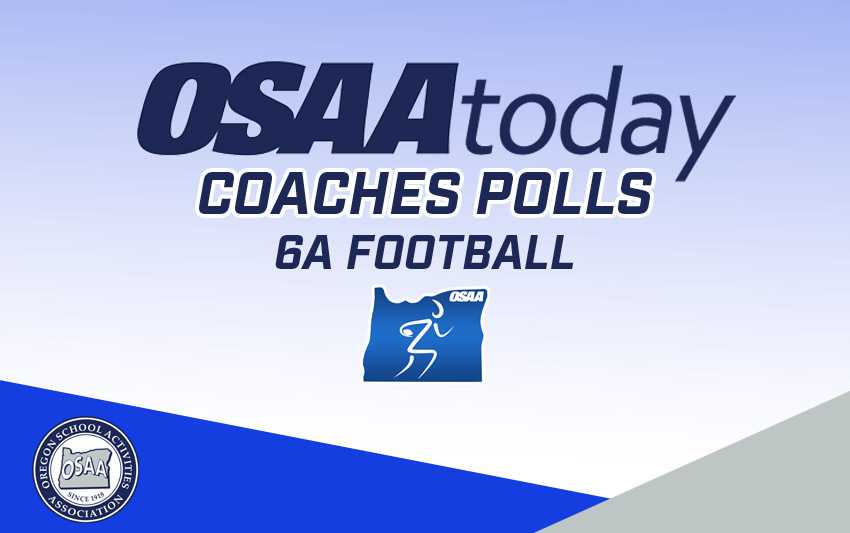 Nov. 5 Statewide 6A Football Coaches Poll
OSAAtoday presents final weekly 6A Football Coaches Poll of 2019. Thanks to all the coaches who took the time and had the expertise to contribute their opinions to this endeavor all season long.
Please note: these polls are for generating interest and discussion only and have no impact on the OSAA's RPI and Colley ratings that form the basis of the OSAA's rankings for playoff purposes.
1. Tigard (14) [1] 9-0 140
2.Tualatin [2] 7-2 110
3.Lake Oswego [4] 7-2 101
4.Jesuit [5] 7-2 93
5.Central Catholic [6] 7-2 85
6.West Linn [3] 6-3 77
7.Aloha [9] 8-1 46
8. Sherwood [8] 7-2 42
9.Beaverton [7] 7-2 32
10.Sheldon [10] 5-4 18
First-place votes in parentheses
Last ranking in brackets
Record listed is what's posted on www.osaa.org.
Others receiving significant votes: North Medford (14)
Notes: Devin Bradd ran for three touchdowns as North Medford prevailed over South Medford 52-21 in the Black & Blue Game, ending a three-year losing streak in the series. … Sheldon beat Grants Pass 42-32, getting the go-ahead score in the third quarter on a nine-yard pass from Griffin Line to Carter Neuman. … Sherwood led 28-0 and half and downed Century 49-13. Brody Stephens rushed for 126 yards and Bryan Cuthbertson had 15 tackles for the Bowmen. …Aloha outlasted Southridge 63-44 as Drew Fritz ran for four touchdowns and Timmy Dennis Jr. passed for two touchdowns and ran for two scores. … Tigard rushed for 268 yards to gut out a 23-21 win over district rival Tualatin and win the Three Rivers League title outright. … Jesuit won the Metro League title by beating Beaverton 42-24. Kade Wisher rushed for 154 yards and three touchdowns and caught a scoring pass for the Crusaders. .. Casey Filkins ran for four touchdowns in Lake Oswego's 41-17 win at district rival Lakeridge. ... Central Catholic defeated Clackamas 48-7 for the Mt. Hood Conference title as Cade Knighton threw touchdown passes of 58, 28 and 33 yards to Silas Starr in the first quarter. Knighton finished 21 of 32 for 396 yards and six touchdowns and Starr had six catches for 173 yards.