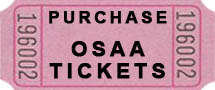 OSAA Information and Resources for Officials


Oregon Athletic
Officials Association


Arbiter Sports
Central Hub
OFFICIALS
The OSAA appreciates the vital role that officials play in the administration of high school activities. We hope you'll find what you need at osaa.org and/or oreofficials.org (OAOA) to assist you in achieving your goals as an official. We encourage you to contact the OAOA directly if you have questions or need further clarification.
OSAA Policies and Forms
These are some of the OSAA policies and forms that relate directly to officials.

» 2013-16 OSAA Officials Fee Schedule | » Game Fee Cancellation Policy
» Official's Code of Ethics
» Officials Rules in OSAA Handbook | » Athletic Officials Handbook (AOH)
» Ejection Policies | » Ejection Report Form


» Football 45-Point Alternative Plan Report
» Interrupted Contest Policy
» Officials Disciplinary Action Form (WORD DOC - right-click, Save As...)
» Officials Transfer Form (WORD DOC - right-click, Save As...)
Attendance Sheet: » PDF | » WORD (right-click, Save As...)

State Rules Interpreters
The following people are the state rules interpreters for their respective sports. Commissioners and officials are encouraged to contact the SRI for rules clarifications.

» Football - Clark Sanders (clark@oreofficials.org)
» Soccer - Patrick Duffy (patd@amgearpdx.com)
» Volleyball - Debi Hanson (gpvoa.commish@me.com)
» Basketball - Steve Bulen (sbulen1@gmail.com)
» Swimming - Jacki Allender (seewun@proaxis.com)
» Wrestling - Rick Wallace (ricklind@teleport.com)
» Baseball - Tad Cockerill (cockerill51@gmail.com>)
» Softball - Larry Harwood (larryharwood@comcast.net>)

OSAA Rules Clinics
OSAA Rules Clinics are held prior to each sports season for commissioners of local associations. Follow the links below for additional information.

» 2014-15 Rules Clinic Schedule

Professional Organizations
The OSAA works closely with several professional organizations that relate to high school athletic officials. Follow the links below for additional information.

» Oregon Athletic Officials Association (OAOA)
» National Association of Sports Officials (NASO)
» National Federation Officials Association (NFOA)