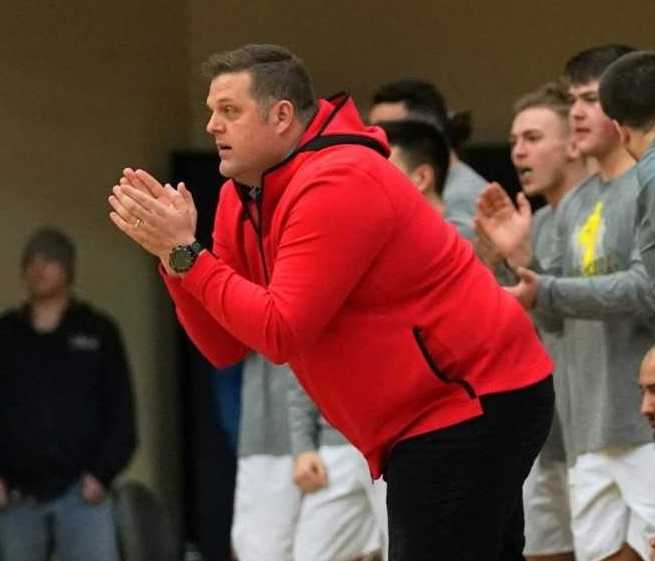 South Salem's boys basketball team figured to undergo a transformation next season with the graduation of all-state point guard Jaden Nielsen-Skinner, who is moving on to Portland State.
As it turns out, the facelift will be more extensive than originally believed.
Not only do the Saxons have an influx of transfers, but they have a new coach in Travis Brown, promoted from assistant to succeed Tyler Allen, who resigned after leading the team to the 6A semifinals last season.
A 2002 Salem Academy graduate, Brown got plugged into the Salem basketball scene a decade ago when he started coaching in the Salem Hoops AAU program.
He assisted at Salem Academy and became the team's interim coach in the middle of the 2014-15 season, leading the Crusaders to third place in the 3A tournament. He went 19-7 as the team's coach the following season, then took a year off before resurfacing as an assistant at West Salem in 2017-18.
"My ultimate goal was to be a head coach, but I didn't see West Salem opening up," Brown said. "Tyler asked me to come over to South. They had a couple kids I had coached in AAU. I kind of fell in love with the program. Tyler stepped down and it became available a little quicker than I thought."
Brown said he and Allen had good working chemistry.
"I called a lot of the offense. Our offensive playbooks meshed," Brown said. "It was a good experience."
Brown can build around a fourth-year starter in Trey Galbraith, who will move from shooting guard to point guard. The 5-foot-9 Galbraith averaged 16 points as a junior.
"He's one of the top point guards in the state," Brown said. "Great IQ. He's a little fireball, but we're trying to get him calmed down, be a little bit more of a leader-type this year."
The Saxons added size with two transfers in 6-7 junior Nick Zuro, who moved back to Salem after spending his first two high school seasons in Ohio, and 6-5 senior Cole Hardy, a three-year starter at Salem Academy.
"We went from a quick transition team to a team that's going to have to maybe slow it down to not as many runouts," Brown said. "We've definitely got some horses that can play. I see a lot of upside with us. We have some more basketball pieces this year. This is not their second or third sport."
Johnson steps in at Bend: As the former coach at Liberty, Aaron Johnson knows a thing or two about the challenges of climbing up one classification.
So Johnson believes he can provide some answers as the new coach at Bend, which struggled in its move from 5A to the 6A Mountain Valley Conference last season.
"Going through that transition has helped at Bend because there's a worry and an angst that parents have," said Johnson, who assisted at Bend for the last two seasons under Scott Baker. "It's nice to be able to help them and help kids understand what the difference is, and what the difference isn't.
"The big thing for us at Liberty was getting in the weight room."
Johnson played at Westview, where he graduated in 2000, and cut his teeth as a coach in seven seasons as an assistant at Westview under Pat Coons.
He took over as Liberty's coach in 2014-15 and led the Falcons to back-to-back titles in the 5A Northwest Oregon Conference, finishing runner-up in the state tournament in 2016. The following year, though, Liberty moved to 6A and finished 6-17, 2-14 in the rugged Metro League.
Bend finished 17-8 in 5A in 2017-18 but slipped to 11-14 in its jump to 6A last season, including 5-9 in the Mountain Valley.
"Every time you go up a division, there's a little bit more intensity game in and game out, and I think that can take a toll on kids," Johnson said. "I think the travel was tough. In league, before that, there wasn't as much travel. That can be hard on kids, especially midweek."
Eagles land college coach: After 17 seasons of coaching in NCAA Division III programs, Tim Whittle has taken the job at 3A Catlin Gabel.
Whittle is coming off a nine-year run (2009-18) as head coach at Macalester College in St. Paul, Minn. He inherited a team that had lost 33 in a row and he went 35-191 in nine seasons, stepping down after going 3-22 in 2017-18.
Whittle also assisted at Washington University in St. Louis for five seasons (2004-09) and University of the South (Tenn.) for three seasons (2001-04).
At Washington University – his alma mater -- he was the top assistant and recruiting coordinator, helping the Bears to national titles in 2008 and 2009.
He succeeds Shawn Malloy as coach at Catlin Gabel. The Eagles slipped from 22-6 in 2017-18 to 12-17 last season, falling in the first round of the state playoffs for the third year in a row.