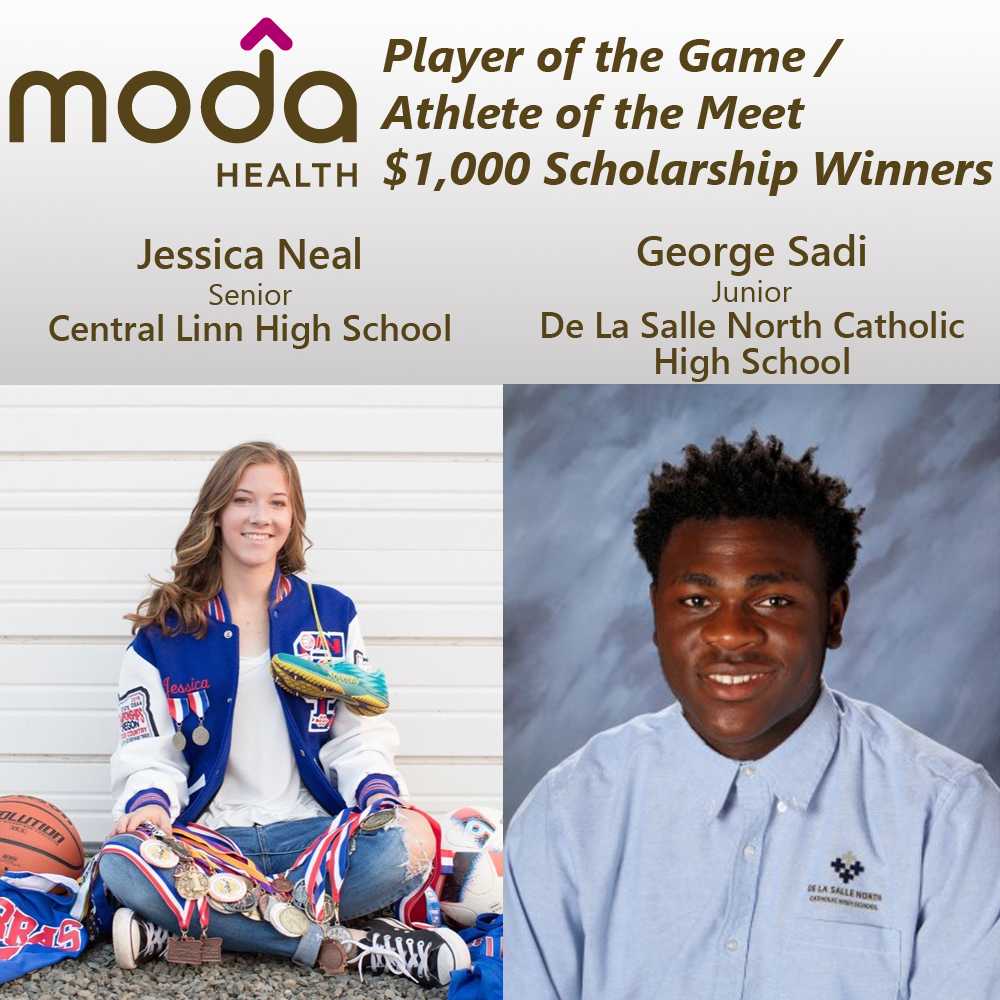 The Oregon School Activities Association (OSAA) and Moda Health announced today the winners of the 2018-2019 Moda Health Player of the Game / Athlete of the Meet Scholarships. Senior Jessica Neal of Central Linn High School and junior George Sadi of De La Salle North Catholic High School each receive a $1,000 scholarship to the school, college, or university of their choice.
Moda Health has sponsored the Player of the Game / Athlete of the Meet program since the 2010-2011 school year. Students win recognition for their achievements in the following events:
Cross Country

Volleyball championship matches

Boys and Girls Soccer championship games

Football semifinal and championship games

Boys and Girls Basketball State Championships final site games

Swimming

Wrestling

Track & Field

Golf

Baseball championship games

Softball championship games
A total of 372 student-athletes receive recognition throughout the school year. Each receives a commemorative gift and certificate of achievement from Moda Health.
All Players of the Game / Athletes of the Meet are eligible to apply for a $1,000 scholarship; one female and one male are honored. To apply, a student must write a personal essay describing areas in which he or she has demonstrated leadership through involvement in academics, co-curricular activities and community organizations. Two letters of recommendation are also required.
Jessica Neal was selected Player of the Game when she scored 13 points to lead her team to a 4th place finish at the 2A Basketball State Championships. She is a multi-sport athlete who plays a major role in her school and community. Besides participating in basketball, cross country, track and field, and the school's co-ed soccer team, Jessica participates in FFA, currently serving as chapter President. She also has been a member of the Student Council for four years, including class President her senior year, and ASB for two years.
George Sadi was selected Player of the Game in the 3A Basketball State Championship game, leading his team to victory with 15 points and 9 rebounds. George immigrated to America from Tanzania in 2009 with the goal of playing on a club soccer team. He ultimately participated in the 4 Worlds United Soccer Alliance, which helps immigrant youngsters play club soccer while developing into quality young men and women. He now serves as a volunteer in the 4 Worlds program, helping organize youth soccer activities such as Soccer in the Park.
To see a full listing of all 2018-2019 Moda Health Players of the Game / Athletes of the Meet, please visit http://www.osaa.org/awards/player-of-the-game.