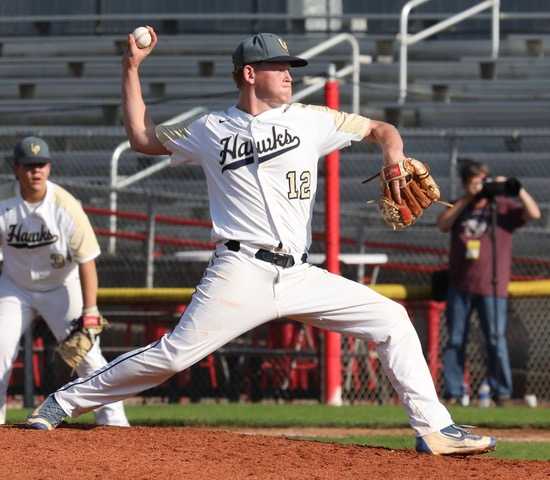 KEIZER — One thing for sure came out of La Pine's solid 8-1 victory over Warrenton in the championship game of the OSAA/OnPoint Community Credit Union 3A baseball championship at Volcanoes Stadium on Friday:
The Hawks will never get away with pleading a rebuilding year again. Ever.
This La Pine entered this particular season largely overlooked by just about everybody. They lost dearly from last year's powerhouse state champions. They had only four starters back, had no veteran pitching, and only two seniors.
Adam Plant was not one of them. He was a fill-in right-handed pitcher as a sophomore last year, and at that was the best the Hawks had coming into this season.
And yet, when the Hawk ballers gathered at Ponderosa Pizza in La Pine to talk about this year…
"We knew people were talking about us and doubting us," he said as the happiness buzzed around him. "But this group has been playing together all our lives. We went to two state championships in Little League.
"We were in the shadows at the start of the year, but we thought we were going to be OK."
Plant was superb for the Hawks. He threw all 105 pitches for the Hawks — 70 of them for strikes — scattered seven hits, struck out nine and walked only one. The one run he gave up in the fourth inning was unearned.
"That," he said of his MVP performance, "was pretty much the best I can do."
By that fourth inning, La Pine had a 6-0 lead and was not in very much danger at all.
The Hawks jumped on Warrenton starter Dalton Knight for four of those runs in the second inning. Well, you can make a case that the Warriors jumped on themselves, too. They committed three errors — two wild throws and a booted ground ball — while Knight issued a walk and hit a batter.
Nonetheless, Plant — who also batted leadoff — delivered in his own cause when a clean single to left field to drive in two of the runs.
When he went back out to the mound for the third with a four-run lead, Plant was as relaxed as he could be.
"As soon as that happened," he said, "we could almost throw any pitch we wanted. A four-run cushion is a great thing to have."
A six-run cushion was even better. The Hawks got that in the third when Austin McKittrick opened with one of his two singles on the day, then Dylan Westbrook followed with a walk. Oscar Steffens bunted them up a base.
First baseman Teagan DeForest offered another bunt on the first pitch from Knight, but the attempt rolled foul.
The next one didn't. DeForest ripped it into left field for two more runs. The way Plant was pitching, that was about four more runs than he needed. He didn't need Isaac Bright's two-run single in the fifth inning at all, but he got it anyhow.
The seventh-seeded Warriors, and their pleasantly positive purple-clad fan base, didn't exactly roll over and die. They just died. But they did die swinging, matching the Hawks' seven hits; those included two doubles by catcher Jacob Morrow.
But the Hawks had too much Plant and too much, well, quality experience.
"We really didn't have any pitchers coming into this year," coach Bo DeForest said, "other than Adam, and he wasn't used very much last year. The staff was all new on the varsity."
It did help that the Hawks competed in the murderous Mountain Valley Conference, home of No. 1 seeded Pleasant Hill and No. 3 seed Santiam Christian, both of whom finished ahead of the Hawks in league.
"When you play the best teams in the state all the time," DeForest said, "even when we lose (they did — five times), we learn something. That helped them mature a lot."
It also helped them hide. But there's no hiding anymore — everybody's back next year for a shot at a three-peat.
A word about Lennie Wolfe's Warriors, and that word is "dramatically improved." OK, that's two words, but the Warriors have earned them. They were a laudable 17-5 last year and finished this year 19-7 — same as La Pine.
But it wasn't that long ago — two seasons, actually — when Warrenton baseball couldn't hit the Skipanon River if they were floating on it. They were 1-17 then. And they nearly made it all the way back this year.
-- Norm Maves Jr.