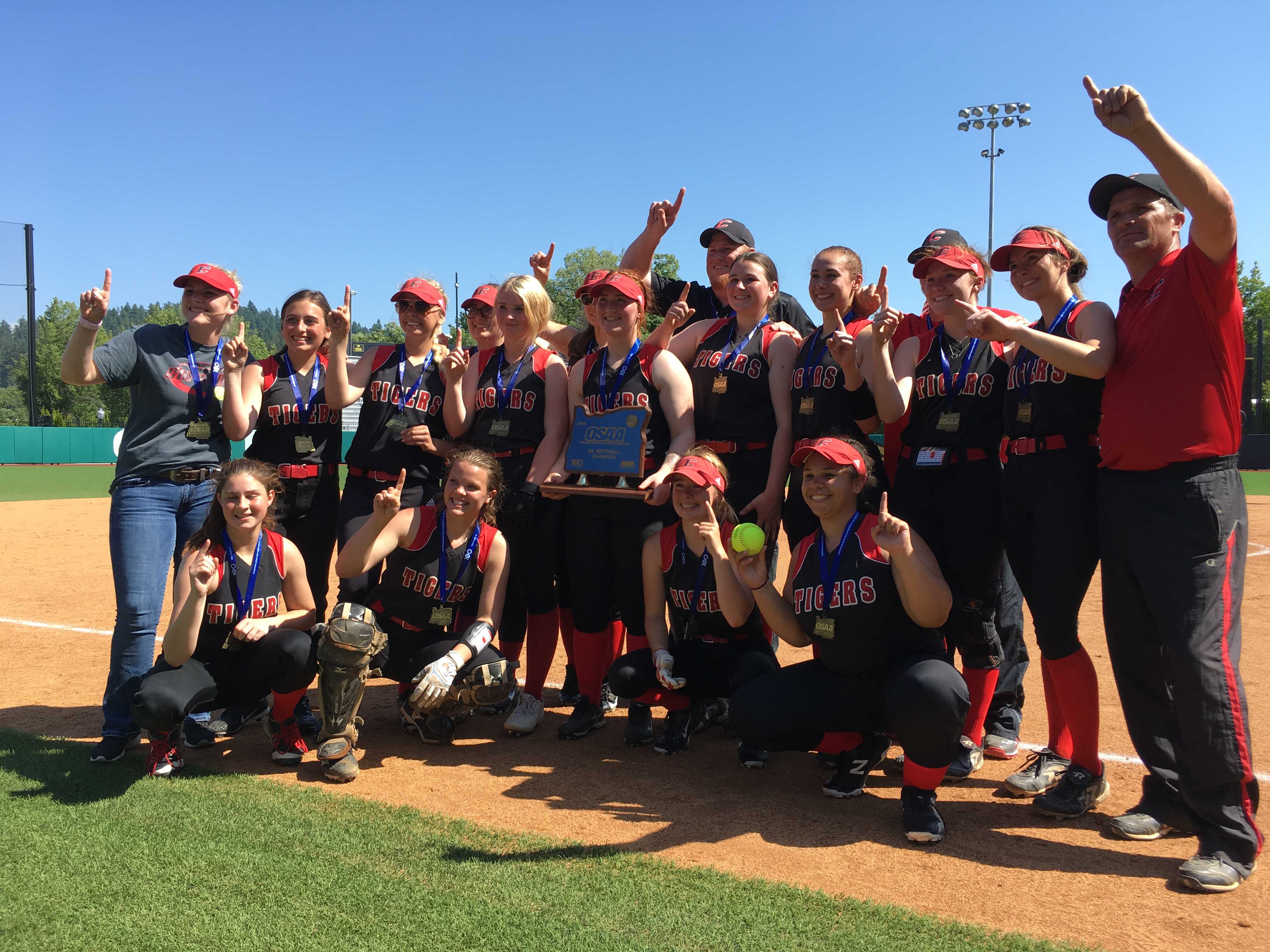 EUGENE -- Unbeaten Clatskanie found itself in an unusual position in the fifth inning of the OSAA/OnPoint Community Credit Union 3A softball final Friday at the University of Oregon.
The top-seeded Tigers, who have spent the season making short work of their opponents, suddenly found themselves trailing reigning champion Dayton by two runs.
"It was a little bit of a shock. Kind of punched us in the face," sophomore second baseman Olivia Sprague said. "We were like, 'Whoa, what's happening?'"
After giving up four runs in the top of the fifth to fall behind, top-seeded Clatskanie (27-0) answered with four runs in the bottom half and pulled away for a 10-5 victory over No. 2 Dayton (19-6).
It is the first state championship for the Tigers, whose roster includes several players from the girls basketball team, which also won its first title this year.
"I think having most of the same girls, it was like, 'We know what we can do, we just proved it, so why not do it in our next sport?'" sophomore pitcher Shelby Blodgett said.
Sophomore Alexis Smith hit a home run and senior Maris Jackson, sophomore Kaity Sizemore and junior Trinity Hamm each drove in two runs for Clatskanie, which had 10 hits off Dayton sophomore Maddie Fluke.
Blodgett survived the rocky fifth inning to get the complete-game victory, allowing eight hits and striking out four.
Beating Dayton, which was appearing in its fifth consecutive final and sixth in seven years, was the cherry on top for the Tigers.
"That just gives us the reward of knowing that we were the best in the state this year," Blodgett said. "Our season went really smooth. This season couldn't have gone better for us."
Clatskanie built a 3-0 lead in the second inning and appeared in control, but things took a turn in the fifth, when Dayton scored four runs on four hits to pull in front 5-3. Senior Emily Elliott and junior Sofia Cicerone drove in runs with infield singles and Fluke finished the surge with a two-run single.
"We got kind of tense and stuff, like, 'Oh, no, we're down two runs,'" Blodgett said. "I knew we needed to calm down, and that's what we did. We played our game."
The Tigers combined three hits -- by Sprague and sophomores Sammy Hummer and Kami Harrison -- with four Dayton errors in the bottom of the fifth to score four runs and take a 7-5 lead. Harrison capped the rally with a run-scoring single, the only RBI hit in the inning.
"We knew if we went up there and stayed disciplined, we do the basics, grinding away, just chip at them, we'll get right back at them," said Sprague, the daughter of Tigers coach Kevin Sprague.
Dayton coach Rob Umbenhower, who was going for his fifth state title at Dayton, lamented the defensive breakdowns.
"We kind of did that last week and pulled it out," Umbenhower said. "I told them earlier this week, 'You can't do that again.' You're trying to dodge a bullet when you do that. We didn't dodge it today."
The Tigers added three runs in the sixth on an RBI single by Jackson and a two-run double by Sizemore, making it 10-5.
"I think winning it in basketball gave us that little ounce of confidence," Sprague said. "We were like, 'We have to do this to win. Stay under control and do what we do best.'"
With six sophomore starters, the future looks bright for Clatskanie, in both sports.
"We want it so bad, we'll do anything to do it again," Blodgett said. "I think once we mature more, we'll get better each year, and we'll be really good."
Added Sprague: "Who knows, but we're hoping it's the start of a run. We're going to go out and do the same things and get better."