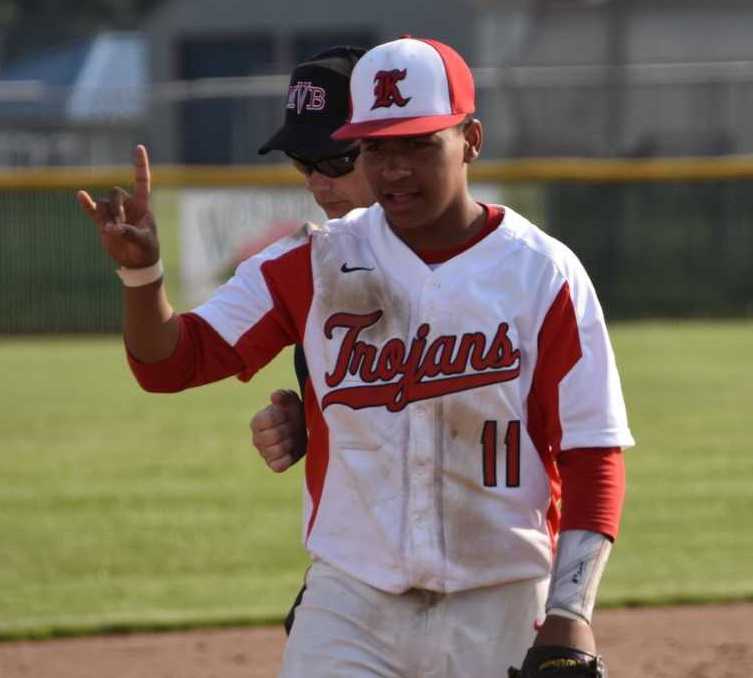 MT. ANGEL -- Host Kennedy was unable to muster a single hit against North Douglas pitchers in a 2A/1A baseball semifinal Tuesday.
Fortunately for the third-seeded Trojans, they were able to make a sacrifice fly and a dominant pitching performance hold up for a 1-0 win over the No. 7 Warriors.
Demetre Marseille hit a sacrifice fly in the third inning and Josh Valladres pitched a two-hitter with six strikeouts to carry Kennedy (28-2), which will face No. 4 Umpqua Valley Christian in the state championship game Friday in Keizer.
Valladres did not allow a hit until giving up a two-out single to Austin Frieze in the sixth inning. The Trojans were solid in the field, making several key plays behind Valladres.
"We have one of the best defenses in 2A; I've got to give it to them," Valladres said.
Kennedy has allowed 70 runs this season, third-fewest in 2A/1A behind Reedsport (29) and Knappa (48).
"Our defense is good," Marseille said. "We don't have a 'guy' on the mound; we just have our defense. Everybody's good. We're all solid."
Marseille produced at the plate with the sacrifice fly to the opposite field.
"I was just looking for a curveball," Marseille said. "I knew he was going to throw a curveball and I was just waiting on it. I hit it to the right side. All year we've been working on that, just hitting to the right side and scoring the guy in. I'm excited. I'm happy."
It was a combined no-hitter for North Douglas.
-- Jeremy McDonald
A look at Tuesday's other semifinal playoff baseball games in the OSAA / OnPoint Community Credit Union State Championships:
We will add more recaps as we receive them from coaches.
6A
Jesuit 3, South Salem 2 -- Joe Angeli singled to score Conor O'Reilly from second base in the bottom of the eighth inning and give the Crusaders the win. O'Reilly and Kevin Blair hit back-to-back, one-out singles to set it up for Angeli, who slapped the ball through the right side of South Salem's infield. Blair tied it 2-2 in the sixth on an RBI single.
Central Catholic 1, Clackamas 0 -- Dylan Maclean tossed a five-hit shutout and Charlie Steuer went 2-for-3 and drove in the game's lone run in the win for the visiting Rams. Central lost all three times it played Clackamas during the regular season.
5A
Central 1, Thurston 0 -- Kaleb Kantola pitched a three-hitter and Brendan Lesmeister hit an RBI single in the bottom of the eighth inning to put the top-seeded Panthers in the championship game. Thurston pitcher Decker Stedman allowed three hits and struck out 17 in 7 2/3 innings before reaching his pitch limit with a runner on third in the bottom of the eighth. Five pitches later, Lesmeister delivered with a single off Cade Crist.
Pendleton 4, West Albany 3 -- Gabe Umbarger's three-run, second-inning homer was the difference in the Bucks' win. Chris Large also made a massive contribution, throwing three scoreless innings of relief to get the save. Pendleton will play in its first final since 1992. Blake Bowers had two hits and scored a run for West.
4A
Banks 5, Hidden Valley 0 – Hayden Vandehey hurled a complete-game shutout for the host Braves. Banks scored its first run in the second inning as Trask Applegate doubled and eventually spiked the dish. Jarred Evans and Dakota Bunn drove home runs in a three-run fifth.
Henley 9, Astoria 3 -- The Hornets scored three runs in the fourth inning and two in the fifth to build a 6-1 lead and hold on against the Fishermen. Henley finished with 10 hits, including home runs by Heith Rasica and John Tacchini and two doubles by Hayden Rasica. Astoria committed five errors.
3A
La Pine 8, Pleasant Hill 7 -- The reigning state champion Hawks overcame a 6-1, sixth-inning deficit with seven runs in the final two innings to knock off the top-seeded Billies. La Pine -- which went 0-3 against Pleasant Hill in Special District 3 games -- trailed 7-5 with two outs in the seventh inning when Isaac Bright hit a two-run double to tie. Syrus Smith followed with an RBI single for the go-ahead run. Adam Plant pitched a perfect seventh inning to nail down the win.
Warrenton 7, Santiam Christian 5 – Duane Falls had two hits and two RBIs and Devin Jackson, Dalton Knight and Gabe Breitmeyer combined on an eight-hitter for visiting Warrenton. Jackson went 5.1 as the starter and Breitmeyer got the last two outs for the save. Santiam Christian left seven runners on base.
2A/1A
Umpqua Valley Christian / Melrose Christian 12, Knappa 10 – UVC overcame an early 9-0 deficit, rallying for the win on the road. Aaron Buechley drove in four with a single and double in a nine-run top of five that gave the Monarchs the lead. Jacob Luther was the winning pitcher in relief. Knappa got a three-run homer from Logan Bartlett in building a 9-0 lead after three. Knappa's ace pitcher, Eli Takalo, lasted just one batter before moving to first after experiencing discomfort in his throwing arm. The loss snapped a 59-game Logger winning streak versus Oregon opponents.