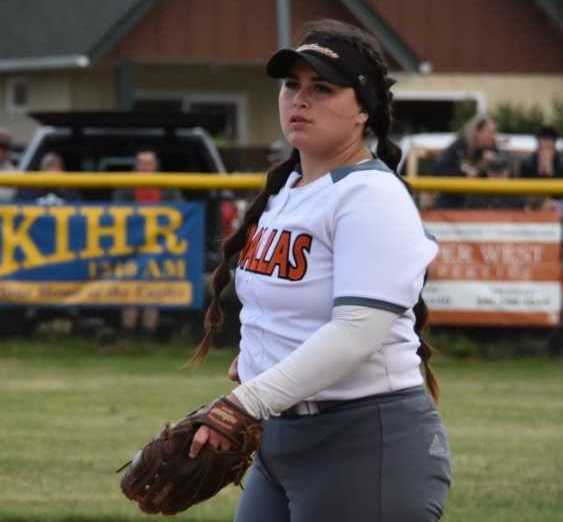 HOOD RIVER – Kaelynn Simmons pitched and hit No. 7 seed Dallas past No. 2 Hood River Valley 5-3 in the quarterfinals of the 5A softball playoffs Friday.
Simmons not only pitched a complete game with 12 strikeouts, but she delivered the team's biggest hit of the season, a two-out, two-run single in the top of the seventh inning to break a 3-3 tie.
Simmons' hit drove in Janessa Parnell and Emma Classen, who had reached base on an error and walk, respectively. Simmons sealed the win by holding the host Eagles in the bottom of the seventh, striking out the last two batters with one runner on base.
"I was pretty nervous. It was the bottom of the seventh and last time to score," Simmons said. "I just trust the work I put in and I knew it was going to work out."
Dallas (22-5), which avenged a 5-2 loss at Hood River Valley on April 4, advances to the semifinals for the second time in three seasons. The Dragons will play at third-seeded Hillsboro on Tuesday.
"If we keep practicing like we have been, keep hitting the ball like we have been, staying relaxed … we've been taking it one game at a time, so it's just this next one," said Simmons, who fanned a dozen for the second game in a row.
Hood River Valley (21-8) scored three runs in the fifth inning, taking a 3-2 lead on a two-run hit by Molly Rouston, but Dallas tied it in the top of the sixth when Kacey Jordan drove in Zoe Whitlow. The Eagles loaded the bases on the bottom of the sixth but failed to score.
Rouston and Morgan Baker had two hits each for Hood River Valley. Eagles senior pitcher Lauren Decker had five strikeouts.