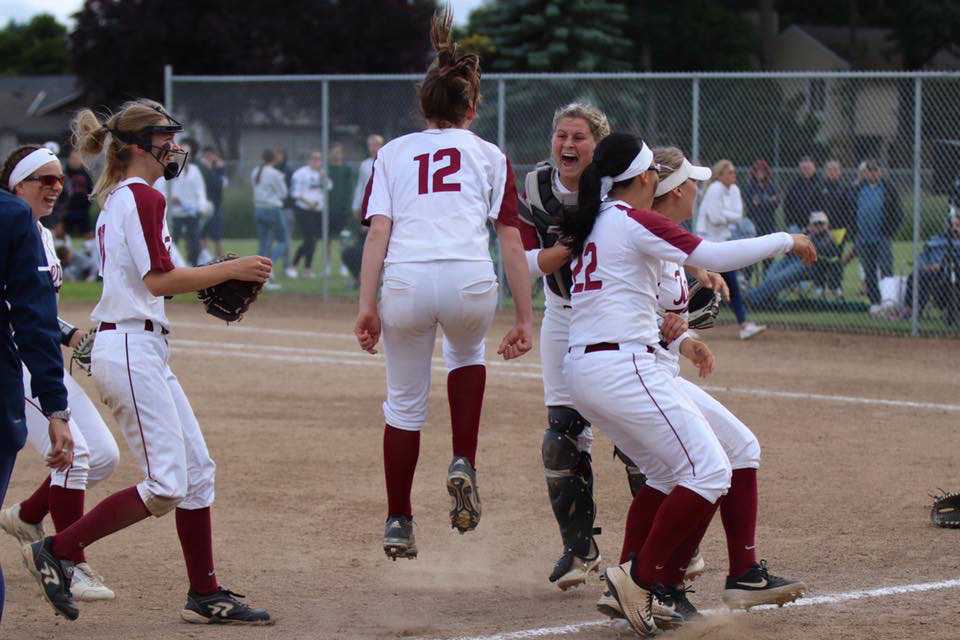 A look at Friday's quarterfinal playoff softball games in the OSAA / OnPoint Community Credit Union State Championships:
We will add more recaps as we receive them from coaches.
6A
Grants Pass 12, McMinnville 2 – Grace Gaither went 4 for 4 with two home runs and six RBIs to lead the Cavers to the win. Gaither hit a grand slam in the second inning and a two-run homer in the sixth inning. Toni Stevens had three hits and drove in two runs for Grants Pass, which had 14 hits.
Tualatin 2, Clackamas 0 -- Tia Ridings threw a complete game, fanning 12, and Tualatin played error-free ball behind her to record its third straight playoff shutout. Andrea Gomez and Emily Johansen had multi-hit games for the Timberwolves.
Sheldon 4, Glencoe 2 – Camille Leach outdueled Dana Butterfield to lead the Irish past Glencoe. Leach allowed no earned runs, just four hits and struck out 13. Rylee Valentine was 2-for-4 and Leach helped her cause with an RBI double as Sheldon did just enough hitting to come away with the win.
Sunset 2, Roseburg 1 -- Roseburg scored a run in the top of the first as Samie Bergmann plated Jordan Gibson with a sacrifice fly, but Grace Kimball stymied the Indians thereafter. The junior tossed a complete game three-hitter and contributed a leadoff single in the bottom of the first as part of a two-run inning that provided the final margin of victory. Abby Wingo drove in the tying run for Sunset with a single and scored the winning run on a hit by Kendra Knapp and an overthrow.
5A
Ridgeview 3, Central 2 -- Sophomore Sage McVay singled to drive in Ally Henry from second base with two outs in the bottom of the seventh -- her third hit of the game -- to give the top-seeded Ravens the win. Central had tied it 2-2 in the top of the seventh on a one-out, two-run single by Peyton Foreman. Ridgeview had an 8-5 edge in hits.
West Albany 9, Pendleton 3 -- The Bulldogs scored seven runs in the first two innings and finished with five home runs to knock out the reigning champion Buckaroos. Mahayla Gamble and Ellie Babbitt hit three-run homers and Babbitt, McKenzie Kosmicki and Haily Greening hit solo shots for West Albany. Aspen Garton and DeLaney Duchek homered for Pendleton.
Hillsboro 2, Crater 1 -- The Spartans scored on an error in the bottom of the eighth inning to top the Comets. Chelsey Kinney was hit by a pitch to lead off the inning and advanced to second base before Crater misplayed a bunt, allowing Kinney to score. Hillsboro also took advantage of a Crater error to score its other run in the first inning. The Comets tied it 1-1 in the top of the seventh when Presley Robison doubled and scored on a bunt by Kaila Lee. McKenzie Staub pitched a four-hitter for Hillsboro.
Dallas 5, Hood River Valley 3 -- Kaelynn Simmons hit a two-out, two-run single in the top of the seventh inning to lift the Dragons into the semifinals for the second time in three seasons. Simmons also struck out 12, giving her 24 strikeouts in the last two games. Hood River Valley scored three runs in the fifth, getting a two-run hit by Molly Rouston, to lead 3-2, but Dallas tied it in the top of the sixth when Kacey Jordan drove in Zoe Whitlow.
4A
La Grande 3, Sweet Home 1 -- The reigning champion and top-seeded Tigers scored twice in the bottom of the sixth to beat the Huskies. Kinzy Bowen drove in the go-ahead run with a triple and scored on an error. Sweet Home tied it 1-1 in the fifth when Marissa Kurtz singled and scored on an error.
Junction City 6, Marist Catholic 3 - A solo shot from Lindsey Stripling ignited a four-run fifth inning for Junction City. Jada Fuller and Jenna Kister also doubled in runs in the frame to give the Tigers a 4-1 lead. Marist Catholic scored twice more, including a home run from Ariel Carlson, but it wasn't enough.
Banks 6, McLoughlin 5 - McLoughlin and Banks were tied at 2-2 after six innings. McLoughlin scored three in the top of the seventh only to see Banks rally with four in the bottom half of the frame to walk off with the win. Allison VanLoo started the rally with a single and scored and Madison Graham drove in Hannah McCourt with the clincher on a pop fly single to center, the final of three two-out hits for the victorious Braves.
Henley 11, Philomath / Alsea 8 -- The Hornets erupted for five runs in the fifth inning -- capped by a two-run homer by Maddie Perez -- to open a 9-4 lead and held on for the win. Philomath's Hannah Williams hit a three-run homer in the sixth for the Warriors, but it wasn't enough. Kiya Smith also homered for Philomath, which had a 13-10 edge in hits but committed four errors. Paige Barnett had an RBI single and sacrifice fly for Henley.
3A
Clatskanie 12, Scio 2 -- Undefeated Clatskanie, seeking a first state softball title in program history, continued rolling with a decisive Friday win.Kaity Sizemore went 3 for 3 and Shelby Blodgett had two hits, including a home run, drove in three and tossed a two-hitter on the mound with 9 Ks.
South Umpqua 3, Rainier 0 -- Tayah Kelley pitched a one-hitter to propel the Lancers into the semifinals. They lost in the 4A semifinals last year.
Cascade Christian 8, Taft 3 -- A two-run triple by Mallory Meilicke in the bottom of the first gave host Cascade Christian the lead for good. Katelyn Willard got the win for CCHS, yielding one earned run in the route-going performance. She also had two hits, scored a run and drove home another. Mia Mayben had three hits and two RBIs for Cascade Christian. Emma Coulter had two of Taft's five hits.
Dayton 10, Yamhill-Carlton 1 – Dayton scored at least one run in every inning in the workmanlike home win. Maddie Fluke earned the win on the mound and got plenty of help as Catie Jack and Lacey Smith each had three hits and Emily Elliot, Anna Mullins and Fluke herself contributed two knocks each. One of Mullins' hits was a big fly. Jodi Lee had a double for YC and Josie Siebert singled to drive home the Tigers' lone run.
2A/1A
North Douglas 5, Grant Union / Prairie City 0 -- Junior Nicki Derrick tossed a shutout as the Warriors knocked off the top-seeded Prospectors.
Lakeview 9, Central Linn 5 -- The Honkers won their third straight road game to reach the semifinals.
Toledo 8, Vernonia 0 -- Freshman pitcher Mariah Frederic threw a one hitter with 10 strikeouts. Senior Jenny Elmore went yard for a two-run home run in the bottom of the second to make the score 6-0 Toledo.
Kennedy 13, Glide 1 – Grace Schaecher homered in the first and second innings, driving in six, and got the win on the mound for the Trojans, who also got a long ball and multiple RBIs from Elise Suing.