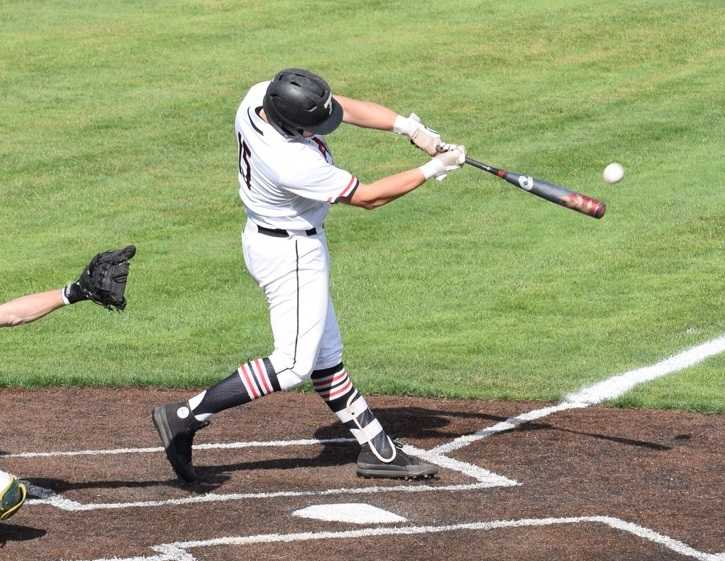 A look at Wednesday's playoff baseball games in the OSAA / OnPoint Community Credit Union State Championships:
We will add more recaps as we receive them from coaches.
6A
Jesuit 7, Southridge 6 – Will Spitznagel's RBI single in the bottom of the seventh gave the host Crusaders the walk off win, spoiling a 4-for-4 day for Southridge's Michael Ball, who hit a three-run blast in the sixth to tie the game. Josh Daul came out of the pen to get the win for Jesuit.
Beaverton 1, McMinnville 0 -- The Beavers won on a walk off hit by Jack Hanson in the seventh inning. Hanson's single brought home John Oleson, who had led off the inning with a single of his own. Brady Baltus went the distance on the bump, scattering four hits, to get the win.
West Linn 1, Bend 0 – Senior lefty Caleb Franzen tossed an 80-pitch no-hitter and was the game winner when Garrett Wiancko's one-out single in the bottom of the seventh drove home pinch runner Zac Hoover with the game's only run. Senior Cooper Simmonds was brilliant on the bump for Bend and carried a shutout to the seventh before yielding a leadoff single to Zach Bell.
South Salem 9, West Salem 5 (nine innings) -- Kaiden Doten's grand slam in the bottom of the ninth inning helped South Salem walk off with the win over rival West. West Salem led this one 2-0 after two and 5-3 after 6 1/2 innings only to see the Saxons rally twice. The most meaningful rally came in the bottom of the seventh. After West Salem took a 5-3 lead on Kaden Reidhead's second homer of the day, two-out singles from Sean Alvarado and Ryan Brown sent the game to extras, setting up Doten's ninth-inning heroics.
Clackamas 2, Lake Oswego 0 -- Clackamas senior pitcher Nick Vaughn threw a complete game no-hitter to lead the Cavs to a 2-0 win over Lake Oswego. Clackamas scratched out two runs in the bottom of the third and then hung on for the win. Vaughn only allowed two runners all night and the Clackamas defense was strong behind him with two diving catches in the outfield by Grant Schoen and Jeff Nelson.
Roseburg 5, Sprague 2 -- Jace Stoffal threw a complete game four-hitter and got all the offense he needed when Roseburg put up three in the bottom of the first. Spencer Six tripled to lead off the first for the Indians and scored on a Caden Johnson single. Stoffal helped his own cause with a two-run double later in the frame. Sprague got its two runs in the fourth thanks to a triple from Michael Soper and an RBI single from Brock McMullen. Roseburg tacked on single runs in the fourth and six courtesy of RBI singles from Zach Mandera and Johnathan Stone to extend its lead to what would be the final margin.
Lakeridge 7, Tigard 0 -- Cooper Justice tossed a one-hit shutout, retiring the last 20 batters he faced, in the Pacer win. Justice also went 2-2 at the plate with a double. Cam Clayton also had two hits, including a double, and Hayden Moore was 1-1 with a double, two sacrifice flies and three runs batted in.
Central Catholic 3, Century 2 -- Christian Cooney tripled in his first two at-bats and Clayton Reich came on in relief in the fifth to get out of a bases-loaded, no-out jam as the Rams held off host Century in a thriller. Jackson Elder gave up two runs over 4+ innings to get the win for Central.
5A
Central 2, Hillsboro 0 -- Kaleb Kantola hurled a no-hitter with eight strike outs, outdueling HilHi's Kammeron Mecham. Central scored its two runs in the third inning. Hunter Chase drove in the first and scored the second. Kantola, however, was the star of the game. "Kantola was dynamite tonight," said Central coach Tom Roberts. "He did a really good job of keeping batters guessing and off balance. He attacked the zone and got ahead of most hitters, which allowed him to control the at bats. This was hands down the best performance I have seen out of Kantola."
La Salle Prep 8, Ashland 7 -- Trailing 5-1 going to the bottom of the fifth inning, La Salle Prep rallied for seven runs, capped by a grand slam from Matt Evans; and held on for the win over the Grizzlies. Nick Buccino was 2-for-4 and had a two-run double for Ashland in the loss.
Silverton 8, Crater 4 -- Caleb Ward had two doubles as part of a 12-hit attack for the Foxes, who scored five runs in the bottom of the fifth to put the game away. Andy Lacey homered in the loss for Crater.
Thurston 7, Putnam 5 – Cade Crist hit a solo shot in the first and a three-run bomb in the third to key the Colts' win. Sam Sholty went 1-for-3 with two RBIs for Putnam.
Churchill 6, North Salem 1 -- Churchill scored five runs in the second inning and relied on starting pitcher Carson Lydon to do the rest in Wednesday's home win. Lydon threw a complete game three-hitter, striking out eight, and also hit a first-inning homer for the Lancers. CJ Townsend and Connor Jones each had two-run singles in Churchill's second inning uprising.
West Albany 6, Hood River Valley 3 -- Hood River Valley led 3-2 heading to the bottom of the fifth before host West Albany rallied for five runs in the inning to turn the game around. Luke Killinger's second double of the day, which scored two, was the frame's biggest hit.
Pendleton 4, Wilsonville 3 -- Tied at 2-2 going to the seventh inning, Wilsonville cobbled together two hits – a Cade Edmondson double and Cole Kleckner single – to take the lead. The Buckaroos responded with two runs in the bottom of the frame to walk off for the win. Gabe Umbarger led off the bottom of the seventh with a single, was sacrificed over by Justin Duso and scored on a hard single to left by Ty Beers. Beers stole second and third and came across with the winning run on a throwing error.
Crescent Valley 10, Crook County 2 -- Visiting Crook County scored two runs in the top of the first but it was all Crescent Valley after that. The Raiders responded with four runs in the bottom of the third, getting big hits from Ethan Krupp and Sawyer Cleveland, and surged to the win. Krupp finished the day with three hits to lead the way. Taylor Holder went six innings on the mound, fanning 12, to earn the win.
4A
Banks 9, Elmira 0 – Hayden Vandehey tossed six scoreless innings for Banks in the win. The Braves scored seven of their nine runs in the first four innings.
Gladstone 8, Newport 2 -- Jackson Simmons hit his first home run of the year, a three-run shot in a four-run first, for the defending champion Gladiators in the road win.
Junction City 8, Phoenix 2 -- Hunter Vancurler struck out the first five batters he faced and went the distance on the mound in Junction City's win. Johnathon Prescott drove home three to lead the Tiger offense.
Hidden Valley 9, Valley Catholic 3 -- Freshman righthander Isaac Hill struck out 10 and improved to 10-0 on the year for the victorious Mustangs, who got four runs batted in from Matt Iwamizu, including a bases clearing double. Daniel Pruitt had a double and triple in the loss for VC.
Astoria 2, North Marion 1 -- It took 10 innings for Astoria to knock off top-ranked North Marion on the road. Adam Feldman's RBI double was the game winner. Dylan Rush threw nine innings of seven-hit ball for the Fishermen. Burke Matthews got the save. Griffin Henry was stellar on the mound over eight innings for North Marion, which got three hits from Brady Hansen.
Sweet Home 2, La Grande 0 -- Colton Smith (7 Ks, three hits) outdueled Parker Robinson (14 Ks, one hit) in the win for visiting Sweet Home. Travis Thorpe doubled to drive in the go-ahead run in the top of the seventh, then scored an insurance run on a wild pitch for the Huskies, who were being no-hit before Thorpe's heroics.
Philomath / Alsea 9, Baker / Powder Valley 3 -- Marshall Brattain hit a two-run homer and Brandn Vogler tossed six innings, allowing six hits and striking out six, in Baker's win. The Warriors broke the game open in the sixth inning, scoring six runs with two outs.
Henley 12, Seaside 0 -- Heith Rasica homered twice and doubled, driving in five. His first home run capped a five-run second inning for Henley that grew a slim 1-0 lead to a comfortable 6-0 bulge. Hayden Rasica delivered a two-run single in that inning as well and got the win on the mound, tossing a complete-game five-hitter.
3A
Pleasant Hill 12, Douglas 4 -- Sparked by the offense of Stephen Parmenter, Matt Iten, Zach Hart and Jayden Casarez, Pleasant Hill jumped to a 12-0 lead through five innings. Douglas plated one in the top of the sixth and three in the seventh, courtesy of an Erich Hogue three-run shot, to account for the final score.
Joseph / Enterprise / Wallowa / Elgin 8, Horizon Christian, Tualatin 0 -- Gus Ramsden led off the top of the first with a home run, Flynn Nave went 4-for-4 and Coy Aschenbrenner tossed a complete-game shutout in Joseph's win.
Rainier 2, Sutherlin 1 -- The Columbians prevailed in a pitchers' duel between Austin Cantrell and Sutherlin's Cade Meisner. Cantrell tossed a three-hitter with nine strikeouts and Meisner threw a two-hitter with 11 strikeouts. Joey Tripp was 2-for-3 with an RBI to lead Rainier's offense. Meisner's double drove in Sutherlin's lone run.
La Pine 3, Vale 2 -- Tanner Hamilton had three hits for Vale, but the Vikings fell behind 3-0 after five innings and saw their rally fall one run short.
Santiam Christian 9, Salem Academy 7 – Ely Kennel and Devin Premsingh went 4-for-7 combined for Santiam Christian, which got six gutsy innings from winning pitcher Sean Riley. Luke Miller and Brandon Reed each had three hits in the loss for Salem Academy, the latter driving home three.
Taft 5, Irrigon 3 -- Taft scored five runs in the top of the fifth inning to rally for the win on the road.
Warrenton 6, Burns / Crane 1 -- The victorious Warriors scored five runs in the decisive second inning on two hits, three walks and three Burns errors. Pitchers Devin Jackson, Gabe Breitmeyer and Dalton Knight combined to strike out nine while giving up zero earned runs.
Brookings-Harbor 8, Amity / Perrydale 1 – Jon Kleespies went 3-for-4 with a homer and three RBIs and Roman Worthey fanned 12 over six innings for the victorious Bruins.
2A/1A
Knappa 9, Nestucca 0 – Eli Takalo tossed a complete-game one-hit shutout with 16 strikeouts as the Bobcats improved to 23-1 on the season. Tristan Wallace, Jaxson Goodman and Cameron Miethe all contributed extra-base hits for Knappa, which scored in every inning.
Regis 9, Neah-Kah-Nie 1 -- Bryce Campbell threw a complete-game three-hitter and Tyler Voltin drove in six runs on three hits in Regis' win.
Reedsport 2, Glide 0 -- Dallas McGill tossed a complete-game no-hitter and Griffin Lavigne doubled for one of Reedsport's four hits in the home team's win.
Umpqua Valley Christian / Melrose Christian 13, Culver 0 – In a game played Tuesday, KC Pettibone went five innings on the mound, fanning 12, and hit a third-inning home run that gave UVC a 1-0 lead. The Monarchs scored in every inning thereafter. Sam Guastaferro supported Pettibone's pitching with two hits and five runs batted in.
Kennedy 13, St. Paul 6 -- A six-run third inning, highlighted by a steal of home, broke open a close game. Camryn Biegel had two hits, scored three times and drove in two for Kennedy, which also got two hits, two runs and two RBIs from Bruce Beyer. Steven Cappela had two hits for St. Paul.
Grant Union / Prairie City 8, Lakeview 4 -- Mason Morris, Peyton Neault, Logan McCluskey and Jacob Vaughan all doubled in a five-run fourth inning for GU/PC in support of strong pitching from Tristan Morris.
North Douglas 4, Toledo 0 -- Colter Anderson and Brian Erickson teamed on a two-hit shutout for North Douglas, which got two hits apiece from Koldan Frieze and Wyatt Beckham.
Monroe 14, Hosanna Christian / Triad 3 – Colton Sutton went 3-for-3, homered and drove in five for Monroe, which was outhit seven to five but took advantage of 10 walks.