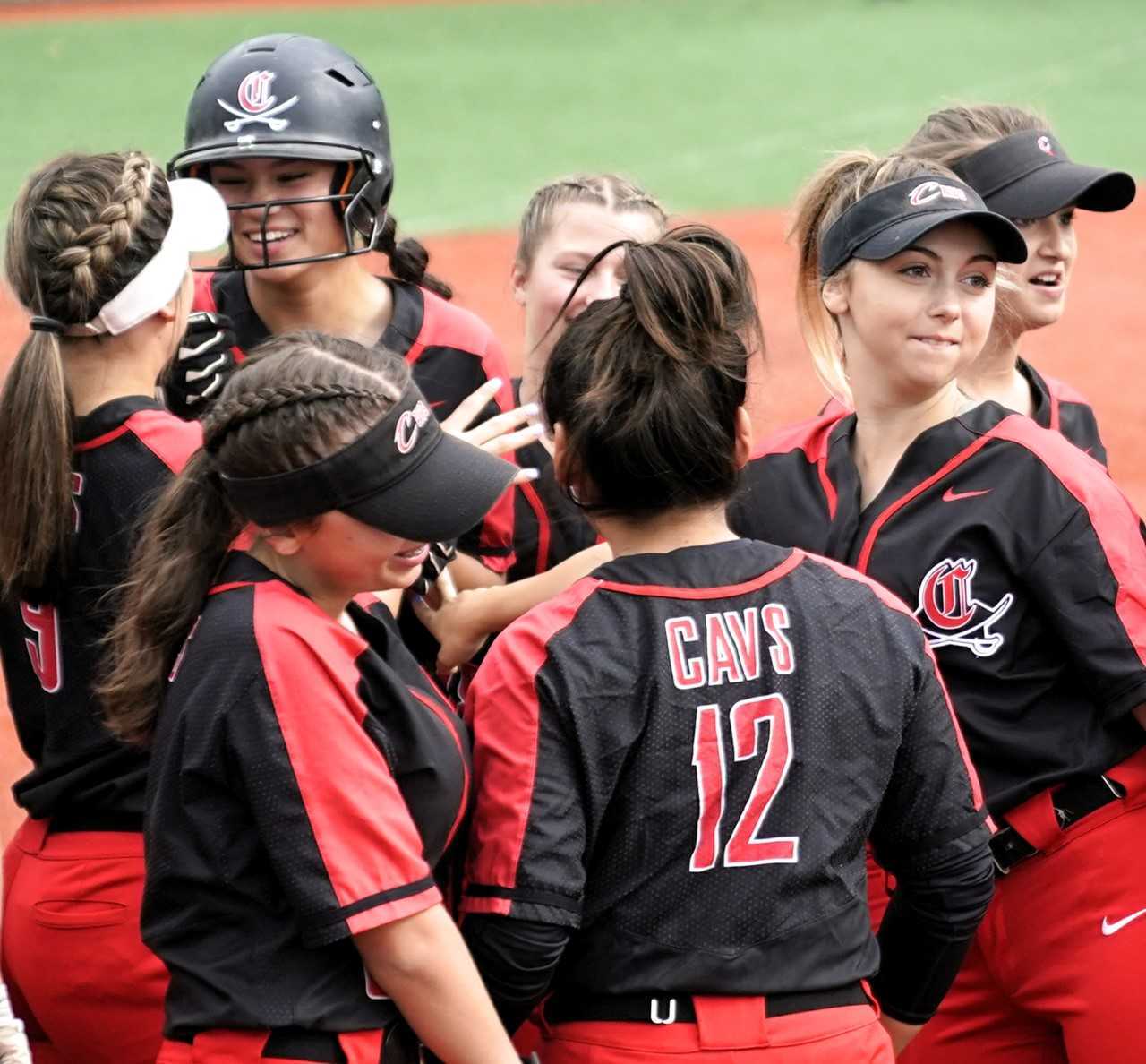 BEAVERTON -- No. 12 seed Clackamas came out swinging and never let up against No. 5 Jesuit in the second round of the 6A softball playoffs Wednesday.
The visiting Cavaliers buried the Crusaders under an avalanche of sharp line drives and powerful blasts, smacking 19 hits as they frolicked to a 17-3 win.
"We were all dialed in. We were ready to play," said Clackamas junior Alyssa Daniell, who got things started with a two-run home run in the first inning and added a solo shot in the sixth. "We wanted to win. We didn't want to go home."
The Cavaliers (19-9) scored five runs in the third inning to take a 7-2 lead and kept piling it on to avenge a 9-8 defeat to the Crusaders (22-7) on March 18. Senior pitcher Shaylee Monise added the exclamation point with a grand slam to cap a six-run seventh inning.
"Oh man, that was incredible," said Monise, who went 3 for 5 with a double, home run and seven RBIs. "Last year we hit the ball, so I feel like we kind of took what we had last year -- that same mindset of being aggressive -- and we just hit."
With the win, the Cavaliers advance to play at No. 4 seed Tualatin in Friday's quarterfinals. It is a rematch of last year's 6A final, won by the Timberwolves 4-3.
Clackamas has a much different roster than last season, but after some bumps in the road this year, the Cavaliers have hit high gear in the postseason. In 12 playoff innings, they have scored 27 runs.
"I think it's something in our head, we just flipped a switch," Monise said. "It's like, OK, we got it. We did it last year, we can do it this year.
"I feel like we were underdogs going into the playoffs. I feel like everyone thought they could beat us just because we didn't have a good preseason and our league was all right. I thought we were overlooked, but I think people are going to be more scared now."
Daniell agreed that the Cavaliers are "completely overlooked."
"At the beginning of the year, we weren't as developed as we are now, but now that we're starting to come together, I feel like people should have more faith in us because we're a very well-rounded team," Daniell said.
Everyone got into the act Wednesday for Clackamas. Besides Daniell and Monise, sophomore Ellie Martin went 4 for 4 with two doubles and an RBI, freshman Rinoa Aiger went 4 for 5 with two doubles and an RBI, sophomore Kylie Hegar had two hits and two RBIs and junior Madison Stateler added two hits.
"It got a little infectious," Clackamas coach Ken Gemma said. "I'm super happy with how we attacked. You can't let up on this team because they can come back and take it to you."
The Cavaliers also were excellent on defense behind Monise, who settled in nicely after giving up a two-run homer to senior Maya Williams in the first inning and finished with a six-hitter. They turned in several outstanding plays, including a double play to escape a bases-loaded jam in the third inning.
"I feel like we haven't played better all year," said Daniell, who plays first base. "We were doing our job behind Shaylee, who was pitching an amazing game."
The Cavaliers, who start three freshmen and three sophomores, looked unfazed by the playoff atmosphere.
"That's what happens when you're young. You don't know anything," Gemma said. "You've never been here, so you just play like you normally play."
Jesuit starts five freshmen, including pitcher Ainsley Davis, who went the distance in the defeat. It was a tough way for the season to end for the Crusaders, but coach Jim Speciale said he was encouraged by what he saw in 2019.
"If you would've told me at the beginning of the year that we're going to win 22 games, and win a playoff game, with five freshmen starting, I'll take that anytime," Speciale said. "We're growing. It's going to be fun."
Speciale said he thinks the 6A bracket is wide open.
"It's whoever comes to play, like they did tonight against us," he said. "They swing the bat like this, they're hard to beat."