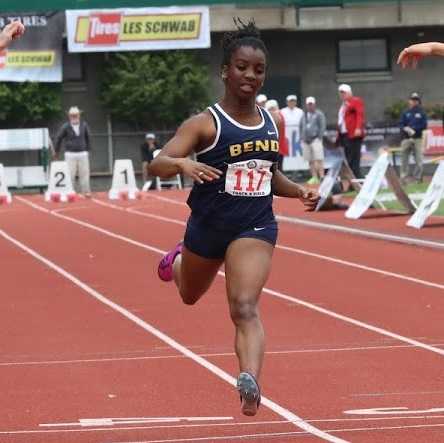 The girls sprint races will have an extra layer of intrigue in the OSAA OnPoint Community Credit Union 6A track championships, set for Friday and Saturday at Mt. Hood Community College.
In last week's Mountain Valley Conference championships, Bend's 4x100 relay squad ran 47.39 seconds and Lava Bears senior standout Maya Hopwood dashed to an 11.60 clocking in the 100 meters.
The meet was held at Summit High in Bend and there was no wind gauge used in the district meet. In all likelihood, it was wind-aided, still, Hopwood's time is the fastest recorded under all conditions by an Oregon girl in decades. If wind-legal, it would rank No. 2 all-time behind legendary 1968 Olympic gold medalist Margaret Johnson-Bailes.
"It was definitely wind-aided," Bend sprint coach Nicole Ciomek conceded. "Myself and our other sprint coach (Matt Craven) think that without a wind she would have been well under 12 seconds, and maybe 11.8. She ran great. Never in my four years have I seen that look of determination on her face."
Almost as impressive was the Lava Bears' time, which is No. 4 all-time in Oregon history.
Only Benson (2003) and Barlow (2015 and 2016) have run faster.
"When I saw the time I almost couldn't believe it myself," Ciomek said. "We had perfect hand-offs. Every single one of them was super smooth. Flawless."
Bend was pushed by a fast West Salem team that ran 47.88.
Without Benson sprint star Micah Williams in this weekend's 6A/5A championship meet due to injury, it is suddenly the girls 6A 100 that is taking up some of the void.
Hopwood will face Westview's Colleen Uzoekwe, who finished second at the Nike/Jesuit Twilight Relays with a wind-legal 11.86 seconds, as well as West Salem's Lucy Jolivette, who ran 11.82 to place second to Hopwood at Summit.
Also, Gresham's Fechi Nmereole, the defending champion, is back and owns a personal best of 11.92 seconds. South Eugene's Elise Unruh-Thomas, the 2018 state runner-up, has a best of 11.93.
Hopwood, who competed in 5A last year, was third in the state final.
Due the the construction of the new stadium at Hayward Field in Eugene, the state meets are in different locations this year. The 2A/1A and 4A/3A meets were held last week. The 6A/5A championships convene Friday at Mt. Hood Community College.
A look inside the state meets this weekend:
6A Boys
Teams to watch: Tualatin, Oregon City, Jesuit, West Salem
2018 champion: West Salem
Notes: An injury to Benson star junior Micah Williams will keep the state's all-time record holder in the 100 meters and 200 meters out of the meet, but there is still plenty of intrigue across the board. Tualatin has the pieces to try and win its first state championship in track and field and the team's sprinters, Kwabena Lynn and Dominique Loggins, figure to move up in Williams' absence. Tualatin thrower Mariano Kis, the top entrant in the shot put and discus, could factor huge in the team race. South Eugene pole vaulter Simon Seung Park won the 6A title as a sophomore in 2017 but no-heighted at the state meet last year. Jesuit and Oregon City, both under 3:19 this spring in the 4x400 relay, have a chance to go after the all-time state record of 3:16.82 by Benson that has been on the books since 1990. McMinnville senior Zane Fodge, a Stanford commit, owns the top seed times in Friday's 3,000 meters and Saturday's 1,500. Sunset's Ethan Reese, the 6A cross country champion, is going after the 800 title and has run a state-leading 1:52.87.
6A Girls
Teams to watch: Jesuit, South Eugene, Bend, Westview
2018 champion: Jesuit
Notes: The addition of last year's top two 5A teams, Summit and Bend, adds a bit more depth to the 6A fields this year. Summit dominated 5A for more than a decade before moving up last fall. However, Bend has a lot of big-point potential and ran the fourth-fastest 4x100 relay time in state history last weekend. The Lava Bears seem to be peaking at the right time. Jesuit is loaded in the mid-distance events and freshman Chloe Foerster will get her first taste of the state track meet in the 800 meters after smashing records a the middle school level. She has already run 2:10.95 for a freshman class state record. Summit's Fiona Max is the standout in the 1,500 and 3,000 meters after leading the Storm to a national championship in cross country last December. Sprinter Elise Unruh-Thomas, mid-distance runner Madison Elmore and hurdler Taylor Chocek all have more than one chance to help South Eugene score points. Westview's Colleen Uzoekwe could get to 40 points if she can sweep the 100, 200, long jump and high jump.
5A Boys
Teams to watch: North Bend, Ashland, Silverton, Dallas, Willamette, Crater
2018 champion: Sandy
Notes: The 5A boys meet includes several of the state's top individual performers. North Bend's Ty Hampton reclaimed the national lead in the javelin when he threw 221 feet, 4 inches at last weekend's Midwestern League district meet. Ashland's Evan Holland ascended to the national lead in the 1,500 meters at the same district meet, running 3:50.42 for No. 8 in state history. Willamette's Dylan Murray became the second hurdler in Oregon history to run under 14 seconds in the 110-meter high hurdles when he ran 13.93. North Bend beat Ashland to win the MWL district meet 124.7 to 110.5 and those two schools could be at the top of the standings again on Saturday.
5A Girls
Teams to watch: North Salem, Silverton, North Bend, Churchill
2018 champion: Summit
Notes: Summit has maintained ownership of the 5A girls title since the classification began in 2007, winning 12 titles in a row. With the Storm out of the way, North Salem appears to have the pieces necessary to win the team title. Sisters Nerissa and Maliyah Thompson, along with Rebekah Miller, Hailey Lewetag and Elizabeth Hernandez, make the Vikings the favorites. North Bend's Chelsea Howard, North Eugene's Nina Richardson and Thurston's Adael Scatena are multi-event standouts who will try leave an imprint on the meet in the sprints, hurdles, jumps and relays. Hood River Valley's Frances Dickinson could win both the 1,500 meters and 3,000. Silverton's trophy hopes rest on the Katie Sinn and Jori Paradis and a big effort in the 4x400 relay.
Doug Binder is the editor of DyeStat.com