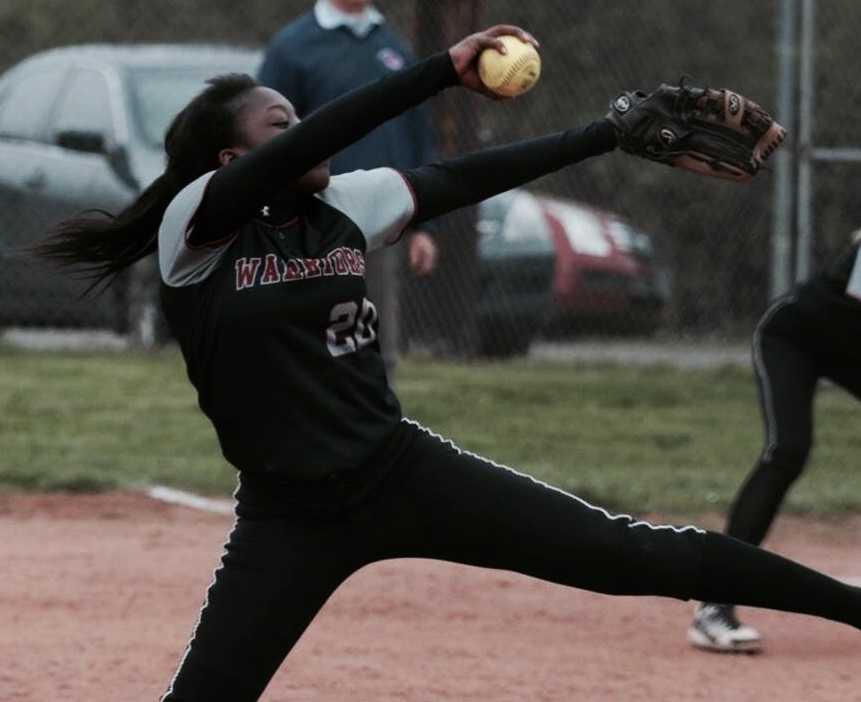 Just how dominant has North Douglas junior pitcher Nicki Derrick been this season?
Last week's doubleheader sweep of Central Linn stands as Exhibit A.
No. 5 Central Linn entered as the highest-scoring team in the state, for all classifications, averaging 15.4 runs per game. But the Cobras couldn't score a single run against Derrick as No. 1 North Douglas (22-1, 15-0) posted a pair of 10-0, six-inning wins to take control of first place in 2A/1A Special District 3.
Derrick threw a no-hitter with 16 strikeouts in the first game and a two-hitter with 12 strikeouts in the second game. Derrick, the team's cleanup hitter, also had five hits in the doubleheader, including a double.
"I saw how they had been hitting the ball, and as a pitcher, that's a little bit intimidating," Derrick said. "I think I'm getting to the peak of my year. I'm a perfectionist, so there's definitely stuff that I can work on, but I think that was my best games of the season."
Warriors coach Jesse Rice raved about Derrick's performance.
"She pitched two great games," Rice said. "I was talking to her about halfway through the second game, and I said, 'Hey, if you're starting to get tired, I can always throw Halli (Vaughn) in there,' and she was like, 'No way, I'm finishing this.' So she did."
Derrick burst onto the scene as a freshman by leading North Douglas of Drain to the state championship and being named the 2A/1A pitcher and player of the year. She not only went 15-1 and struck out 164 in 95 2/3 innings, but she batted better than .500 with nine home runs.
Expectations were high for Derrick last year, but in the final game of her basketball season, she suffered a torn ACL. She missed the entire softball season for the Warriors, who lost in the quarterfinals.
"It was super tough," Derrick said. "It definitely took a toll on me. But I did learn a lot on the sidelines, saw the game from a different perspective. And I think honestly that's helped me be so successful this year."
Derrick made it back for volleyball season, helping North Douglas reach the state tournament, and returned to the basketball team in January. But she couldn't wait for softball season.
She has come back better than ever. In 100 innings, she has struck out 238 and has an ERA of 0.42. She has three five-inning perfect games in which she has struck out all 15 batters she faced.
"The first couple games, I was getting my accuracy keyed in," Derrick said. "But I feel much stronger as a pitcher than I did my freshman year."
Rice said that missing a season set Derrick back.
"It took her a while to get back to where she was," Rice said. "Beginning of the season, she was rusty. I couldn't help but think if she had played last year, she'd be that much better."
Derrick throws hard, but exactly how hard, nobody knows. She has never been clocked.
"Everybody always asks me, but I have no idea," Derrick said. "It would be nice to know. I'm going to a few summer tournaments that are college exposure, so I think there I'll be clocked and I'll finally be able to answer everybody."
Derrick is looking to play in college. George Fox scouted her last week, but she is certain to get more attention this summer when she plays with the Eugene Lightning for the first time. She also has plenty to offer as a hitter, batting .681 with 13 doubles and three home runs this season.
"I want to pursue softball at a high level, but I also want to stay close to home and be there for my family," Derrick said. "If I don't play at the highest level, that's OK with me, because I just love it so much that I just want to be playing it a few more years."