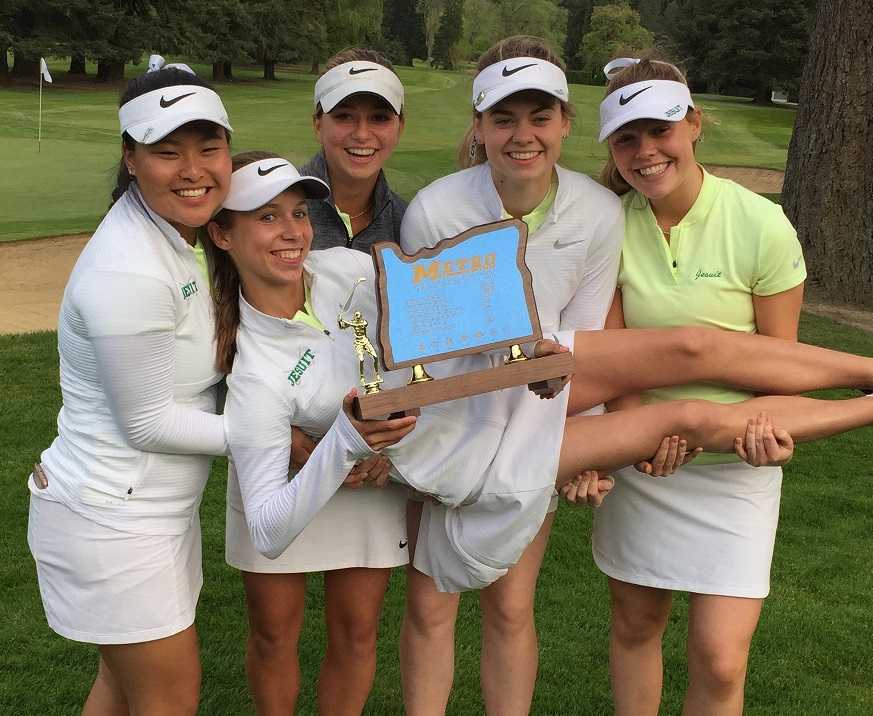 If anyone knows how hard it is to win a state championship, it's Jesuit girls golf coach Katy Williams.
After guiding the Crusaders to back-to-back titles in 2004 and 2005, her teams finished runner-up five times before finally winning another one last year.
So even though Jesuit returns last year's team intact, the Crusaders won't be taking anything for granted in the 6A tournament May 13-14 at Quail Valley Golf Course.
"A lot of people like to say, 'Oh, you guys are going to repeat or you're going to defend,' and we don't like either one of those words," Williams said. "This is a new season, different year, different scenarios, different golf course we're going to be playing. That's how we've approached it. It's just a different journey for us."
This season has had its own challenges, from poor weather early to the ongoing distractions the seniors have faced in making college plans.
But the Crusaders seem to have emerged from everything just fine. They finished first in the Metro League standings, ahead of 6A contender Westview, and dominated the district tournament Monday at Portland Golf Club. Their chemistry has pulled them through, according to Williams.
"What I've noticed this year is they're confident and they're bonded. They're like a little family," Williams said. "They've been on quite a journey. Three of them have been together for four years.
"To see them come together and lift each other up – if someone's not having a good day, someone else will cover. That's the mark of a great team, and I think that's where their confidence comes from."
Jesuit won all but one of the seven Metro tournaments, finishing second to Westview on the Wildcats' home course, Rock Creek Country Club. Crusaders junior Mary Scott Wolfe shared Metro medalist honors with Westview junior Alexa Udom, the 6A co-champion last year. Wolfe defeated Udom by two strokes Monday.
Jesuit finished sixth at state in 2016 and third in 2017 before coming out on top last year. All of the Crusaders' two-day scorers from last year's state tournament are back in senior Tabetha Kang (fourth), Wolfe (tied for sixth) and seniors Clara Ganz (tied for eighth) and Haley Hummelt (tied for 18th).
Wolfe and Kang (committed to Point Loma) have been the team's most consistent players this season, but Hummelt has come on of late, shooting 1-under this week, is Ganz is capable of big rounds.
Williams knows that Westview will pose a challenge at state, and she also is wary of Summit, a traditional 5A power that has moved to 6A this season and features the two-time reigning 5A champion in senior Olivia Loberg.
"We haven't played with them ever, and in every sport they've been so competitive, so I would expect them to be very good," she said of the Storm.
Williams is counting on her team's experience to be an advantage.
"The best thing I've seen is how they've managed their time and the stress of golf season with everything else," she said. "They have a sense of confidence to say, 'OK, we can do this.'"