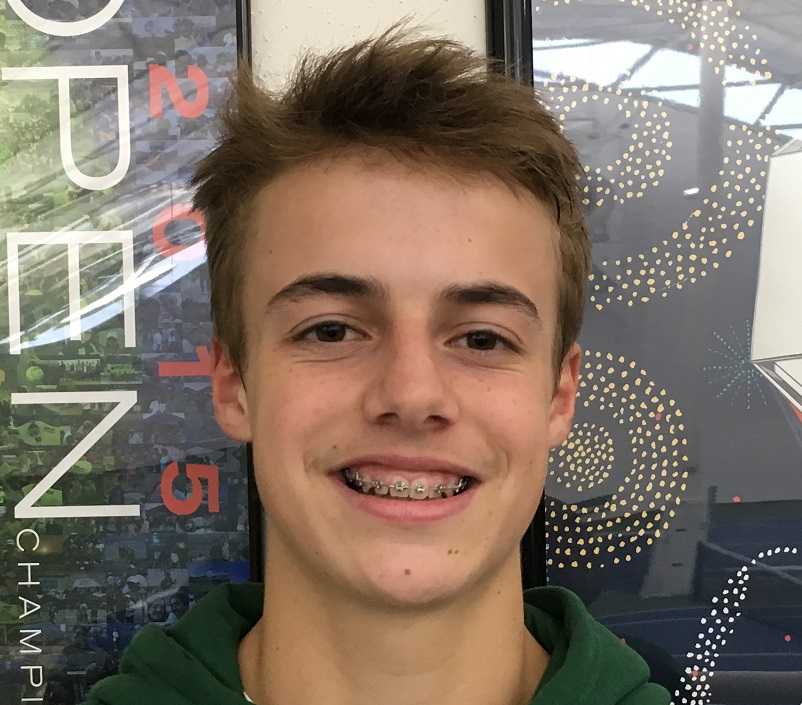 BEAVERTON -- The battle for singles supremacy in 6A boys tennis took an intriguing turn in the prestigious Jesuit Tournament on Saturday afternoon at Tualatin Hills Tennis Center.
Summit sophomore Nate Bonetto, playing his first high school season after spending last year at a California tennis academy, dominated Jesuit junior Peter Murphy, the two-time reigning state champion, 6-2, 6-1 in the final.
"I wasn't quite sure how it was going to go, given he's so good," Bonetto said of Murphy. "But I'm just very happy that I was able to play some good tennis. I was moving forward a lot better. I was hitting, coming to the net, which was putting more pressure on him."
The long, left-handed Bonetto pushed the action from the start.
"That was his game plan coming out was to move forward, come to the net, put pressure on Peter," Summit coach Paxton Deuel said. "It was one of those days where he executed his game plan, and it worked out.'
It was a stunning result, even for Bonetto, who recalled losing to Murphy in a junior tournament two years ago.
"He beat me handily," Bonetto said. "He's always been much better than me. Peter's an amazing player."
The tournament was a coming-out of sorts for the unseeded Bonetto, who defeated second-seeded Lincoln senior Avi Shugar 7-5, 6-3 and third-seeded Lakeridge senior Jack Ninteman 7-6 (1), 6-2 to reach the final of the eight-man bracket. In last year's 6A tournament, Shugar and Ninteman made the semifinals and quarterfinals, respectively.
Against Murphy, Bonetto got a service break to lead 3-1 in the first set and seized the momentum. It came one game after he rallied from down 0-40 to hold serve.
"I was definitely nervous, but I was able to shake that off earlier than usual, so that definitely helped," Bonetto said. "I was questioning myself a bit, but I came back and won that game, and I was able to break him, so that gave me a lot of confidence, for sure."
Bonetto broke Murphy's serve to start the second set and did it again to lead 3-1 on his way to closing out the match.
"Peter caught the kid on the great day," Jesuit coach Jeff Wood said of Bonetto. "The kid's a great player. He's got a lot of weapons. The guy was serving well, and pushing us back on the court. He came up with some incredible volleys. I think it was just one of those days where the kid was just too good for us."
Bonetto's teammates, standing one court away, celebrated every point with him, a new experience for him.
"It was probably the best atmosphere I've ever been in in tennis," he said. "Everyone was encouraging me to play. That's awesome to hear those guys."
Wood said Murphy will learn from the loss.
"Peter's the best competitor I've ever seen, the best competitor I've ever coached," Wood said. "I have no doubt he will be assimilating this in the right way. He's going to be figuring this out, and I know he's going to really look forward to playing this kid again and again."
Despite Murphy's setback, Jesuit won the title of the eight-team tournament. The Crusaders scored 78 points to finish ahead of Lincoln (54), Summit (35.5) and Lakeridge (27).
In doubles, Lincoln seniors Danny Luo and James Chen defeated Summit juniors Ryan Abbott and David Feldman 6-3, 6-2 in the final. Luo and Chen were 6A semifinalists last year; Abbott and Feldman won the 5A doubles title for the Storm, which has moved up one classification.
"It's important for seeding, obviously, but it's more important for a really good confidence booster heading into districts and state," Luo said. "I think we're ready. … We're definitely here to take the championship this year. We're here to win state. Anything worse is going to be a disappointment."
Luo said he and Chen tried to come out aggressive and "impose our will from the very first point."
"They're a great opponent," he said. "We'll probably see them at state."