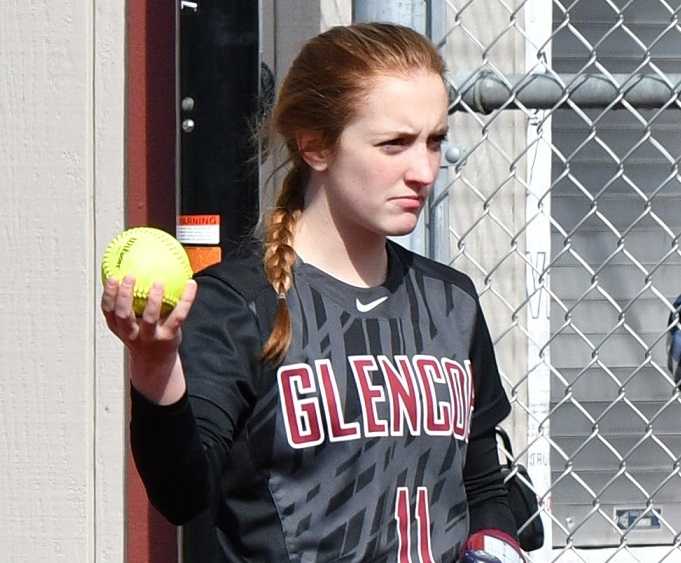 By now, Glencoe softball coach Jason Eastman has learned to fully trust in the base-running instincts of senior shortstop Morgan DeBord.
"She's got the green light any chance she gets," Eastman said. "Sometimes I'll give her a sign and I'll see her eyes go, 'No,' and sure enough it was a pitchout and she would've been dead. So she's kind of smarter than me on the basepaths. It's been kind of fun to watch."
The 5-foot-4 DeBord, a fourth-year starter for the Crimson Tide (8-5), has terrorized opponents with her speed. After entering the season with 100 career stolen bases, she has 30 in the first 13 games this year. She stole seven bases in one game and has swiped home twice on delayed steals.
She has been caught once this season.
"And that was a bad call," Eastman said with a laugh.
DeBord was clocked at a blazing 2.44 seconds from home to first base at an evaluation camp in 2016, setting a Fastpitch Northwest record. The time put her on the radar for colleges, and she committed to Loyola Marymount in 2017.
"She'll make an immediate impact at LMU," Eastman said of DeBord, who also is hitting .543 with 12 RBIs. "She could have gone anywhere in the country just to run a base."
DeBord splits her time between softball and track in the spring. Her best in the 100 meters is 13.42 seconds, which is the No. 7 time in the Pacific Conference this season.
A four-sport athlete, she was a Pacific first-team pick in volleyball and the conference player of the year in basketball.
A glance at other players who are off to fast starts this season:
West Albany sophomore Presley Jantzi is hitting .649 and slugging 1.162 with an on-base percentage of .729. She has four doubles, three triples, three home runs, 17 RBIs and eight stolen bases. She also has two assists from the outfield. "She's a legit five-tool player," coach Ryan Borde said. "It's the best I've had in the four years I've been here. She is crazy fast." … Glencoe senior Jensen Becker, committed to Oregon Tech, is batting .500 with four doubles, one triple, one home run and 14 RBIs. Junior teammate Alivia Eastman is hitting .413 with a home run and 15 RBIs. …
Grant Union senior catcher Hailie Wright, coming off big seasons in volleyball and basketball, is hitting .649 (24 for 37) with a 1.054 slugging percentage and two home runs. … Westview junior center fielder Maddie Curaming is hitting .439 with 12 RBIs. Wildcats sophomore shortstop Emma Antich has a team-high 21 RBIs, and sophomore pitcher Julia Jordan has a 1.74 ERA and 99 strikeouts in 76 1/3 innings. … Canby senior catcher Kamryn Mobley is hitting .565 with two home runs. …
Lake Oswego senior Marin Penney is batting .429 with four home runs and 14 RBIs and a slugging percentage of .886. At shortstop, she has not committed an error in 44 chances. … Dallas senior center fielder Emma Classen is hitting .618 with two doubles, two triples, nine RBIs, 15 runs and a .667 on-base percentage from the leadoff spot. … Harrisburg senior Taytum Hughes, who plays first base and third base, is hitting .600 with 20 RBIs and has not struck out in 49 at-bats. …
Sunset senior shortstop Abby Wingo, who has signed with Seton Hall, is batting .600 (27 for 45) and slugging .933. She hit for the cycle against No. 1 Tualatin last week. Apollos junior pitcher Grace Kimball (1.69 ERA) has struck out 141 in 85 innings. … Santiam Christian freshman catcher Kailey Gurr is hitting a team-high .470 with an OPS of 1.188. She has thrown out five of six runners attempting to steal and picked off five runners. "She's the most complete catcher I've seen in 20 years of coaching," coach Dan Whitney said. …
Monroe sophomore catcher Ashley Sutton is batting .556 with four home runs and 10 RBIs in through six games. She was unanimous first-team all-league as a freshman. … Hood River Valley senior center fielder Haylee Baker is hitting .647 with five doubles, one triple, one home run and 12 stolen bases. … Sheldon junior infielder Kelsi Sorenson leads her team in batting (.588), RBIs (16) and runs (14). Irish junior infielder Jordan Henderson is hitting .560 with 11 RBIs.