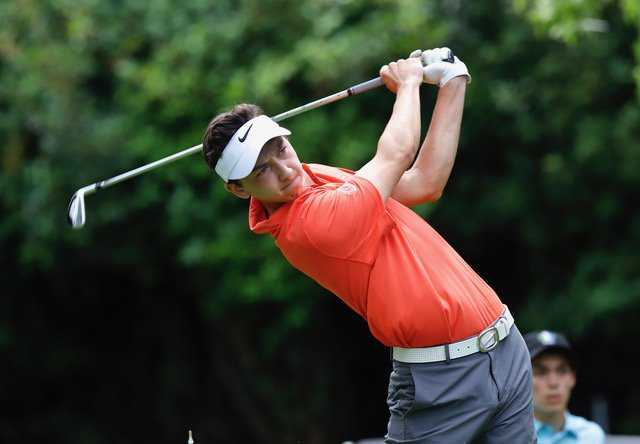 Little by little, Lincoln's Nate Stember can sense it coming.
The University of Oregon-bound senior is more accurate with his driver and better with his long irons than last year, when he won the 6A boys golf title. And it's just a matter of when his short game hits high gear.
"I'm at the point where I feel like I'm close to putting it all together for one stretch," Stember said. "Once I do that, I'll know for sure, have some validation, that I've really improved. I can feel it's close, but it's not quite there yet. I'm just waiting for that breakout, two- or three-week stretch where I play some really good golf."
Given Stember's track record, once he gets dialed in, watch out.
Winning the 6A tournament last year was the start of a scintillating summer in which Stember was named the 2018 Oregon Junior Golf player of the year. He won the Oregon Junior Amateur and Oregon Junior Stroke Play tournaments as well as the Centennial Junior Championship, the first OJG major of the season.
He also took medalist honors at a sectional qualifier for the U.S. Junior Amateur and was the top finisher at the Eddie Hogan Cup Team Matches, an event that included many of the top junior golfers in the western U.S. and Canada.
"Sometimes that just happens. You start feeling it," Stember said. "A lot of it is confidence, really, especially on the greens, putting-wise. I putted pretty well last year. Once you see a couple putts go in, the hole looks a lot bigger and you start shooting a lot better scores. That's kind of what I'm waiting for right now."
Stember has been hovering around par early in the season.
"I'd kind of like to get around two or three under par consistently," he said. "I think my ball-striking has been good enough to do that, it's just mostly hitting wedges a little bit closer and making more putts."
The wet weather hasn't helped. He is hoping for a dry course this weekend when Lincoln plays in an invitational at Eagle Crest Resort in Redmond. Next week, he is scheduled to play in an American Junior Golf Association event in Arizona.
"I'm excited to get out of the rain and play some golf where the ball rolls," Stember said.
Stember finished fourth in the 6A tournament as a freshman and tied for ninth as a sophomore before winning the title last year, becoming the third Lincoln champion behind Peter Jacobsen (1972) and Adam Bean (2011). Despite struggling with his swing entering the tournament, he shot even-par to win by four strokes at Emerald Valley Golf Club in Creswell.
"I played with him in a practice round and he wasn't hitting the ball very well," Lincoln coach Kyle Rumpf said. "His body language was like, 'Geez, worst time of year to be hitting it like this.' He just kind of grinded out the first day. The second day, he just kind of went into a zone.
"That showed me a lot about his character right there, especially having watched him the previous few days. I could tell he wasn't feeling too confident about his game, but he just kind of grinded through it mentally and got the job done without his best game."
The win was a benchmark for Stember.
"At that point in my career, it was kind of the first big win that I had against all the other good players in the state," Stember said. "So it gave me the confidence, for sure, to win some of the bigger OGA tournaments throughout the summer. I definitely feel like it catapulted me to a really good summer."
This season, Stember knows he will get plenty of competition from a loaded team at Jesuit, last year's 6A champion. He is hoping that Lincoln, which finished ninth at state last year, can finish near the top.
"Jesuit has a ridiculously good team, and Mountainside has a pretty good team, as well," he said. "We kind of have a goal of taking on Mountainside for second place. I've been working with our guys, teaching them how to work their way around the golf course, how to play smart golf. One of my big goals this year is to have a good team finish at state."