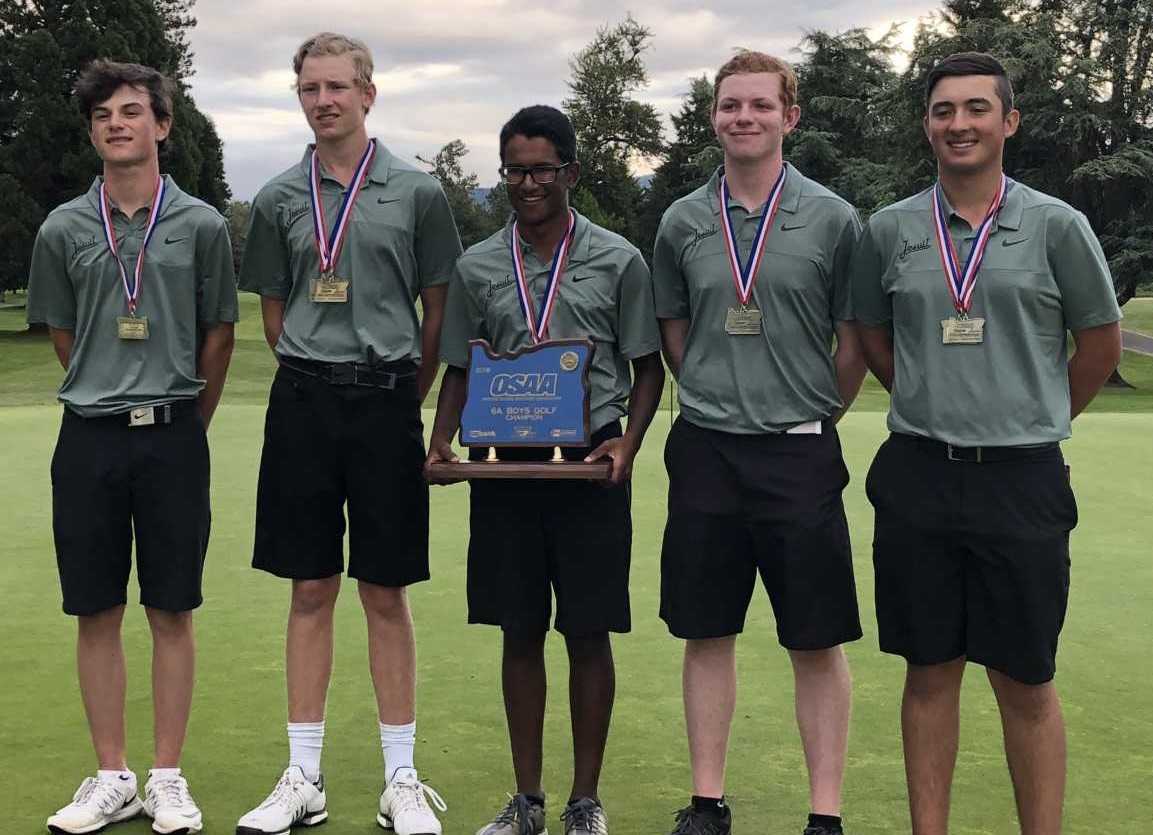 In his 22 seasons of coaching boys golf at Jesuit, including seven state title teams, Jay Minsker has seen his share of dominant performances by the Crusaders.
But even Minsker was taken aback Monday when Jesuit's season got off to an impressive start in a 15-team tournament at Willamette Valley Country Club in Canby. The two-time reigning 6A champion Crusaders shot seven-under par to beat runner-up Mountainside by 26 strokes.
"First go-round, I was overly shocked about how our guys played," Minsker said. "Myself and my assistant, we look at each other and we're like, 'Really?' We couldn't believe it."
Junior Johnny Ward took medalist honors with a five-under 67, leading a lineup that included senior Austin Carnese (69), sophomore Brody Marconi (71), junior Andrew Reinhardt (74) and freshman Ethan Tseng (79). Given the way the Crusaders played in their opener, do they have a chance to be Minsker's best team at Jesuit?
"Scoring-wise, I think it could be," Minsker said. "We have as good or better team than last year. The thing that makes us really good, it's not just a couple of kids, it's one through six or seven or eight, that can go out there and shoot 75 or better. If they have a bad day, they know the guy next to them – who could be a freshman or a senior – is going to make up for them."
In last year's 6A tournament, Jesuit beat second-place Mountainside by 58 strokes. Marconi and Reinhardt finished tied for second and Ward took fourth.
If that wasn't enough of a nucleus for this season, the Crusaders added Carnese, who missed last season for undisclosed reasons. He has committed to play in college at Oregon.
"Him stepping in really improves us from last year," Minsker said. "It's hard to believe, but we're very fortunate."
The addition of Tseng also is a boost. He qualified as the team's No. 2 player last week.
Minsker said the team's chemistry is a big part of its success. Many of them have developed close friendships from playing year-round on the junior circuit.
"They travel together in the summertime, compete against each other," Minsker said. "They're trying to beat each other on a weekly basis on the OGA circuit, but when it comes to high school, they look at each other and say, 'Coach, there's nobody out there that can beat us.'"
Jesuit received 10 of 12 first-place votes in the OSAAtoday 6A preseason coaches poll, the others going to Metro League rival Mountainside and Lake Oswego. The Crusaders look like a good bet for a three-peat, but they aren't looking too far ahead.
"Our goal is to win the Metro League," Minsker said. "They want to go out and win every Metro League tournament. If we lose a week, and we don't play so well, we've just got to get into the state tournament, and it's a two-day tournament, anybody's ballgame."