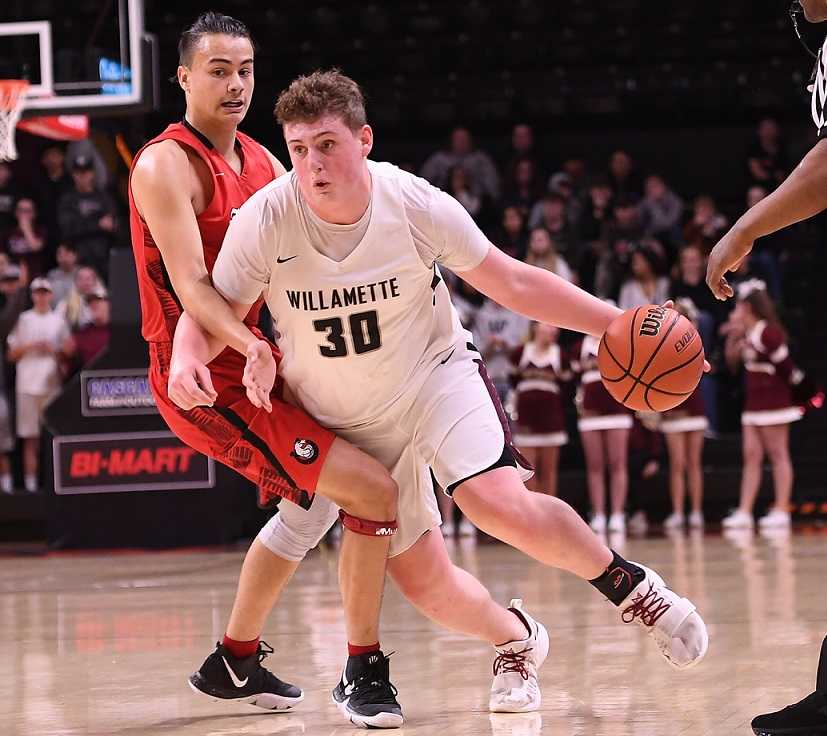 CORVALLIS -- In late January, Willamette topped defending state champion Thurston 63-59 in a Midwestern League contest that, due to weather, ended up being the teams' only matchup of the regular season.
Not only did history repeat itself at the OSAA / OnPoint Community Credit Union Class 5A boys basketball tournament Wednesday, it was almost an exact replica.
Willamette again came away victors over the Colts 64-59 in the quarterfinals at Gill Coliseum, and the Wolverines withstood everything the Colts threw at them.
"A staple of this team, the entire year, is they are a very resilient bunch," Willamette head coach Chad Carpenter said. "Any time somebody hits a big shot, they are ready to answer and they just love competing. It's a really fun group to be part of."
Willamette took its largest lead, six points, with 33 seconds left in the game on a Jondrae Smith breakaway layup. When it looked like the Wolverines might put the game away for good, Thurston didn't quit. Kyle Casley worked his way wide open for a three-pointer with 20.9 seconds left, and following two Owen Cross foul shots for Willamette, Thurston's Dejean Alonzo buried another three to cut Willamette's lead to 61-59 with 13.2 seconds left.
Cross, however, calmly knocked down two more foul shots with 8.9 seconds left. The Colts rushed down the floor and Isaac Lange's layup rimmed out with just under four seconds left. Willamette pulled down the rebound and iced the game from there.
The final half-minute of the game was a microcosm of the entire game, each team taking small leads, only to have the other fight their way back in it. It just so happened Willamette was able to fend off Thurston long enough for the final buzzer to sound.
Willamette took the lead for good on a Luke Smith breakaway layup at 5:14 mark of the fourth quarter, but the Colts, who shot 50 percent from three-point range (7-of-14), hit three of them in the frame. Thurston trimmed Willamette's lead to a single point three separate times, but the Wolverines weathered the storm and stayed the course.
"I felt like we'd be there at the end," Carpenter said. "I'd be lying if I didn't say I was little bit nervous, but we just didn't hit some shots in the first half we normally do. Stepping into a bigger arena you always wonder how you're going to react."
In a 52-second stretch during the third quarter, the slow pace became breakneck and it looked like a three-point shootout. Lange gave the Colts a 30-27 lead with 5:02 left. Willamette raced down the floor and Smith buried an answer to tie it. Eighteen seconds later, Alonzo canned another. The flurry ended at the 4:20 mark with a Cross three-pointer in transition, and 16 points went on the board in a blink. It took the teams the entire first quarter to score 18 points, in comparison.
For Willamette, Smith was terrific off the bench. He ended the game with 17 points on 6-of-10 shooting and 2-of-4 from 3-point range. Luke Burke, a starting senior guard, also poured in 17 points on 8-of-14 shooting with nine rebounds. Jacob Curtis scored 10 points and pulled down four rebounds, and Cross ended with nine points.
Willamette shot 22 for 47 for the game, and just 4 for 16 from three-point range, but won the turnover battle 13-6.
For Thurston, Lange finished with 17 points on 4-of-11 shooting with seven rebounds. Mason Miller scored 15 points on 4-of-10 shooting and pulled down a game-high 11 rebounds. Alonzo scored 14 points.
Both teams were great from the foul line. Thurston sunk 18 of 21 attempts and Willamette went 16 for 19.
The win moves Willamette into the semifinals where it will face another Midwestern League opponent, the Churchill Lancers, at 1:30 p.m. Friday. Churchill won both meetings during the regular season, 72-53 on Jan. 15 and 70-62 on Feb. 19, but Carpenter liked how his team attacked the Lancers the second time around and expects Friday's tilt to be a classic.
"It's going to be a heck of a game," Carpenter said.