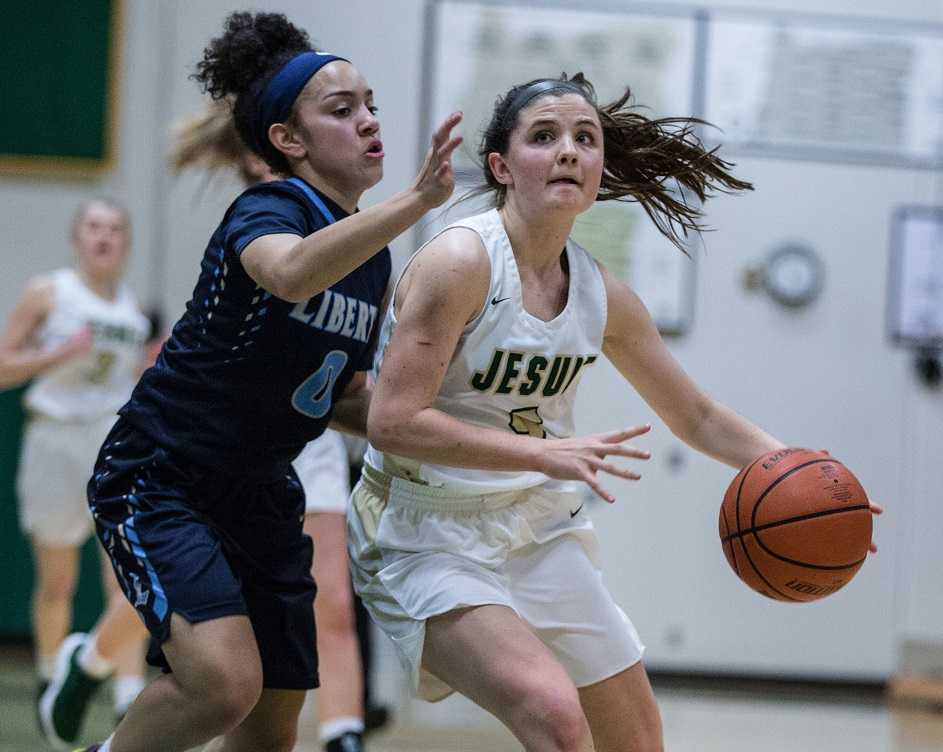 PORTLAND – The last two seasons, Jesuit's girls basketball team got within one game of the Chiles Center, only to fall short.
So when another opportunity hung in the balance in the fourth quarter Saturday night against upstart Liberty in the 6A playoff round of 16, the Crusaders weren't going to be denied.
No. 6 seed Jesuit fought off a second-half rally by No. 11 Liberty to emerge with a 40-32 win that gives the Crusaders a coveted berth in the eight-team OSAA / OnPoint Community Credit Union 6A tournament at the Chiles Center next week.
"We had to make a decision about how bad we wanted it," senior point guard Anna Fanelli said. "We've been texting about it all day. We've been talking about it all week. We're getting to Chiles Center, no matter what. Our seniors stepped up and showed our maturity and battled it out."
Jesuit (21-5) advances to play No. 3 seed Benson at 6:30 p.m. Thursday. It will be the Crusaders' first appearance in the tournament since making the 2016 semifinals.
"I've been there before, and hopefully we can get lucky again and get there in the future, but I wanted this group to have that experience," Jesuit coach Jason Lowery said.
Liberty (16-10) – which was coming off a 73-65 first-round win over Westview, the first playoff win in school history – was tantalizingly close to taking a monumental step. The Falcons were within two points for much of the fourth quarter but couldn't overcome the Crusaders.
"I thought their effort was great," Liberty coach Melanie Wagoner said of her players. "They made big plays and they played together. They really believed that they could go out and get the win. I don't think anybody is happy with the end result."
It was a much different game than when Jesuit beat Liberty 49-34 on Jan. 4.
"We knew they weren't the same team we played Jan. 4," Fanelli said. "We saw how they battled Westview, and Westview's a very good team."
Jesuit scored the game's first eight points and led 26-17 at half. But Liberty went on a 7-0 run to start the second half to pull within 26-24 and put the heat on the Crusaders.
Falcons junior post Clara Robbins scored inside to cut Jesuit's lead to 32-30 with 7:15 left in the game. That's when the Crusaders opted to hold the ball in an attempt to get Liberty to extend its zone.
"Honestly, it was just to waste time," Fanelli said. "We knew we were up, and if they weren't going to come guard us, we didn't really need to score, necessarily. Just to kind of stall, get the shot we wanted and not force. If we had to waste a minute or two, that's what we did."
Neither team scored again until Fanelli drove for a layup to make it 34-30 with 3:05 left. Jesuit missed the front end of two one-and-one free throw opportunities, and Liberty cut the lead to 34-32 on a layup by Robbins with 50 seconds to go.
Crusaders senior guard Rachel Hickey and Fanelli made four consecutive free throws to make it 38-32, and Liberty was unable to answer.
Fanelli scored 11 points and Hickey had eight points to lead Jesuit. Liberty got eight points from Robbins and seven points from sophomore guard Livia Knapp.
The Crusaders now shift to getting ready for Benson, last year's state runner-up. Jesuit has played Benson the last two seasons, beating the Techsters 40-37 in 2016-17 and losing to them 61-44 last year.
"They're bigger, more physical, but I think mentally we're definitely there," Fanelli said. "We know what the challenge is going to be. We didn't play our best tonight, but we grinded it out. I think we know what we have to fix this week in practice."
The future is promising for Liberty, which starts two sophomores and one junior. But that was little solace for Wagoner after the game.
"We have a great group of seniors that we're going to miss," Wagoner said. "This season was about what can we do this year. We're not looking at what we can do for next year. Our seniors did a great job of leading us and showing us how good we can be. Now it's just a matter of doing it."
Other games from Saturday's round of 16:
Southridge 70, West Salem 39: Cameron Brink scored 29 points and McKelle Meek made five three-pointers and added 17 points as the two-time reigning champion Skyhawks secured their spot in the tournament.
Southridge started slow but took control in the second quarter with its pressure defense. They held the Titans scoreless for a five-minute stretch in the period.
"It just helps get easy baskets. It's just so nice to be able to get easy baskets," Skyhawks coach Michael Bergmann said. "I think we would have been OK if the press wasn't working, but it's that much better when it is and we can use our athleticism and length so much better. And it's really hard to be able to game plan against a press if we run it well."
Maddie Bertsch had 25 points to lead West Salem.
Beaverton 60, South Salem 30: Sydney Erikstrup scored 18 points and Laura Erikstrup and Jordy Reverman added 12 and 11 points, respectively, for the Beavers. Mary Kay Naro chipped in with seven rebounds, five assists and five steals.
West Linn 50, Central Catholic 40: Aaronette Vonleh had 15 points, eight rebounds and four blocked shots to lead the Lions past the Rams. Payton Shelstad had 10 points and five rebounds and Audrey Roden had seven points and 10 rebounds for West Linn.
Marianna Payne scored 18 points to lead Central Catholic.
Sheldon 62, Roosevelt 45: Kami Walk had 14 points and 11 rebounds and Alyssa Mirabile had 13 points, four assists and three steals for the Irish, who also got eight points, five rebounds and four steals from Makayla Scurlock.
Sheldon led 34-26 at half and broke the game open in the middle of the third quarter on consecutive three-pointers by Olivia Pierzina and Walk.
Mahogany Menefee led Roosevelt with 12 points.
South Medford 61, Grant 58: Ula Chamberlin scored 20 points, including 10 in the fourth quarter, as the host Panthers turned back the Generals to earn a quarterfinal date with Southridge.
South Medford led throughout, but Grant pulled to within 59-58 in the final minute a three-point play by Monka Hickok. The Panthers' Bella Pedrojetti made two free throws with eight seconds left to make it 61-58, and Grant's Amaya Aldridge missed a three-point attempt on the last possession.
Hickok, Chamberlin's future teammate at Weber State, led all scorers with 29 points. Toni Coleman added 13 points for South Medford.
Benson 88, Century 46
Tigard 38, Grants Pass 23