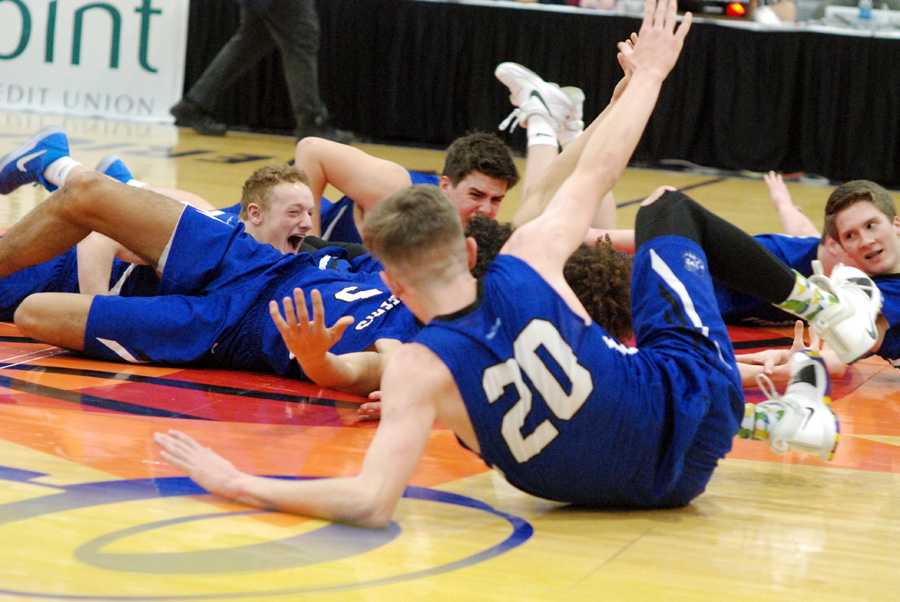 From the moment the final horn sounded, ending Western Christian's hopes of winning the 2A state title in 2018, the Pioneers dreamed of the chance to avenge their 65-61 loss to Columbia Christian. On Saturday, Western Christian, making its 14th consecutive trip to Pendleton, realized that dream, playing a near-perfect game to dethrone the top-seeded Knights, 61-48, in the championship game of the OSAA / OnPoint Community Credit Union Boys 2A State Basketball Championship.
"We knew who their best players were and who their shooters were," said junior forward Payton Richardson. "We knew our strengths and how to attack them. We executed super well. We gave our hearts and left it all on the court."
"It feels so sweet!" exclaimed senior guard Keaton Hull. "For 30 games this year we talked about it every game; about we were going to come back and beat Columbia and we did that. I'm so proud of everyone on the team."
"We knew we were coming back [here and winning]," added junior forward Alex Nicoli. "Coach Gary [Hull] told us every day that we've got this. We worked our butts off for this. We played over 70 summer league games. We were in the gym two hours after practice ended and an hour before practice started. We wanted it so bad and we did it."
"This is crazy," added senior guard Johnny Williams, a four-year starter. "You can't write this man. "We won my senior year. We didn't want to go 0-4 at state. It feels so good!"
"It's the best feeling in the world," Hull added. "I've been waiting for this moment for four years; actually longer than that. I'm so happy. I'm so happy for my dad and our family. It's the best feeling."
Columbia Christian, playing like the team to beat, controlled the action early in the game, sharing the ball well and getting great looks. The Knights built a 12-7 lead. Each of their five baskets was assisted. They scored inside with 6-8 sophomore Ben Gregg and on the perimeter with Isiah Mariscal and Dominic Blake.
Late in the first quarter, Western Christian's full court pressure defense began to rattle Columbia. Hull drew two player-controlled fouls on Gregg by standing his ground in the paint and Richardson converted twice off of successive steals in the backcourt to give the Pioneers a 13-12 lead. Two triples, one by Derek Valentine and another by Blake, helped Columbia regain the lead as the period ended but momentum clearly was on Western's side.
"[Gregg] went out for a while and we got some momentum back," said Hull. "Even when he came back there was no loss of momentum for us."
Columbia Christian coach Bart Valentine said that he was surprised the pressure affected his squad.
"We haven't had a lot of trouble with pressure this year," he said. "It took us emotionally out of it a little bit and we just made some bad decisions."
"Last year we thought the pressure hurt them but we got in foul trouble," observed Western coach Gary Hull. "This year we did a better job."
The unrelenting pressure led to more success for the Pioneers in the second quarter. Keaton Hull, who scored five points in the first quarter, added a drive and finish between two defenders 40 seconds into the period. The conventional three-point play gave the Pioneers their first lead since 2-0 and they held it virtually throughout the quarter, extending the advantage to 30-23 when Richardson sandwiched two field goals between another Hull dribble drive.
Columbia Christian regained some momentum late in the half when Elijah Munyan scored from behind the arc and at the rim on a dunk. But Western Christian went into the break up by four, 32-28.
The teams battled back and forth in the early stages of the third quarter. Gregg and Munyan scored for Columbia. Williams had a couple of sweet shots for Western. Twice the Knights went ahead on 3-balls from Mariscal, who finished with 14. Each time Western Christian answered right back, thanks to rugged inside play from reserve post Ethan Halgren. Two late three-pointers from Nicoli helped cement the Pioneers' 49-46 lead heading to the fourth quarter.
With the game hanging in the balance as the fourth quarter began, the long-anticipated 2A rematch was setting up for a memorable finish in front of a large, boisterous crowd at the Pendleton Convention Center.
It did not materialize.
Richardson cleaned up his miss 90 seconds in to put Western up five then knifed through for a deuce on the ensuing possession to make it seven halfway through. Nicoli added two more baskets, both from close range, to extend the Pioneers' lead to 11, as Columbia Christian missed shots in close that the Knights ordinarily would make, took ill-advised shots from deep and turned the ball over when ball security and valuing every possession was paramount.
Indeed, with Columbia Christian desperately needing points or turnovers, the Knights got neither for the first seven minutes of the fourth. By the time Blake scored on a layup with 51 seconds to go, Western Christian was ahead by 14 points and the players were planning whom to hug first.
When the final horn sounded on Western Christian's extraordinary effort, the celebration was genuine and heartfelt.
"In fifth grade I came to watch Pierre Zook [and Western Christian] win [its only] state championship in 2011," Williams explained. "Ever since then I've been dreaming about winning one myself. God blesses us.
"I was super confident because we put the work in," he continued. "The Bible says God will give us strength if we ask for it and he definitely gave us strength. He helped us out. They were super big but somebody texted us this morning and reminded us of David versus Goliath. David knew he was going to win because he had God on his side. We had God on our side so we knew we were going to get it done."
"We've been preparing since we lost last year," said Coach Hull. "The biggest thing was don't play with any regret. I knew the things we needed to do to match up. This is a game where every trip we had to outperform, out play, out tip, out hustle, out dive, whatever it takes. I know it sounds cliché but you have to with that team. They're a solid 6-7 kids, but I just felt like we could match them with our five. And Ethan [Halgren] did a great job, too."
Richardson was named Player of the Game after contributing 17 points, nine rebounds, five assists and four steals. But that honor could have gone to three other Pioneers as easily. Nicoli scored 12 of his 15 points in the second half and added eight rebounds. Hull had 12 points and five boards. And the unsung, unselfish Williams chipped in with 11 and was the team's heartbeat from the first tap to the final horn.
"They believe in themselves," said Coach Hull. "They've had a lot of success in their many years together."
Three Columbia Christian players scored in double figures. In addition to Mariscal's 14, Munyan scored 12 and Gregg had 10, but that was 13 points below his season's average.
"Payton battled with him, blocked him a couple of times and when he missed shots we got rebounds," Keaton Hull explained. "A lot of teams can't get rebounds against them."
Valentine said the credit for the win belonged to Western Christian, who finished the season 29-1.
"They played really well, they took us out of our game, we did not move the ball well and we did not play together very well," he said. "I'm just going to say that Western Christian did a great job, which they did."
His Knights finished the year 28-3. They were very young this year, with Blake the only senior among major contributors. Like Western last year, this loss is apt to serve as a heavy dose of motivation.
"It'll be huge," he said. "We have a lot of work to do but we have a lot of kids back. We'll be back here."
Long after the game had ended, Western Christian's players and coaches continued to celebrate with their fans. There were thousands of photos taken. The goal was to sear the moment into their collective memories. They had realized their dreams and were appreciating what it all meant.
"It means all the hard work paid off," Richardson said.
"I think you have a group of seniors at Western Christian that have played together for a long time," said Valentine. "This meant an awful lot to them.
"They brought their best at the best moment."
In the third place game…
Toledo 67, Knappa 40 -- Toledo won the battle from long distance to earn the third-place trophy. The Boomers opened up a 26-point lead through three quarters by hitting 11 three-point field goals – five by Jadyn Spangler and a halftime buzzer beater by freshman Coren Looper -- to just three for Knappa and went on to defeat the Loggers, 67-40. Spangler had 17 points and Conner Marchant and Mason McAlpine added 15 apiece for Toledo (27-2), which also got aa dominant performance on the boards from Jaxon Rozewski (16 rebounds). Timber Engblom, one of six Knappa seniors, closed out this distinguished career with 13 points, most of the acrobatic variety, for the Loggers (21-10). Fellow senior Ty Vanderburg contributed 11.
In the fourth place game…
Kennedy 39, Santiam 28 -- Kennedy secured the fourth-place trophy for the second consecutive year, downing Santiam 39-28 in a low-scoring affair. Kennedy won despite being blanked 8-0 in the opening quarter. The Trojans outscored Santiam 29-14 over the next two quarters to take control. Carson Hall scored 13 points for Kennedy, the only player on either team to score 10 or more points. Kennedy won despite shooting 39 percent from the field and just 3-for-10 from the charity stripe. Santiam, which got eight points from Colin Thurston and seven from Chaz Storm, shot only 22 percent for the game and was 2-for-17 from behind the three-point arc.