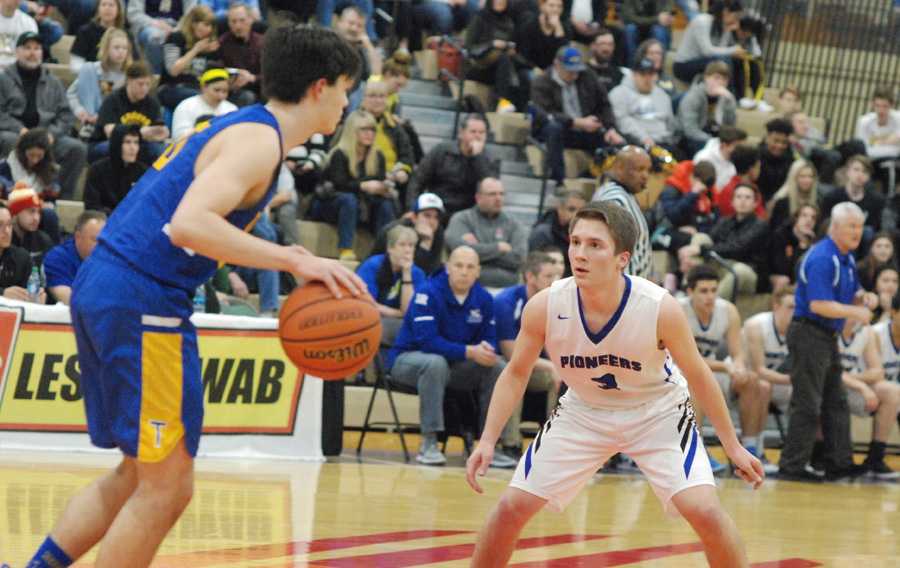 With four minutes to go in the second semifinal of the OSAA / OnPoint Community Credit Union Boys 2A State Basketball Championship, Toledo found itself, against all odds, within five points of the No. 2 team in the state.
The Boomers started the game in a quick 12-0 hole and lost its First Team All-State point guard, Conner Marchant, to fouls midway through the third quarter. But when post Jaxon Rozewski and wing Jaydn Spangler scored on consecutive trips for Toledo, Western Christian's advantage, which was as large as 14 in the second quarter, had been reduced to just two possessions.
"We controlled the tempo, we controlled the pace, we spotted them 12 and we were right there," said Toledo head coach Eddie Townsend.
Payton Richardson, however, was about to put his imprimatur on the game. In the ensuing possession, he took the ball on the wing for Western Christian, drove and hammered home a dunk. And he got fouled. And he converted the free throw. That was the last straw. Toledo, which has fought the entire game, had no more fight left.
Richardson scored one more time on a nifty assist from senior lead guard Johnny Williams and Keaton Hull hit six from the stripe in the closing moments to clinch Western's advance by a 67-55 score.
"Last year we had trouble finishing games when the pressure came," said Hull. "We finished this one. We made our free throws and kept attacking in the fourth quarter and that's what did it."
The Pioneers will play No. 1 seed and defending champion Columbia Christian tomorrow at 3:15 at the Pendleton Convention Center in a rematch of last year's final, which Columbia won, 65-61. Columbia Christian reached the championship game by throttling Knappa, 81-41.
"We've been on a mission since losing in the state championship last year," said Williams. "We didn't look past Toledo at all because they're an amazing team. It was a fight but we're brothers; we're not going to let each other down. So when things got tough we banded together. When we do that we can't be beat."
It appeared that this highly-anticipated matchup between the second and third seeds would be over in the first 90 seconds. Alex Nicoli scored on a lay-in off the opening tap and both Jayce Roth and Hull hit shots from deep in a blistering 12-0 start for Western.
With Roth harassing Marchant, who averages 29 points per game for Toledo, from baseline to baseline, Toledo had to look elsewhere for a spark and found it in sophomore Mason McAlpine. The southpaw stroked three three-pointers to reduce the Pioneers' robust advantage to just six, 23-17, after the first quarter.
Toledo got as close as four in the second quarter but two things happened right before halftime that turned all the momentum towards Western Christian. First, sparked by the scoring of Williams and Richardson, the Pioneers grew their lead to 14 points. Second, and perhaps more importantly, with less than a minute to go before the break, Roth drew an offensive foul on Marchant, his fourth.
"So far this year me and Johnny Williams have been the two shut down defenders," said Roth. "I pictured locking him down. He's a great player. It changed the game."
"Jayce is one of our best defenders," added head coach Gary Hull. "I coached his father 33 years ago. He's the fourth and final son to come through. He's a just a relentless, gritty, hard-nosed kid that deserves more recognition than what he gets."
Marchant, four fouls and all, was on the floor to start the second half. When the entire offense starts with Marchant, he just had to be in the lineup. The junior made his presence felt by drawing a charge and hitting a triple, one of three the Boomers connected on as part of a 9-0 run to start the third quarter. Toledo was within two at 42-40.
Three possessions later, the unthinkable happened. Marchant was whistled for his fifth foul trying to get free to receive an inbounds pass. Twelve minutes still remained to be played and Toledo would have to play them without its best player.
The foul happened right in front of the Western Christian bench.
"I was surprised with the fifth foul," Coach Hull admitted. "I was like, 'Wow! If that's the way it's going to be called…'"
Credit to Toledo. The Boomers could have folded when Marchant went out. Should have folded, in fact. Instead, they fought with all they had. They just didn't have quite enough.
"Under the circumstances it's amazing," said Townsend about how his team hung in. "It was just disappointing that we didn't have the opportunity for all of our players to display their talents [for a full game]. We have 30 sets and they're all centered around our point guard. It's like if you get your QB hurt. We just couldn't run smooth. But we fought. The players were trying to take charges, they were diving all over the floor. There was belief in their heart. You can see how much they care. It was impressive to see my team, a bunch of young guys, come out and battle with the defending runner up. We went toe-to-toe with them. And if we had our First Team All-State point guard, who averages 29 points a game, I think we win the game."
"I applaud them for being down 12-0 and coming back," Coach Hull added. "There are things we could have done better to build on that lead but those kids came back and didn't quit. It speaks highly of their character."
Richardson, who had 20 points, 10 rebounds and five blocks, was named Player of the Game but he declared afterwards that Roth was the true MVP. The 5-8 senior guard wore down Marchant, who scored only 12, and eventually took him out of the game.
Hull added 20 points for Western (28-1) and went 10-for-12 from the line. Williams scored just eight points, but might have had the biggest impact for the Pioneers. He also contributed seven assists, five steals and five rebounds.
"Ever since I was little my dad taught me how to play the game the right way," he explained. "If that means scoring zero points and getting 15 assists…You have to let the game come to you and do whatever it takes to win."
McAlpine, who was 5-for-6 from behind the arc, had a team-high 15 for Toledo (26-2). Rozewski and Spangler both had 10 for the Boomers.
Roth's stat line shows three points, one assist, one rebound, one steal, two turnovers and four fouls. Those modest totals understate the massive impact he had on the game. He doesn't care a lick.
"Our mission was to get back to the state championship so we could have our rematch against Columbia Christian," he said. "We've known it was going to be us and them for a while now. Credit to Toledo. They played a heckuva game, but we got the rematch we wanted."
In the other semifinal…
Columbia Christian 81, Knappa 41 – It is said that "familiarity breeds contempt." That proved true Friday afternoon at the Pendleton Convention Center when two Northwest League rivals, playing for the fourth time this season, engaged in a chippy affair that resulted in 40 whistled fouls, one technical foul and one ejection. When the clock ran out on this one, Columbia Christian (28-2), the top seed and defending Oregon 2A champion, was into the final for the second straight year.
"There's been a longstanding rivalry between the two schools," said Columbia Christian coach Bart Valentine. "I'm concerned about we do. I want our guys to keep our poise and play together and that's what we did."
Knappa, which prevailed in a one-possession game with Oakland in Thursday's quarterfinals, won the opening tip against Columbia Christian and then nothing happened. The Loggers were determined to hold the ball to force Columbia Christian out of its packed-in zone defense, which benefits the taller Knights, a team that goes 6-10 and 6-8 on the interior. Over the game's first three minutes, Columbia had just one possession. Only after the Knights switched to a more extended zone defense did things start to happen.
"I thought we responded really well when they came out to hold the ball," said Valentine. "We changed the defense up and got real aggressive in that 1-3-1 and that created some tempo and created some turnovers. Because that game could have been a long game if they'd been able to hold the ball."
Being deliberate with every early possession, Knappa overcame a six-point deficit to start and got within one with 2:27 left in the first quarter on a driving lay-in by the amazing Timber Engblom. But Columbia Christian surged thanks to strong on-ball defense, getting their hands into passing lanes and strong play from sophomore guard Elijah Munyan. Munyan scored seven late points as part of a 12-0 run that appeared to break the game wide open.
Knappa responded to the challenge with a stronger effort in the second quarter as the intensity picked up on both sides. Columbia Christian extended its lead to 17 points twice but Knappa, getting six points from Eli Takalo and a triple from Joe Ramvick, kept the game from getting out of hand.
Takalo scored early in the third quarter to cut into the 13-point halftime deficit, but strong defensive pressure led to easy buckets from Ben Gregg and Dominic Blake as Columbia Christian grew it advantage to 16. The game changed for good seconds later when another steal led to a breakaway by Munyan. Takalo's foul was intentional and hard. With the teams having been warned about physical play, the junior post was ejected. Munyan hit the free throws, Mo Hartwich tacked on a bucket from in close and Gregg scored two of his game-high 27. There was no coming back for Knappa down 49-27 and without one of its best players.
Gregg led three Knights in double figures and added 11 boards. Munyan and Isiah Mariscal had 18 and 14, respectively. Blake also played well and was a catalyst, scoring seven but adding six assists, five rebounds and four steals.
"I thought all night long we passed the ball really well," said Valentine.
Engblom led Knappa with 15 points, many on acrobatic basket attacks. Takalo finished with eight points and three steals in 18 minutes of play.
Recapping the consolation rounds from the 2A boys tournament:
Kennedy 55, Oakland 44 – Rocco Carley scored six of his 15 points in a dominant first quarter for the Trojans, who defeated Oakland for the second time in as many chances this season. Luke Hall added 21 points for Kennedy (21-8) and was 8-for-8 from the free throw line to thwart any Oaker comeback attempt. Austin Madden had 17 points to lead Oakland, which lost for the second time in two days after entering the state tournament with a 25-2 record.
Santiam 49, Lost River 33 – Aiden Aemi and Jesse Sendlinger combined for 23 points for Santiam, which outscored Lost River by 11 in the second half to pull away for the comfortable win over the Raiders. Carston Hartman scored 10 to lead Lost River (18-10), which starts only underclassmen. Santiam (23-8), which missed the tournament in 2018 after winning the championship in 2017, will play for fourth place tomorrow.