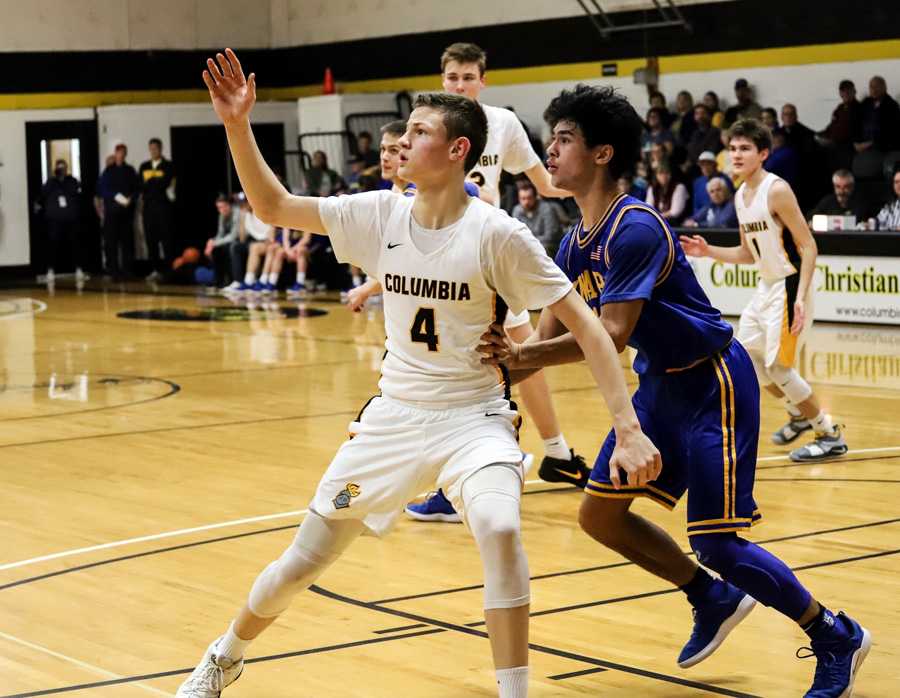 Columbia Christian has been preparing for three days in Pendleton since winning its first 2A state title last year.
The Knights were young then. They started two freshmen and just one senior. Most of the team is back trying to repeat in the OSAA / OnPoint Community Credit Union 2A State Basketball Championships that start tomorrow.
Bart Valentine's team, which has been No. 1 in 2A since the pre-season, is 26-2 overall, its only two losses coming at the Les Schwab Invitational to 6A No. 5 Grant and Washington power Gonzaga Prep. The Knights own two wins over 6A teams currently in the OSAA playoffs, including No. 9 Barlow. They also have defeated four 3A teams ranked among the top 11 in the final OSAAtoday coaches poll, including two, No. 2 Dayton and No. 5 Amity, which will be competing in the 3A state tournament starting tomorrow in Coos Bay. Columbia Christian ais 3-0 against the 2A tournament field, though all three wins have been over the same opponent, Knappa, which is No. 5 in the OSAAtoday coaches poll.
Simply stated, Columbia Christian will be hard to dethrone. The Knights have the two tallest players in the tournament, 6-10 sophomore center Moritz Hartwich and 6-8 sophomore guard Ben Gregg, the Northwest League Player of the Year who averages 23 points, 14 rebounds, five assists, three blocks and three steals per game. A third sophomore, 6-3 Elijah Munyan, was league Defensive Player of the Year and averages 13 points and five rebounds per game. Guards Isiah Mariscal, a 5-9 junior; and Dom Blake, a 6-0 senior; are two others to watch. They average 13 and 12 points per game, respectively.
Columbia Christian will look to score using an offense where the players and ball are constantly in motion. Defensively, the Knights will mostly be in man-to-man with good ball pressure. It is a formula that has been highly successful this season: Columbia Christian is averaging 73 points per game while yielding just 47.
"We are really excited to be back at the tournament in Pendleton," Coach Valentine said. "Last year we started two freshmen who were talented but wide-eyed and inexperienced. With only one senior last year, most of our team is back. We know what it takes to win, but the state runner-up from last year is back with most of their team also. 2A basketball in the state is really good this year. It should be a great tournament with a lot of high-level basketball for the fans."
***
The state runner-up Valentine referred to is Western Christian from Salem. The Pioneers underwent a name change from "Western Mennonite" over the summer to better reflect the diversity of the student body but the players on the floor will be familiar to 2A fans. They include guards Payton Richardson, Keaton Hull, Johnny Williams and Alex Nicoli. Richardson stands 6-4, while the other three are 6-1. Ethan Halgren, a 6-5 junior post, is another player to watch. He went 9-for-9 shooting and scored 18 points in Friday's win over Jefferson.
Western Christian lost by four points in the 2A final a year ago and finished third the previous two seasons. Gary Hull's team, making its 14th consecutive trip to State, will be looking to add to its lone state title from 2011 by using a highly effective full court press to force turnovers and generate offensive energy. The offense is fast paced and characterized by great team effort.
"We deeply appreciate what Pendleton does for 2A basketball," said Coach Hull. "It is an honor and a blessing to be back this year to take part in great basketball, sportsmanship and the camaraderie of players, coaches and parents from around the state."
***
Though anything other than a Columbia Christian/Western Christian rematch would be surprising, Toledo is one team that could muck that up.
The Boomers are 25-1 on the year, 2-0 against the 2A field (wins over Knappa and Kennedy) and their only loss is to 3A No. 2 Dayton. Coached by Eddie Townsend, Toledo is led by Sunset Conference Player of the Year and Defensive Player of the Year Conner Marchant, a 6-0 junior guard who averages almost 29 points per game as well as four assists, four steals and eight rebounds per contest. Jaydn Spangler, a 6-2 senior guard who averages 19 points and four rebounds; and Jaxon Rozewski, a 6-6 sophomore forward who contributes 13.5 points and 11.9 rebounds; are two others to watch.
Toledo is a high-scoring team that will put up more than 30 shots from beyond the arc in a game. The Boomers also press man-to-man all over the floor. In the best case scenario, Toledo, which went 0-2 last year in Pendleton, will make a run to the championship game and possibly cut down the nets on Saturday. Even if that doesn't happen, look for the Boomers to be playing for a trophy on the tournament's final day.
Oakland is the tournament's fourth seed and is ranked No. 4 in the OSAAtoday coaches poll. The Oakers are 25-2 on the year but 0-1 against the field, losing a close one to Kennedy in late December. Unfortunately, Oakland has been preparing for the state tournament by dealing with the elements. The town, located on I-5 halfway between Cottage Grove and Roseburg, has been without power since Sunday due to snow.
"We haven't seen the court since Friday's win over Illinois Valley and I'm not even sure all the players can get to the bus to leave [today]," head coach Jeff Clark wrote last night. "Or if we even get to leave. Snowing again…"
Oakland graduated seven seniors, including all five starters, from last year's fifth-place team. Junior Colton Brownson, a 6-3 wing who was in the rotation a year ago, averages 20 points and eight rebounds for the Oakers. Noah Strempel, who also played a lot last year, is another junior and the team's quarterback, averaging seven assists per game. The team also starts three seniors, Ethan Roberson, Austin Madden and Jacob Brooksby, and has been improving all year. Oakland defeated OSAAtoday No. 10 Central Linn three times to earn the No. 1 seed from the Central Valley Conference.
Knappa, from Astoria, is the fifth seed and No. 5 in the OSAAtoday coaches poll. The Loggers have won seven titles overall, the last of which was 10 years ago. Last year, Knappa made the tournament but dropped its two games.
Knappa has a new coach this year in Paul Isom and got off to a slow start, losing four of its first eight games, but since mid-December the Loggers have lost only to No. 1 Columbia Christian, 3A No. 2 Dayton and 4A No. 1 Seaside. The team is led by senior wings Timber Engblom and Ty Vanderburg and two juniors, 6-4 post Eli Takalo and 6-2 post Joe Ramvick.
"Those four lead the charge defensively and allow us to play a multitude of defenses," Isom said. "Offensively, we like to space the floor and find open shooters."
Santiam is the sixth seed overall and ranked No. 7 in the OSAAtoday coaches poll. The Wolverines won the state championship in 2017 but missed the tournament last year. JD Hill's team is paced by three underclassmen: 5-11 junior guard Colin Thurston, who was First Team All-Tri-River Conference; 6-5 freshman forward Chaz Storm, a Second Team pick; and 6-0 junior forward Hunter Reeser, who was selected to the Third Team.
Santiam, which doesn't have a dominant scorer, employs a balanced offense and plays scrappy man-to-man on the defensive end. The Wolverines are 1-5 versus the field – 0-3 versus Western Christian; 1-2 versus Kennedy – and hope to be playing in a trophy game on Saturday.
Kennedy, from Mt. Angel, finds itself in the unenviable position of taking on top-seeded Columbia Christian in the first round, just like last year when the eventual state champs won by 13. Kennedy won its next two games to earn a trophy for fourth place overall.
Kennedy has never won a boys basketball state title but the football team won state in the fall and those expectations will follow the team to Pendleton. The Trojans are 3-4 against the field – 0-2 versus Western, 2-1 versus Santiam, 1-0 versus Oakland and a one-point loss to Toledo – and could be a dark horse here. Karl Schmidtman's team runs an offense that goes inside out. Kennedy has rugged 6-6 senior post Rocco Carley on the block. He averages 13 points and seven rebounds per game and was second in the all-league voting. If teams sag on Carley, wings Luke Hall and Carson Hall will make them pay from the perimeter.
Kennedy, which is a strong zone defense team holding teams to less than 40 percent shooting on two-pointers and less than 30 percent from beyond the arc, could give Columbia Christian trouble in the opening round. More realistically, the Trojans are hoping to be in the fourth-place trophy game on Saturday.
Lost River, located in Merrill in Klamath County, rounds out the field. The 18-8 Raiders beat Sheridan by six in a mild upset on Friday to reach Pendleton for the first time since 2002. Michael McKittrick's team is a bit of an unknown commodity: Lost River has not played any other team in the state tournament field.
The Raiders, who won nine of their last 10 games on the court (and another by forfeit), rely on three juniors: 6-4 junior post Aiden McAuliffe, who averages 12 points and 10 rebounds a game; 5-10 junior guard Junior Pena, who contributes 10 points and six assists per contest; and 6-0 junior post Zaidyn Nicolet, who averages eight points and 10 rebounds per. The team suffered a big blow earlier in the year when senior Zach Ross was lost for the season with a dislocated toe, but McKittrick said that he has a deep bench and will often play nine in a game.
"My team is made up of hard-working farm kids," the coach added. "Most of them play three high school sports. This is the first time Lost River has been to Pendleton since 2002, and for most of my team the first time they have traveled to Pendleton."
***
Thursday's First-round matchups (at Pendleton HS):
Kennedy v. Columbia Christian, 1:30 p.m.
Knappa v. Oakland, 3:15 p.m.
Santiam v. Toledo, 6:30 p.m.
Lost River v. Western Christian, 8:15 p.m.