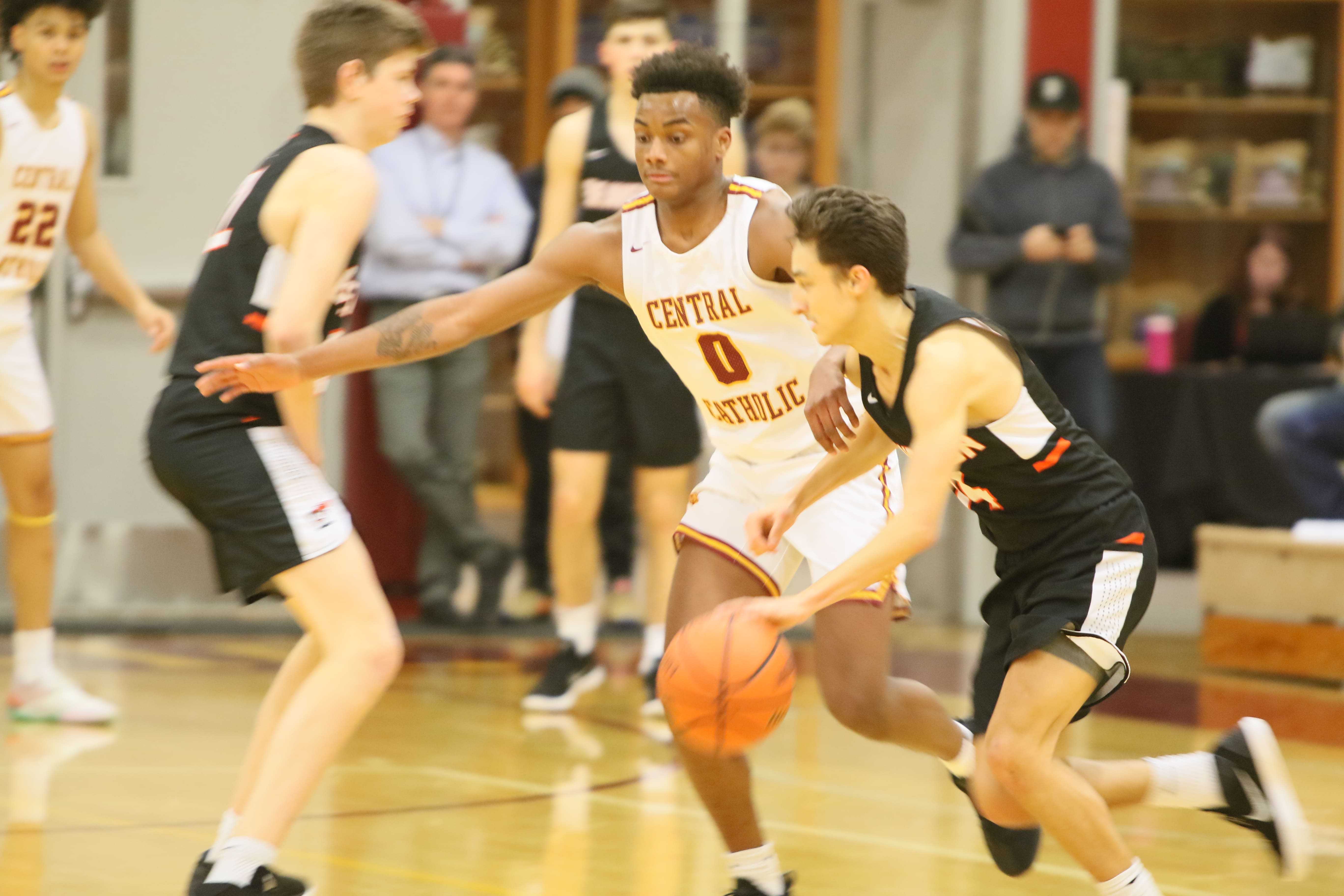 PORTLAND -- For a young and talented Central Catholic boys basketball team, waiting six days for the start of the 6A playoffs wasn't easy.
So it was understandable that the Mt. Hood Conference champion Rams were a little too amped up Tuesday night for a first-round game against visiting Beaverton.
"We've had such a great season that they were really antsy, and sort of stayed out of the game plan," Central Catholic coach David Blue said. "We came out so overly aggressive."
It took until the second half, but the fifth-seeded Rams finally settled down and found their groove, pulling away for a 67-44 win over the 28th-seeded Beavers. Central Catholic (20-5) can advance to the eight-team state tournament for the first time in four years with a home win Friday over Sandy, a team it defeated twice in Mt. Hood play.
"We knew it was probably going to be a slow start," Rams junior guard DeRay Seamster said. "It's the start of the playoffs, so we had to get our jitters out. We were a little jittery. We just went past that. We've had a great season, so we wanted to push. We're making our push now, and it started tonight."
Junior post SataieVior Ayilola dominated inside with 19 points and Seamster scored 18 points to lead Central Catholic to its 16th consecutive win. Junior wing Bennett Giebels had 24 points for Beaverton (12-13).
The Rams expected a battle from scrappy Beaverton, which beat No. 4 seed Jesuit 11 days ago. And when the Beavers overcame a nine-point, second-quarter deficit to lead 28-26 early in the third quarter, they got Central Catholic's full attention.
"We talk about composure all the time, and we had to keep our composure," Seamster said. "We knew from then that we had to work hard to get back in the game."
Central Catholic began to cut apart Beaverton's zone defense with crisp passing, and when the Rams hit three consecutive three-pointers – by Seamster, sophomore Darius Gakwasi and Seamster again – they opened a 40-31 lead.
"Second half, we settled down," Blue said. "We stuck to the game plan, moved the ball, shared it, and it just sort of slowed the game down a little bit. Not in regards to pace and how fast we play, but just mentally."
Beaverton, overwhelmed at times by Central Catholic's length and quickness, couldn't keep up.
"Just a little too much size," Beavers coach Andrew Vancil said. "We got overpowered a little bit there in the second half. They're a very good team. They've got some horses inside.
"Our margin of error is so small that we had to be perfect."
Once the Rams got some separation, they played freely. Much of what they did went through the 6-foot-7 Ayilola, who scored 12 points in the second half, including an emphatic jam off a feed from junior guard Isaiah Amato.
"SataieVior is a big key to our team. We've been playing through him all year," Seamster said. "We need his presence on the court to get our cuts with other guys, and lay-ins, and also bring that energy in the post, have our back on help-side defense."
Ayilola's size, skill and athleticism gives the Rams a big edge over most teams inside.
"We're still trying to get him to play both ends, and he does in spurts," Blue said. "He had a great game. He really stepped it up, especially in the second half, finishing around the basket.
"A lot of that was guys moving the basketball. It was stagnant in the first half. We made some adjustments, they moved it, opened some space, and once we got the lead, Beaverton had to come out and get us."
It didn't help the Beavers that they were missing two starters. Senior point guard Isaac Rosenthal has been out since suffering a torn labrum early in the month. Junior wing Cody Davidson injured his shoulder in 7-on-7 football action during the weekend, according to Vancil.
In their absence, the 6-3 Giebels was outstanding, scoring on three-pointers, short jumpers, lane-runners and drives to the hoop.
"He was great tonight," Vancil said of Giebels. "He hadn't scored in three games and he came out tonight and played like that. He showed up tonight. Honestly, he was the reason why we were able to stay in that game in the first half."
Vancil put the season in perspective for the Beavers.
"It was a learning year for us," Vancil said. "These kids did a good job of competing in the Metro League. We kind of caught the injury bug there, but with some of these guys coming back, we'll be back here next year."
Central Catholic turns its attention toward Sandy. The Rams won at Sandy 70-65 on Jan. 23 and blasted the Pioneers 90-41 at home on Feb. 12.
"It's hard to beat a team three times," Seamster said. "First time we played them, they gave us a run for our money. We had to come back from like 15 down. But we had a good game at our house."
So just how dangerous are the Rams, who start one senior, three juniors and a sophomore?
"We have a very good chance, I think," Seamster said. "We've been playing with a chip on our shoulder all season, and we don't look to stop here. We look to keep on going."