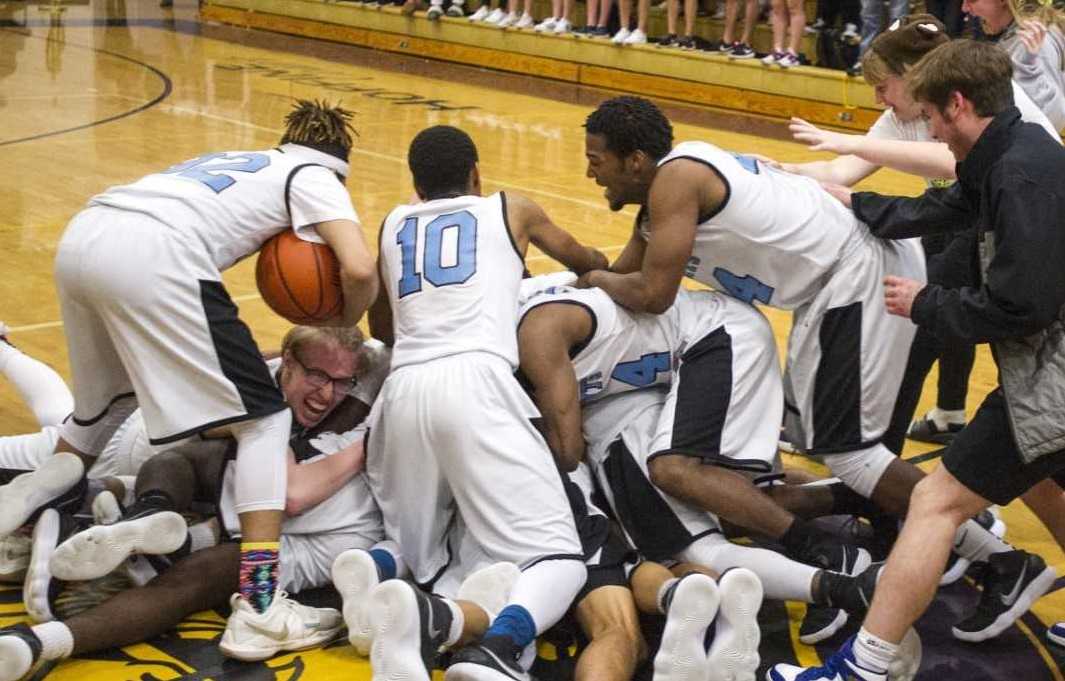 After years of climbing the mountain, De La Salle North Catholic's boys basketball team finally reached the summit last year.
The Knights -- 3A runners-up in 2014, 2016 and 2017 -- gave the 15-year-old north Portland school its first state championship by finishing the season on a 25-game winning streak.
Heading into this season, the challenge for coach James Broadous II was making sure his players wouldn't settle for admiring the view at the top.
"Our motto this year was, 'We're never satisfied,'" Broadous said. "We've got to keep them hungry and try to get them to understand that last year was last year. It's different being the hunted instead of the hunter."
So as De La Salle North Catholic (22-4) carries the No. 1 seed into the OSAA / OnPoint Community Credit Union 3A tournament this week in Coos Bay, the Knights hope to play with the same edge as last year. If their recent play is any indication, they should be OK.
"I was worried we would sort of get complacent and maybe slip up in one of these games in the last couple weeks, thinking these guys might start looking too far ahead," Broadous said. "But they've been able to stay focused, and over these last three or four games, they've been playing really well."
The Knights – whose only loss to an Oregon team is against 2A Western Christian -- ride a 14-game winning streak into a quarterfinal against No. 8 seed Sutherlin (21-5) at 1:30 p.m. Thursday at North Bend High School.
Their closest game during that stretch was a seven-point win over Catlin Gabel, a team they defeated by 30 points Feb. 16 for the top seed in the Lewis & Clark League. Their dominance in that game was revealing for Broadous.
"I was sweating bullets at the beginning of the game," Broadous said. "They came out and just went right at them. It was good to see it. It showed me that they can still get up for big games."
De La Salle North Catholic has three players who started on last year's team in senior guards Kadeem Nelson, Theo Aclan and Anthony Mosley. The 6-foot-3 Nelson, who averages 19.0 points, does a little bit of everything for the Knights, playing four positions.
"He's probably the smartest basketball player I've coached," Broadous said. "His versatility allows him to stay on the floor."
The team's most explosive player, though, is 5-10 junior guard George Sadi, the league player of the year. Sadi averages a team-high 20.6 points and has had two 40-point games, including a 44-point breakout at the Les Schwab Invitational.
"He puts the ball in the basket," Broadous said. "He's a scorer, and he takes pride in scoring. Some people may say he shoots too much. I never say that because every shot he takes, he has a chance of making it. And this is his craft."
De La Salle North Catholic will be tested in the tournament. With No. 2 Santiam Christian and No. 3 Dayton on the other side of the bracket, the Knights are in an advantageous position, but they can't afford to look ahead.
"I think this is probably one of the strongest fields in a while," Broadous said. "It's as much up in the air as it can be. It's probably as evenly balanced as it's been since we've been coming down to Coos Bay."
3A boys quarterfinals, Thursday, North Bend HS
No. 1 De La Salle North Catholic (22-4) vs. No. 8 Sutherlin (21-5): The Knights, making their seventh consecutive tournament appearance, meet the Bulldogs, who have moved down from 4A. The game matches De La Salle North Catholic's 3A-leading offense (68.8 points) against Sutherlin's 3A-leading defense (38.5 points). Sutherlin advanced with a 59-39 playoff win over Umatilla, getting four three-pointers and 21 points from Payton Hope. The Bulldogs have the Far West League player of the year in 6-3 junior forward Mason Gill (20.0 points, 9.0 rebounds).
No. 5 Nyssa (18-8) vs. No. 4 Pleasant Hill (21-5): It is the first state tournament since 2006 for Pleasant Hill. Senior guard Stephen Parmenter (15.0 points, 7.0 rebounds, 4.0 assists) and senior forward Logan Pruitt (15.0 points, 9.0 rebounds) lead the Billies, who have won 11 in a row. Nyssa junior point guard Pedro Chavez (11.6 points) was the Eastern Oregon League player of the year, and senior guard Omar Jaquez (17.7 points) leads the team in scoring. The Bulldogs enter on a 10-game winning streak.
No. 6 Clatskanie (15-7) vs. No. 3 Dayton (22-5): Dayton, champion in 2015 and 2017, lost in the final last year. Pirates senior guard Braeden Nowlin (16.0 points), the PacWest Conference player of the year, is making his fourth state-tournament appearance. Dayton is averaging 64.8 points, second in 3A. Clatskanie is in the state tournament for the first time since 1984. The Tigers overcame a 14-point, fourth-quarter deficit to beat Burns 68-66 in their playoff game, getting 22 points from junior center Dawson Evenson.
No. 10 Amity (17-8) vs. No. 2 Santiam Christian (23-3): Santiam Christian is back after making the semifinals last year. Ben Galceran, Koby Williamson and Josh Baugher combined for 40 points in a 65-55 playoff win over Salem Academy. Amity has returned after losing in the quarterfinals four years in a row (2014-17). Sophomore post Josh Wart had 21 points and 16 rebounds in a playoff win over Horizon Christian.
3A girls quarterfinals, Thursday, Marshfield HS
No. 1 Burns (25-1) vs. No. 8 Brookings-Harbor (14-8): Burns, the 2A runner-up in 2015 and 2016, has won 15 in a row since losing to Melba, Idaho. The Hilanders have two outstanding sophomores in 5-10 guard Allie Hueckman (19.6 points, 6.4 rebounds) and Aundraya Ceja (9.0 points, 3.0 steals). Hueckman had a 38-point game and Ceja made eight three-pointers in a game, both school records. Brookings-Harbor is averaging 54.0 points, second in 3A, behind sophomore forward Lexi Schofield (13.3 points, 7.1 rebounds, 4.0 steals) and junior guard Sidney Alexander (10.0 points), who have combined for 99 three-pointers.
No. 4 Clatskanie (18-4) vs. No. 12 Oregon Episcopal (16-8): Clatskanie's 3A-leading offense (65.6 points) is fueled by two sophomores in 5-9 post Shelby Blodgett (23.3 points, 17.3 rebounds, 7.6 steals, 3.3 assists, 1.4 blocks) and guard Olivia Sprague (23.0 points, 5.2 rebounds, 5.1 steals, 4.4 assists). Blodgett, the Coastal Range League player of the year, has nine triple-doubles. Upstart Oregon Episcopal, which stunned Pleasant Hill 40-36 in the playoffs by holding to Billies to five field goals, was 4-21 two years ago and 10-15 last year. In their second season under coach Brad Dawson, the Aardvarks are making their first appearance in the final eight. Sophomore guard Lauren Han (13.2 points, 5.0 rebounds, 4.0 steals) leads them in scoring.
No. 3 Blanchet Catholic (22-4) vs. No. 11 Vale (15-10): Blanchet Catholic, which won the title in 2017 and lost in the semifinals last year, is led by versatile 5-9 senior guard Ana Coronado. The Cavaliers split the PacWest Conference title with Salem Academy and fell to the Crusaders 42-31 in the seeding game. Vale has a balanced attack that features senior guard Gracee Jacobs (9.0 points) and sophomore guards Matyson Siddoway (9.0 points) and Emersyn Johnson (7.5 points). The Vikings last played in the tournament in 2015, when they lost in the semifinals.
No. 2 Salem Academy (23-4) vs. No. 7 Warrenton (20-7): Salem Academy has made the semifinals four years in a row, finishing as runner-up in 2015 and 2018. The Crusaders returned two starters from last season in senior point guard Kirsten Koehnke (20.0 points, 5.0 steals, 5.0 assists, 44 percent on three-pointers) and senior forward Grace Brown (13.0 points, 9.5 rebounds). Salem Academy holds foes to 28.9 points per game, best in 2A. The Crusaders beat Warrenton 46-17 at home Dec. 13, but the Warriors got payback 38-37 two weeks later in a tournament at Stayton. Warrenton features 6-0 senior center Fernanda Alvarez, who had 30 points in a playoff win, and junior wing Kenzie Ramsey, who has made a school-record 95 three-pointers this season.